Latest topics
»
New England Mar 2018
by
CapeCoddess
Today at 10:45 am
»
Garden Tower Project
by
SQWIB
Today at 7:59 am
»
Fourth Year SFG in Canada
by
AtlantaMarie
Today at 6:57 am
»
Hello from Houston
by
Zuly98
Yesterday at 8:54 pm
»
Sanderson's Urban SFG in Fresno, California
by
sanderson
Yesterday at 7:54 pm
»
Do You Get The SFG Newsletter?
by
Kate888
Yesterday at 7:45 pm
»
N&C Midwest—March and Spring is Here!
by
Kate888
Yesterday at 7:34 pm
»
What are you eating from your garden today?
by
Scorpio Rising
Yesterday at 6:36 pm
»
Northern California & Coastal Valleys - What are you doing this month?
by
sanderson
Yesterday at 3:04 pm
»
SW Ohio (Cincinnati Area)
by
yolos
Yesterday at 12:12 pm
»
Trellis mod
by
SQWIB
Yesterday at 8:39 am
»
Happy Birthday!!
by
Dunkinjean
3/18/2018, 11:42 pm
»
Any suggestions on the stump grinding sawdust plus soil?
by
No_Such_Reality
3/18/2018, 7:36 pm
»
How's the Weather Where You're At?
by
Scorpio Rising
3/18/2018, 6:38 pm
»
Powdery Mildew and SoCal Fall Planting
by
countrynaturals
3/18/2018, 12:34 pm
»
Boat Gardening
by
AtlantaMarie
3/18/2018, 6:51 am
»
How many green beans per square foot?
by
Scorpio Rising
3/17/2018, 9:27 pm
»
2018 SFG in Brooks, GA
by
yolos
3/17/2018, 8:34 pm
»
Comfrey
by
sanderson
3/17/2018, 8:21 pm
»
Hello from Hagerstown MD
by
sanderson
3/17/2018, 6:10 pm
»
Horsetail weed
by
Kate888
3/17/2018, 3:02 pm
»
How much time for gardening?
by
Kelejan
3/17/2018, 1:33 pm
»
CANADIAN REGION: What are you doing in March 2018
by
Kelejan
3/17/2018, 1:12 pm
»
A new SFG fan from Texas
by
AtlantaMarie
3/17/2018, 7:17 am
»
Potatoes: Yes or No?
by
AtlantaMarie
3/17/2018, 7:13 am
»
Modesto, Central Valley, CA...
by
AtlantaMarie
3/17/2018, 7:03 am
»
has55's R & D Journey
by
sanderson
3/16/2018, 3:28 pm
»
FREE WEBINAR - SFGF & PLANT PURE COMMUNITIES
by
AtlantaMarie
3/16/2018, 6:40 am
»
Can you till Mel's mix?
by
sanderson
3/14/2018, 8:44 pm
»
SUGA 2018
by
countrynaturals
3/14/2018, 12:34 am

My wife asked why we can't use 12" pots to grow in instead of a 4' x 4" box / grid. My only thought was pots would dry out much faster and require constant watering where as the larger box may not? Any thoughts?



Posts

: 31


Join date

: 2012-01-26


Location

: oh



I am growing tomatoes in a pot and plan to use more pots this year. Unless it's a shallow put or you use some sort of filler for the bottom it takes more mels mix to full it.

I have not had any notice issues with it drying out any faster than my beds.



Posts

: 169


Join date

: 2010-05-28


Location

: Chandler, AZ USDA Zone 9A



some things can be grown quite well in pots, but in the All New Square Foot Gardening allows for high density plant placement with a minimum of fuss. Seed placement is easier to figure out the proper density in a square rather than a round pot. Not to mention ease of use by having all areas of the garden where you can easily reach in from 2 positions and take care of all 16 square feet to weed, water, tend, and harvest your plants. The garden looks neat and trim this way too. Unless you have a source for cheap large pots, it will likely be more expensive than the 2x6's which Mel recommends. One of the beautiful things the boxes allow the plants to do though is to allow the roots of the plants to roam across the boxes where they will. I had a Tomato plant root cross the box, hit the side then make a right angle turn and continue along the far side for another 2 feet, giving me a total of a 6 foot root and it was only one of the roots coming off the tomato plant! That plant was able to roam in search of nutrients, water, and stability and was very happy to produce a TON of tomato's for me. No chance of becoming root bound that way.

For me though the main reason to use the Square Foot garden method is ease of care. I can maintain my garden with MUCH less work because it is in all one area. I spend a few minutes a day watering, and a small amount of time weeding each week and my garden performs miracles. I used to have to spend an hour a day (or more on the weekends) weeding, scratching and loosening the dirt around the plants, fertilizing, as well as watering the garden - and it never produced for me like the All New Square Foot Gardening system does. I have the time now to spend with my family AND take care of other things after going to work.

Mark



Posts

: 121


Join date

: 2011-03-21


Location

: Mid Michigan



If you only wanted one or two things it would be fine. For a bigger garden I am sure it would work, but it would be a lot more tedious.



Posts

: 2467


Join date

: 2010-05-05


Age

: 62


Location

: Warner Springs, CA USDA Zone 8a, Sunset Zone 7 (I think)



Interesting time to start this thread igolfat8. Just the other day, I saw a picture on the Web (can't recall where now or would have included it) that was of some potted vegetables, someone had placed into a framed or raised bed garden. Looking at that picture, I was wondering the same thing...why not?

As I see the pro's and con's: The Mel's Mix would be contained in each pot and wouldn't have to be used in the filler spaces around or in between, requiring less MM. Nursery style pots are inexpensive, as many nurseries become overwhelmed with them, having to either recycle or throw them away (free sounds nice). Individual pots could be removed and plants harvested or maintained easier (in theory). In the ANSFG book, Mel says, other than a couple of plants like potatoes and carrots, all are fine with only six inches of soil, but one has to wonder if maybe that is because once the roots hit bottom, they can still sprawl anywhere they'd like within the frame or box. Finally, and referring back to the picture I had found, pots contained in a frame are okay, but no where near as aesthetically pleasing as an actual SFG.

Had it not been for the experimentation, trials and tribulations of one very determined gardener years ago, we'd all still be stuck in the row mentallity.



Posts

: 155


Join date

: 2012-01-10


Age

: 57


Location

: Vancouver WA Zone 8a



I do both. I only put MM in the top 6" of the pots. Even with holes in the bottom I add a layer of rocks then use some old window screening I had laying around before filling the pots to insure good drainage. It does take a lot more time and effort to water indivual pots then my SFG but the nice thing is I can move them around.




Posts

: 1697


Join date

: 2011-04-01


Location

: zone 9a St.Johns county FL



I had six pots of determinate tomatoes and two of dwarf peppers last year and I find it takes more time watering than my boxed beds. I did it to extend my garden last year since I had so many different seeds I wanted to try and no raised bed for them. I'll do it again because I now have the pots and will put them to good use, but they will be closer to my kitchen doorway so I can watch them more closely and water then easier.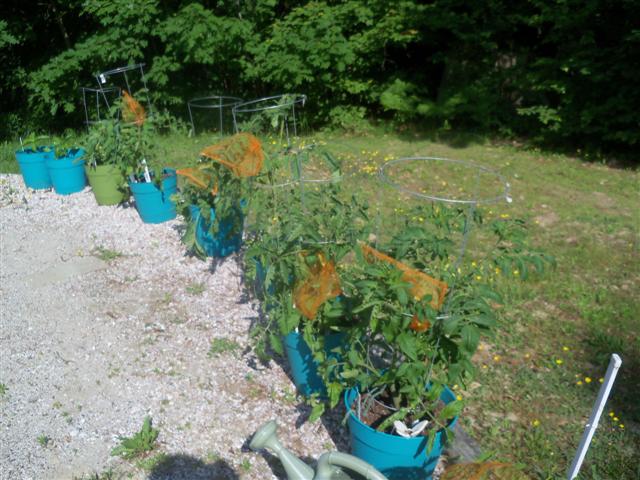 above: The orange netting are isolation bags to save tomato seeds for next year.



Posts

: 4708


Join date

: 2010-03-21


Age

: 75


Location

: Southwestern Maine Zone 5A



Sure, things will grow in pots, we all know that but do you really want to water 16 pots (ie: 4x4) more often than you would just one bed. A few scattered here and there will work and you have the bonus of moving them around if needed for more sun etc but its just more work. The whole idea of SFG'ning is simplifing the process.
Just be careful of those black nursery pots though.
Nursery style pots are inexpensive, as many nurseries become
overwhelmed with them, having to either recycle or throw them
away
They can cook a plant easily in just one day. One of my blueberry bushes I left in one of those 10 gal black nursery pots has already budded and been fooled into thinking it is spring already. Those buds will be damaged by the night-time frosts and will not produce viable berries this season. A huge waste

I touched one of those pots the other day in full sun and that thing was "hot" to the touch. Catch 22: you move out of the sun but then lose valuable photosynthesis. Pots can be painted white of course, but they still are going to get a lot warmer than a growing medium ought to during the day and will lose heat far more quickly at night. Plant roots might not fare well with drastic temp swings.
I'm basically echoing some of the other posts here: fine for a scattering of plants but don't expect yields or the simplicity of a true SFG bed.



Posts

: 554


Join date

: 2010-11-24


Age

: 43


Location

: York, SC



I plan to put a few things in pots or rather bags. Potatoes just more for ease of harvest probably will just stick the bag next to a box for watering purposes. I found a grow bag locally that was cheaper than the ones on order through the internet. I also found a store with a set of hand tools for $5.



Posts

: 61


Join date

: 2011-06-17


Age

: 43


Location

: Lenanon, Tn zone 6b



I bought some grow bags to try out this year. I'm planning
on using Mel's Mix. It should work out fine. I ordered white
grow bags because it get so hot here. I'll post my results
this summer.



Posts

: 11


Join date

: 2012-02-04


Location

: Virginia



I can tell you from experience that the square 4x4 beds take less watering than the pots do. For one. the plants tap roots go deeper than the box to find water. (fact , not fiction) I still like my pots for extra plants that have no beds to go in. The black pots do get very hot and it is best to drill a few holes around the side of the pots to help release that heat. I have experimented with that and it does help a lot. On the same notes as the sfg beds, you can also put a watering system on the pots. I have experience with that too and it works great. I do not like growing veggies in the black pots that do not get bushy enough to shade the pots by summer time. Nutrients in the potted plants drain out quicker than the SFG boxes. Which means you have to feed them if you want them to do their very best production rather it be organic or chemicals processed from the earths elements.



Posts

: 778


Join date

: 2010-09-06


Age

: 48


Location

: Alabama Zone 7a




---
Permissions in this forum:
You
cannot
reply to topics in this forum