Has anyone grown garbanzo or dark red kidney beans?

My family would acutally eat plenty of these (hummus, salads, chili, etc) if I could grow/ harvest/ store them.



Posts

: 1122


Join date

: 2012-01-22


Location

: kansas city



I grew black garbanzo's last year (the only one that I can grow in the PNW as far as I know). A cranberry bean too.



Posts

: 2054


Join date

: 2010-03-03


Age

: 59


Location

: Everett, WA USA



As I was looking through Bakers Creek catalog online last year (winter 2015, before the 2016 catalog), I saw black chickpeas. "Fascinating... I must try to grow these," I thought. The 2016 catalog came out... minus the chickpeas. Cue internet searching and I found black kabouli chickpeas at:
www.saltspringseeds.com located at Salt Spring Island in Canada.
I ordered the chickpeas, zepplin delicata squash, Ugandan Bantu beans, bachelor's button, herba stella (=minutina =buck's-horn plantain, a cold-hardy green), and Swedish red peas. Ordering from over the border was a little harrowing for me. I didn't want to leave the seeds sitting in the freezing cold mailbox, but there was no tracking number. (Dan was patient with my worried emails and explained tracking was too expensive. And the financial state of the US Postal service means I don't feel I can say anything negative about how Canada or any other country does shipping/tracking!) My order arrived later than I expected, but it did arrive, with only a few crushed seeds, and I was able to retrieve it from my mailbox promptly. 
Here's a summary of my experience:
I humidified my chickpeas to pre-germinate them and carefully sowed them, rootlet down, with bacterial inocula that said it was suitable for chickpeas. I sowed some in my ANSFG, and some in my dirt, both at 4/sq. I sowed on May 2nd (which is about a week before average last frost in my area, but actual last frost was 4/24.) I think I could and should have sowed them sooner. Like black lettuce seeds, the dark color of these seeds is said to help them germinate in cool soil.
Although the plants in the ANSFG survived better (due to the end of the dirt section having poor drainage,) the yield per surviving plant was the same between the two. Next year I will try some at 9/sq. The plants were fairly short 10-16", and prone to leaning. They don't climb, but a surround of pea fencing might help contain them. I had no problems with insect pests, and nothing I recognized as a disease.
The young plants look rather like young multiflora rose plants (an invasive species in my area), but of course without the thorns.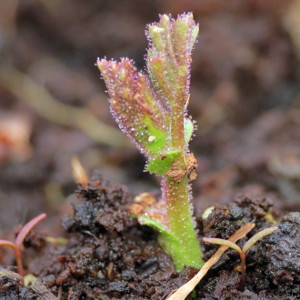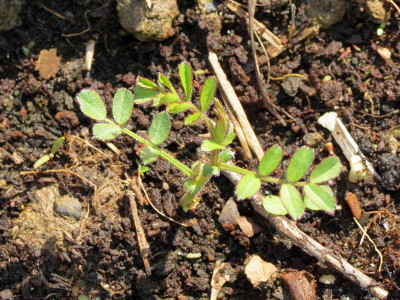 The flowers are beautiful little maroon-colored things.
Each flower yields a green pod that houses 1 or two chickpeas.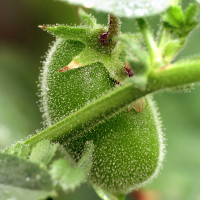 I let my plants grow until they were dead/almost dead mid-August (17th - which is 108 days I think) and then cut them off at ground level (leaving the roots with their nitrogen fixing nodules to degrade/fertilize.) I took the plants off to the shade, and pulled off all the pods. I brought the pods inside and shucked the dried peas out while I watched TV. I bit tedious, and more difficult than dry soup peas, but not bad.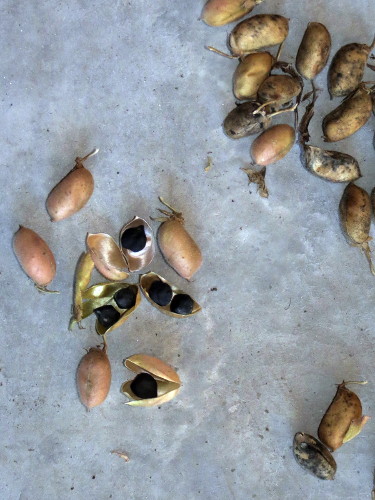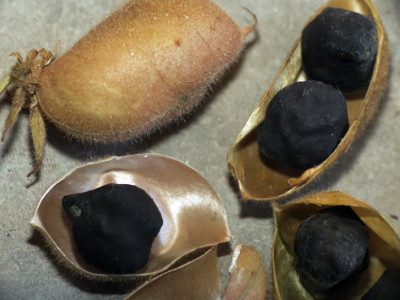 I should have harvested a little sooner because I few pods opened and were already germinating. I put them into my runty winter squash squares where they are now growing. I don't expect to get a second harvest, but I do hope to be able to determine how sensitive to frost the young plants are relative to figuring sowing time next year.
I admit, I haven't eaten any yet. My yield wasn't huge and I'll be saving some of what I harvested for planting next year. I think I have enough to try some hummus, and maybe a small batch of stew. They weren't very productive but I plan to grow them again next year because they get points for not needing to use the grow lights inside, and not having bug, mildew, or weather problems (i.e. like cracked tomatoes.)



Posts

: 456


Join date

: 2016-04-11


Location

: Port Matilda, PA Zone 5b/6a



Thanks for sharing. I was thinking about planting chick peas. I love to eat them. Also, fun fact: chick peas are great carbon sinks. They put carbon back into the earth and reverse the effects of climate change.



Posts

: 153


Join date

: 2015-09-10


Age

: 44


Location

: Ottawa, Ontario



---
Permissions in this forum:
You
cannot
reply to topics in this forum