Here are a few shots of installing boxes in my tree lawn (only strip of sunlight in my yard).
The first shows my new double-height box made from cheap cedar fence pickets from Lowes. The grade slopes slightly so the box is buried a bit in the uphill side. This shot also shows my exsting stone wall and metal railing...I'm thinking of doing a 2'x4' box at the base of this wall and doing a cattle panel attached to the railing (no need for a trellis frame) for vining veggies by themselves.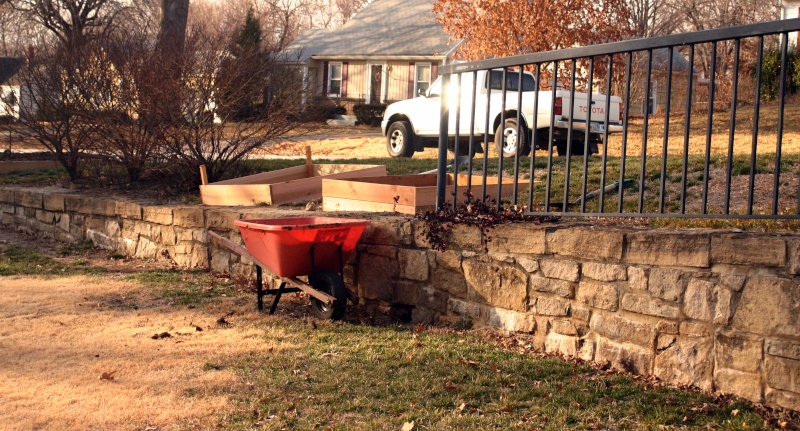 The second shot is the same box from above. In the background you can see my compost in the blue tubs (cattle mineral tubs) ready to use (mushroom, horse manure, coffee grounds, leaf litter, cotton bur).
The third shot is of my old 4'x8' raised boxes (prior to SFG) and a new 6"cedar box (nicer than fence pickets on sale at menards). I need to finish installation tomorrow. You can also see my coarse vermiculte, peat, and conduit ready for Mel's Mix and my first try at building a trellis from the book. I used my garden space as a compost last fall so I need to remove some before planting.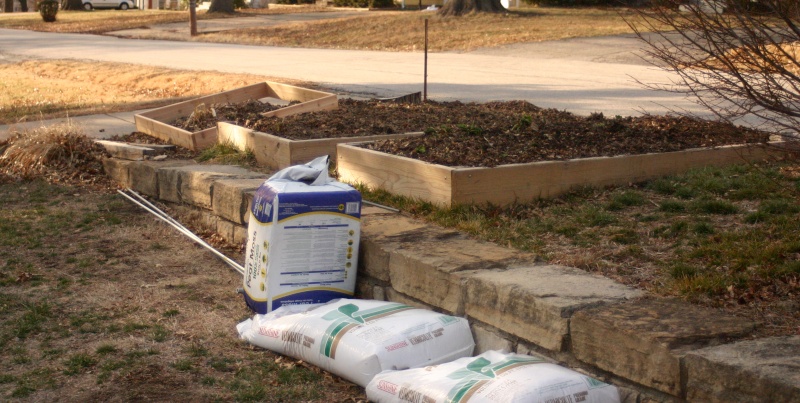 Posts

: 1141


Join date

: 2012-01-22


Location

: kansas city



Looks great landarch. I think your veggies will look very nice growing up that railing
____________________________
I am my gardens worst enemy.

Forum Administrator




Posts

: 4242


Join date

: 2011-10-04


Location

: Colorado Front Range



Thanks, since this is isolated from my boxes, I was thinking of doing watermelon and/ or cucumbers on the railing...would it be best to put the box on top and let the vines grow up and over from there, or put the box down low and let the vines grow up the tall side?



Posts

: 1141


Join date

: 2012-01-22


Location

: kansas city



landarch,
Cucumber vines growing over the top mightn't need as much support as watermelon vines growing similarly. IMO either/both vines growing up the tall side will be stronger at the "over the top" point and easier to manage to boot.



Posts

: 355


Join date

: 2011-12-12


Age

: 70


Location

: Chicago, South Shore, c. 100yds to Lake Michigan, Zone 6a



---
Permissions in this forum:
You
cannot
reply to topics in this forum