So I've been experimenting with a microbe on Cucumber Plants. I planted these plants on Feb 12th and they are in a Vermiculite/Peat Moss mix. (Couldn't get compost at the time so I added some pellet plant food to keep them going.)
This is the results at 8 days: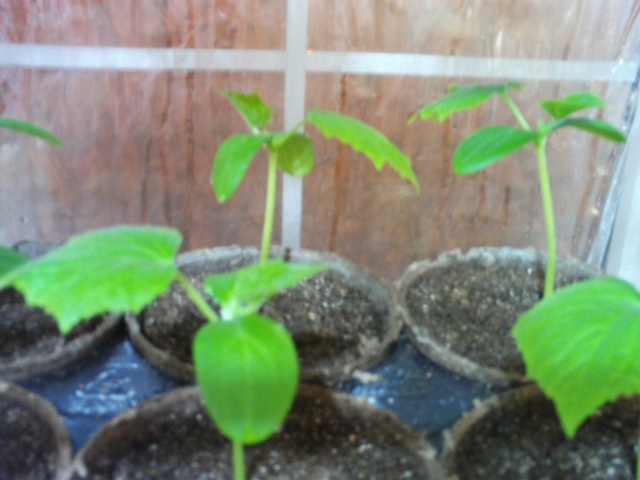 My question is has anyone else ever looked into the available microbes?
PS. Used Mykos' Glomus Intraradices on these.
James



Posts

: 44


Join date

: 2012-02-17


Location

: Idaho Falls, ID Zone 4a



Very interesting is it aproved for organic gardening? I got some thrive alive green as a gift but I believe that it only contains mirco nutrients. Oh and welcome to the forum.



Posts

: 1697


Join date

: 2011-04-01


Location

: zone 9a St.Johns county FL



Its been approved for gardening, I don't know about 'organic' but its harvested from the forest floor, I've seen slides showing it attached to the roots. (and my cucumber roots are twice the size of the plant) It feeds on the plant's waste and its waste is nitrogen rich which it dumps into the roots. I wouldn't put it on root veggies cause it says not to eat it, now I'm not sure if its referring to the microbe or the clay like substrate its bound in, but I'd rather not take the chance till I'm sure.
However I know its been used to improve yield in hydroponic tomatoes, it claims 20% but from my observations its more like 70%, it seems to cause a early harvest and a late harvest. Its can't live in a submerged system so I figured I'd try it in Mel's Mix cause of the aeration it provides the roots.
and thanks for the welcome, this place is a great addition to my ansfg book, and super friendly which always helps

James



Posts

: 44


Join date

: 2012-02-17


Location

: Idaho Falls, ID Zone 4a



---
Permissions in this forum:
You
cannot
reply to topics in this forum