Latest topics
»
Herbs and Vegetables for the Lazy Gardener
by
Mikesgardn
Today at 7:20 pm
»
The Lazy Gardener
by
dk54321
Today at 7:02 pm
»
Mississippi Gulf Coast! Woohoo!
by
AtlantaMarie
Today at 6:55 pm
»
Worm Tube for the SFG
by
yolos
Today at 6:42 pm
»
New England October 2014
by
NHGardener
Today at 6:22 pm
»
To Screen or not to screen ???
by
dk54321
Today at 5:47 pm
»
SFG for shade?
by
Marc Iverson
Today at 5:42 pm
»
Bed Raising
by
jimmy cee
Today at 5:19 pm
»
Compost: Bekeley 18 day [hot] method
by
grownsunshine
Today at 4:41 pm
»
PNW: October 2014
by
Marc Iverson
Today at 4:41 pm
»
MEL'S MIX CALCULATOR not working?
by
jimmy cee
Today at 4:38 pm
»
The website squarefootgardening.com is down!
by
brainchasm
Today at 4:00 pm
»
Table top getting extra weeks of sun
by
CapeCoddess
Today at 3:56 pm
»
Newbie in Las Vegas, year 1!
by
sanderson
Today at 2:33 am
»
moved our beds
by
FamilyGardening
Yesterday at 9:35 pm
»
Are you seeing bees?
by
AtlantaMarie
Yesterday at 6:57 pm
»
Pill bugs!
by
jimmy cee
Yesterday at 2:55 pm
»
Friday's Rookie Topic VIII: French Tarragon
by
Marc Iverson
Yesterday at 1:17 pm
»
Oct in the Lower South
by
Ha-v-v
Yesterday at 10:03 am
»
Friday Rookie Topics 2012
by
johnp
10/20/2014, 3:27 pm
»
Friday Rookie Topics 2011
by
camprn
10/20/2014, 1:43 pm
»
How much Rabbit Poo on/in garlic bed?
by
brainchasm
10/20/2014, 12:30 pm
»
What are you eating from your garden today?
by
floyd1440
10/20/2014, 8:53 am
»
Gardening in England
by
walshevak
10/20/2014, 6:56 am
»
Caprese is easy with home made cheese
by
sanderson
10/20/2014, 4:10 am
»
Hello from Northeastern IL.
by
sanderson
10/20/2014, 2:11 am
»
Blight
by
yolos
10/19/2014, 9:10 pm
»
2014 SFG in Brooks, GA
by
Windmere
10/19/2014, 7:41 pm
»
Mid-South: October 2014
by
Windmere
10/19/2014, 7:37 pm
»
Sept tomatoes
by
floyd1440
10/19/2014, 6:16 pm
I got this idea from a guy on youtube, I've been wanting to try hydroponics for awhile and I had most of the stuff I needed but I didnt want to build a full system until I have some experience.
So I built this mini hydro system from a plastic coffee can, air pump, air stone ,plastic cup and some hydroton clay pellets. total investment $1.50 for the airstone, I already had everything else laying around the house. I have about 150lbs of the clay balls that I bought from people who were renting a house to a guy who was also doing hydroponics, just not quite so legal (yet) if ya know what i mean.
the clay balls sell for about $60 per 50lb bag, I got all of it for about $30
I'll do my best to explain the system and how it works. This is known as a DWC system (Deep Water Culture) The growing media (hydroton) is used to hold the plant in place and the roots of the plant are submerged in a water/nutrient solution, I punched some holes in the sides and bottom of the cup to allow water in. air is then pumped into the water to oxygenate the root system.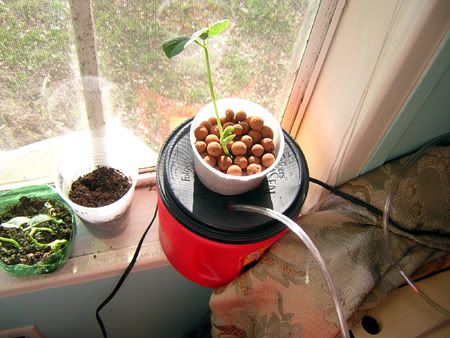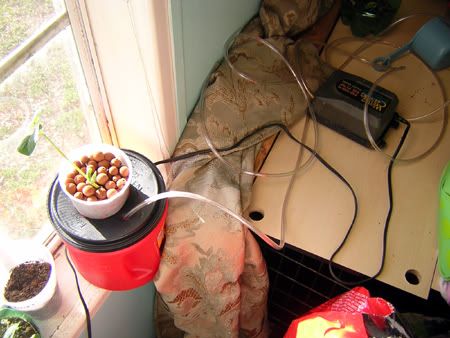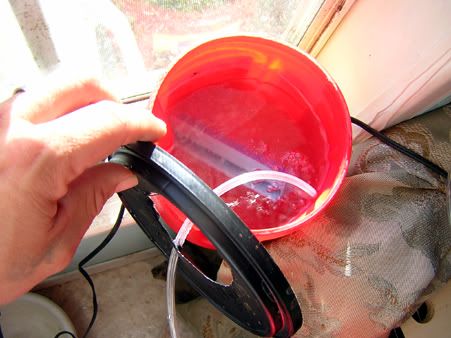 Last edited by bpbdrummer on 4/2/2010, 8:53 pm; edited 1 time in total
sounds interesting definatly keep us posted on this works out



Posts

: 459


Join date

: 2010-03-02


Age

: 39


Location

: New Port Richey FL.



Interesting. What sort of nutrients do you have to add to the water and how often do you have to add it?



Posts

: 99


Join date

: 2010-03-05


Location

: Smyrna, TN



nutrients are complicated, the miracle grow plant food I added isnt really the right stuff to use because it doesnt have all of the trace elements and micro nutrients like calcium, magnesium, sulfur, boron, cobalt, copper, iron, manganese, molybdenum and zinc.

there are a few ways to test the nutrient content of the system, one is by measuring the EC (electrical conductivity) with a probe, The higher the conductivity, the more dissolved solids there are in the solution.

I'm not doing all of that for this little system, I'll play it by ear and add a few drops every week or two, that is unless the plant gets too big for the system.
You could probably do a bit of searching within the Beer Home Brewing world. They use several of those compounds and minerals for water additions in the wort. I have brewed beer at home for years and while I do not get as technical as some I have used calcium carbonate, magnesium sulfate, PH stabilizing salts, and servomices which is zinc yeast nutrients in my brewing before. They were all very cheap to buy in small quantities from my local brew supply shops. I think I got 2oz of calcium carbonate and magnesium sulfate for just a couple dollars.

Neat project for sure. I look forward to the updates.



Posts

: 99


Join date

: 2010-03-05


Location

: Smyrna, TN



They sell hydroponic specific nutrients, i just havent gone to the hydro store and picked any up. i figure this is a low budget test before jumping into a larger system.

I'll let the bush bean go for a little while and then try tomato and maybe lettuce.
hi bpbdrummer, that looks interesting, but be careful when you are using hydroponics nutrients. Only certain specific nutrients are suited for specific mediums, it is very necessary to cross verify all the ingredients that are used for the plants. There was a recent update about the inaccuracy of the hydroponics label information which may hamper the proper growth of the plants....
check out the article here for more details and you'll be surprised.
http://www.prweb.com/releases/2011/5/prweb5245164.htm



Posts

: 2


Join date

: 2011-05-19


Location

: united States



Brendon
Glad to have you join us. You may have noticed that the last post on this thread was 2010.
Do you SFG? Hope so, cause we love Square Foot Gardening.
Let us know how your SFG is going, and ask questions if you have them. We have a friendly group that likes to help. We aloo enjoy hearing how your garden is progressing.
Again, Welcome!



Posts

: 3141


Join date

: 2010-06-10


Age

: 67


Location

: Coastal Oregon, Zone 9a, Heat Zone 2 :(



hi, furbalsmom.. thanks for the welcome.. I just skipped that part and wanted dpdrunner to know about the recent update regarding the hydroponic nutrients accuracy...




Posts

: 2


Join date

: 2011-05-19


Location

: united States



Foxfarm makes awesome nutrients. use

grow formula, then switch to the bloom formula



Posts

: 3


Join date

: 2012-03-28


Location

: Lodi, CA



---
Permissions in this forum:
You
cannot
reply to topics in this forum