Latest topics
»
Happy Birthday!!
by
AtlantaMarie
Today at 7:47 am
»
N & C Midwest; July 2017 !
by
CapeCoddess
Today at 7:23 am
»
Growing Romanesco Broccoli
by
plantoid
Today at 7:20 am
»
Today's Harvest
by
CapeCoddess
Today at 7:16 am
»
CANADIAN REGION: What are you doing in JULY 2017?
by
sanderson
Today at 2:07 am
»
Eggplant Blossom End Rot?
by
sanderson
Today at 2:04 am
»
What I've learned this year
by
CitizenKate
Yesterday at 11:30 pm
»
What do you know about making sauerkraut?
by
No_Such_Reality
Yesterday at 10:36 pm
»
What are you eating from your garden today?
by
Scorpio Rising
Yesterday at 8:18 pm
»
TrolleyDriver's Compost Thermometer
by
sanderson
Yesterday at 4:18 pm
»
Tornado Cake
by
sanderson
Yesterday at 4:04 pm
»
Do I need to pollinate my zucchinis?
by
CapeCoddess
Yesterday at 10:19 am
»
How's the Weather Where You're At?
by
trolleydriver
Yesterday at 8:21 am
»
Turan in the Western Mountains
by
sanderson
Yesterday at 1:07 am
»
Your favorite watermelon and pumpkin
by
sanderson
Yesterday at 12:59 am
»
Friday Rookie Topic XII: Cucumbers
by
Scorpio Rising
7/24/2017, 8:40 pm
»
More on garlic scapes
by
greatgranny
7/24/2017, 7:17 pm
»
Third Year SFG in Canada
by
SwampTroll
7/24/2017, 2:47 pm
»
My early garden
by
sanderson
7/24/2017, 3:15 am
»
Garden Footwear
by
sanderson
7/24/2017, 3:14 am
»
Square footage
by
sanderson
7/24/2017, 3:03 am
»
Healthy Meals
by
RoOsTeR
7/23/2017, 10:19 pm
»
HELP! Sweet Potato Plant!
by
countrynaturals
7/23/2017, 11:26 am
»
2017: First full year of SFGing in ND
by
Robbomb116
7/22/2017, 9:10 pm
»
New England July 2017
by
quiltbea
7/22/2017, 8:10 pm
»
2017 SFG in Brooks, Ga
by
sanderson
7/22/2017, 7:38 pm
»
Green Caterpillars
by
sanderson
7/22/2017, 2:22 pm
»
Some of our Gluten-free Cajun Recipes
by
sanderson
7/22/2017, 1:50 pm
»
Senseless Banter...
by
sanderson
7/22/2017, 1:43 pm
»
California's Drought
by
countrynaturals
7/22/2017, 12:03 pm
I've really enjoyed reading Josh's bird watching thread and seeing all the different birds you guys have over there so I thought you might be interested in seeing some of the birds I get in my area. I only have the one pic so far but as I manage to get shots I'll add more.
This is a baby Noisy Minor that was in my rock garden this morning so I moved it to my gardenia to give it some protection from the rain. These birds really do live up to their name especially when you're near their babies! The adult birds were chirping like mad and swooping me whilst I moved the baby. This is the second baby we've had in the backyard in the last few months. They seem to venture out of the nest before they're able to fly back to it, this baby's nest is very high up in a tree.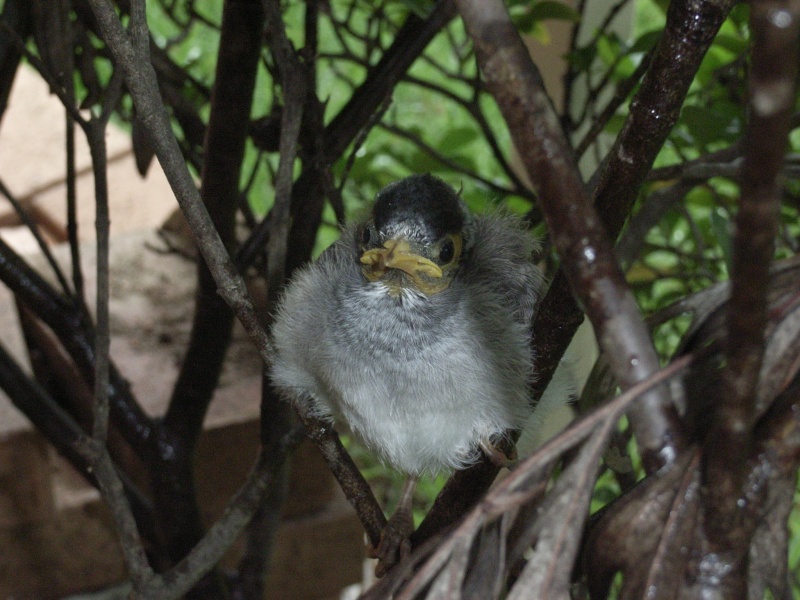 Posts

: 2467


Join date

: 2010-05-05


Age

: 62


Location

: Warner Springs, CA USDA Zone 8a, Sunset Zone 7 (I think)



Thanks Chopper, the babies tend to stay still so I was able to get very close and use the macro setting on the camera. No picture of the parents yet as they keep landing too far away.
Unfortunately baby didn't make it

Found it dead on my paving at lunch time. Don't know what happened, it was fine this morning and it didn't look like it had been attacked.
It's been a bad week for the Noisy Minors, we found another dead baby on our grass on Sunday.

We think it fell out of the tree, but the good news is there's still another baby around.
The parents were also cooperating on the weekend and since it wasn't raining for a change I managed to get a few pics of the adult Noisy Minor up in the tree, so here's the best one.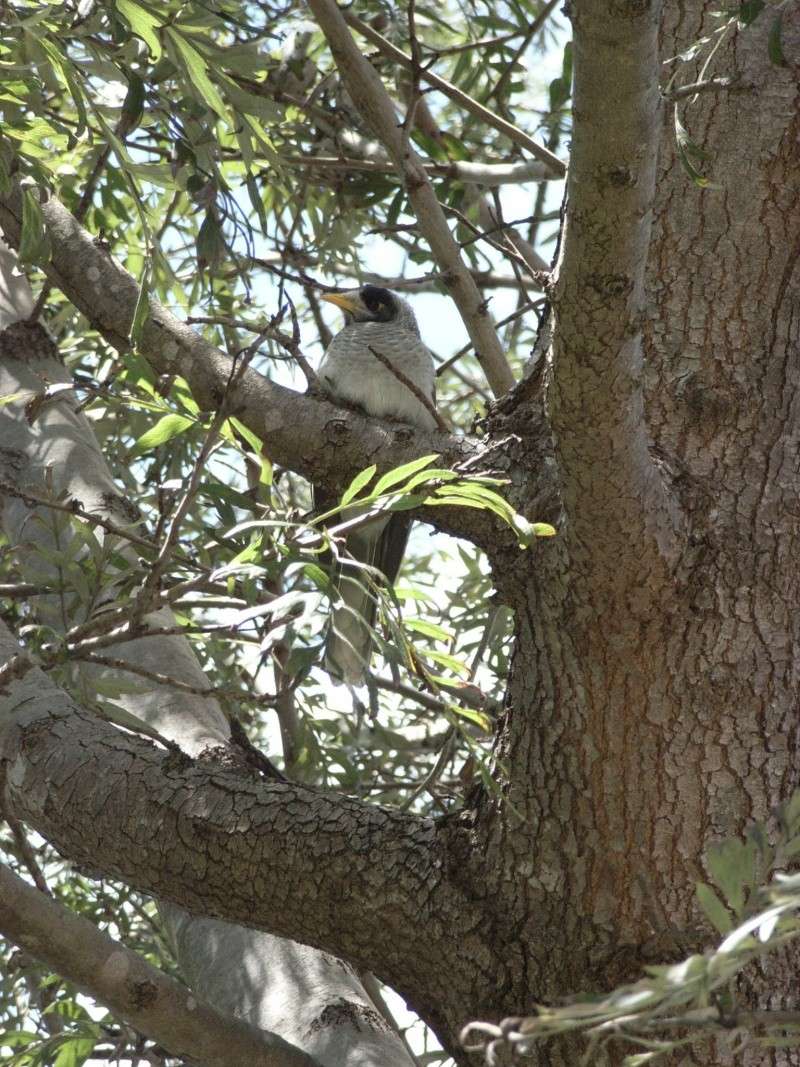 Sorry about the loss of chicks. Birds are quite good at concealing illness and injury. Perhaps the first chick was hurt by the fall from the nest and just "looked" fine. They are very beautiful birds but I think I would rather see them than hear them.




Posts

: 1697


Join date

: 2011-04-01


Location

: zone 9a St.Johns county FL



They're not too bad, the chicks can get annoying because they don't shut up but for me it brings back childhood memories of being at my grandmother's place.

Besides, in terms of noise, the cockatoos and kookaburras are far worse! Thankfully, no kookaburras around here as they can be a real nuisance with their pre-dawn chorus of laughter, they always wake me up when I'm at my sister's place.
Finally got a picture of one of the Rainbow Lorikeets that visit my grevillea out the front all the time. It's not a great pic as I took it on my phone and they flew away before I could get many shots but here it is!
Well it certainly is not something I have ever seen.
Thanks so much for sharing those great pictures.
So nice to see birds from other parts of the world.
We only have crows here right now, that seem to be ORGANIZING something in my neighbourhood....




Posts

: 2804


Join date

: 2012-01-14


Age

: 60


Location

: british columbia zone 5a



Lol GWN! Hope it's not too serious!
Technically this is my neighbour's front yard but we get them in our yard too!
This one is a magpie, they are highly territorial birds when it's nesting season and will swoop unsuspecting passers by (pulling out hair). We've never had a problem with them though, I think because they know us as they grew up in our trees, other people might be different.
---
Permissions in this forum:
You
cannot
reply to topics in this forum