I use to garden quite abit when I was living in Vermont and had plenty of space. Now I live in NH and have limited space and want to get back into it. Even back into canning that I did for 3 years and loved it. Hoping to pick up some useful info here.



Posts

: 2


Join date

: 2012-02-29


Location

: Milford, NH



Welcome, Alstaubin! With limited space, I think you will find SFG is the way to go. (There are a lot of reasons why it is such a great way to garden, but that is certainly one of them!)

I think you will find a lot of useful information, and lots of helpful people here. Camprn, one of the forum Moderators, is from NH and is a very knowledgeable gardener.

Take a look around the site, and holler if you have any questions!



Posts

: 2188


Join date

: 2010-03-03


Age

: 60


Location

: Acton, Massachusetts Zone 5b/6a



Martha, thanks for the welcome. Like what I see so far and have been interested in container gardening or similar since last year so real interested in this style.



Posts

: 2


Join date

: 2012-02-29


Location

: Milford, NH



Hi Al
neighbor, to the SFG Forum!
____________________________
41 years a gardener and going strong with SFG.
http://squarefoot.creatingforum.com/t3574-the-end-of-july-7-weeks-until-frost
There are certain pursuits which, if not wholly poetic and true, do at least suggest a nobler and finer relation to nature than we know. The keeping of bees, for instance. ~ Henry David Thoreau
http://squarefoot.creatingforum.com/t1306-other-gardening-books

Forum Moderator Certified SFG Teacher




Posts

: 14165


Join date

: 2010-03-06


Age

: 54


Location

: Keene, NH, USA ~ Zone 5a



alstaubin
Glad you joined us. This is a great group of people and full of information that they are willing to share.
If you have not yet, please obtain a copy of ALL NEW SQUARE FOOT GARDENING that was written by Mel Bartholomew and published in 2006. The book is easy to understand and full of simple instructions on growing the best garden ever. This forum is a good supplement to the book.
SFG is such a great method of gardening, takes less space, is lots less work, and you can still get a good bit of veggies.
Keep us posted on your progress and feel free to ask questions.



Posts

: 3141


Join date

: 2010-06-10


Age

: 70


Location

: Coastal Oregon, Zone 9a, Heat Zone 2 :(



Welcome from a Maine neighbor. If you grow with containers, I've found that determinate tomatoes, peppers and lettuce have worked well for me. I also grew basil, parsley, thyme, chives, lemon balm and even rosemary in pots so I could take them inside in late fall to continue to give me fresh herbs for the winter. I was amazed at how much food I grew this way. My containers were mostly large pots.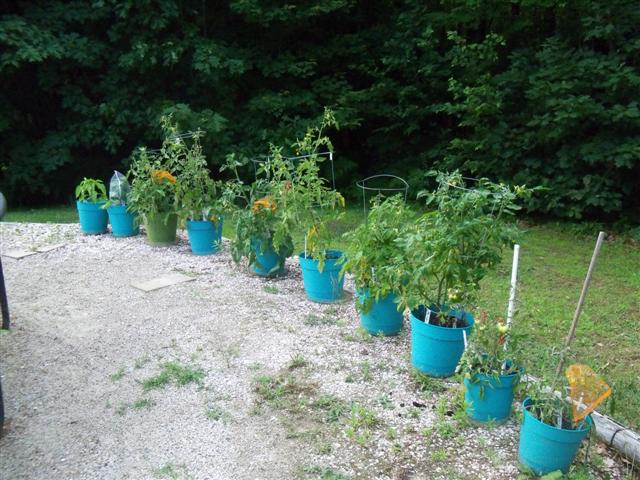 Above: My row of tomatoes and peppers growing well in pots.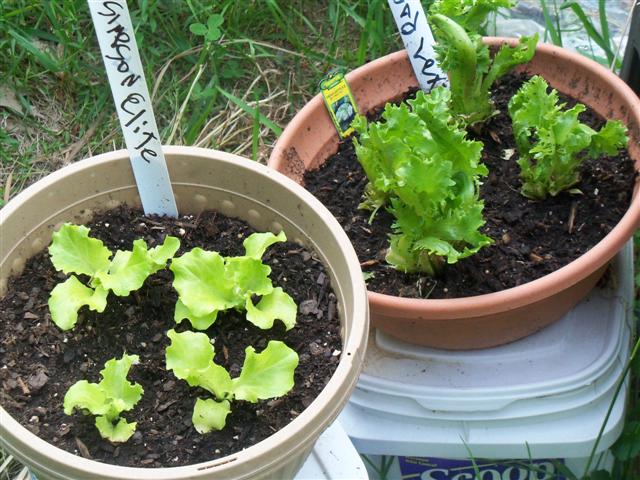 Above: Shallow lettuce pots regrowing after harvesting earlier.
This year I am adding eggplant to containers so I can take them inside when the nites aren't warm enough (they like it 60*F or higher nites) which doesn't often happen here in Maine.
Good luck with your containers. I'm sure you'll enjoy your harvests. I got 4 harvests off these little guys for salads before it got too hot. Just cut them down to an inch of the soil and they will regrow.



Posts

: 4688


Join date

: 2010-03-21


Age

: 75


Location

: Southwestern Maine Zone 5A



---
Permissions in this forum:
You
cannot
reply to topics in this forum