Latest topics
»
What are you eating from your garden today?
by
countrynaturals
Today at 5:01 pm
»
Ground Cherries
by
countrynaturals
Today at 4:58 pm
»
New England March 2017
by
CapeCoddess
Today at 3:19 pm
»
New from OK City
by
phoeg
Today at 2:50 pm
»
CANADIAN REGION: What are you doing in March 2017
by
CapeCoddess
Today at 12:32 pm
»
Butterfly Junction
by
countrynaturals
Today at 11:56 am
»
Squares under siege... by grass!
by
has55
Today at 7:38 am
»
Tomato Mystery Mix
by
Avinash
Today at 12:06 am
»
How's the Weather Where You're At?
by
TCgardening
Yesterday at 9:46 pm
»
New to SFG!
by
TCgardening
Yesterday at 9:39 pm
»
N & C Midwest: March 2017 Brink of Spring
by
CitizenKate
Yesterday at 9:12 pm
»
North Texas - Square Foot Garden
by
Scorpio Rising
Yesterday at 8:34 pm
»
How can we save this tree?
by
countrynaturals
Yesterday at 2:30 pm
»
Terrible News: Bumblebees In Trouble
by
countrynaturals
Yesterday at 1:18 pm
»
Ontario - trying out SFG
by
Kelejan
Yesterday at 12:39 pm
»
List of Forum Members with Blogs
by
Cajun Cappy
Yesterday at 12:31 pm
»
SUGA 2017
by
SQWIB
Yesterday at 9:26 am
»
Happy Birthday!!
by
AtlantaMarie
Yesterday at 8:42 am
»
who has chickens
by
sanderson
3/21/2017, 3:00 pm
»
Rolling Boxes
by
sanderson
3/21/2017, 2:50 pm
»
Bok Choy
by
Scorpio Rising
3/20/2017, 7:16 pm
»
2017 SFG in Brooks, Ga
by
countrynaturals
3/20/2017, 11:53 am
»
Need Plant Chart for Nighttime Lows
by
Judy McConnell
3/20/2017, 10:55 am
»
Collecting Rain Water - Come on Rain!
by
newbeone
3/20/2017, 3:39 am
»
Did I kill my strawberry plants
by
bigdogrock
3/19/2017, 8:45 pm
»
Carrot Week 2017!
by
Turan
3/19/2017, 6:05 pm
»
Gift Amaryllis
by
countrynaturals
3/19/2017, 12:48 pm
»
question about Garlic and winter
by
GWN
3/19/2017, 10:41 am
»
has55's R & D Journey:expanding my SFG to front yard
by
AtlantaMarie
3/19/2017, 9:56 am
»
Northern California & Coastal Valleys - What are you doing this month?
by
sanderson
3/19/2017, 12:35 am
Hello all, from South Louisiana. I was a row gardener long ago, but quit due to the lack time I could commit to it (tilling, planting, weeding, harvest, etc.). Last season, I decided to try raised beds. I had a pretty decent season, however, I couldn't plant much (according to the seed packets) in the boxes (48" x 30" x 8") I picked up at work. My girlfriend went for a visit with her family in Texas last year, and her dad bought me the SFG book. "Intresting concept", I thought. So I spent the winter contemplating and planning along with lurking on this forum (a big thanks to all who contribute). I planted everything according to the spacing in the book, with the exception of corn, in which case, I made my grid 8 square inches instead of a square foot. That old row gardener in me cried out about putting 4 stalks in one square foot. I may give it a shot on my last planting before winter gets here.
Anyhow, this was my process, and how far I am along. Hopefully it all works out.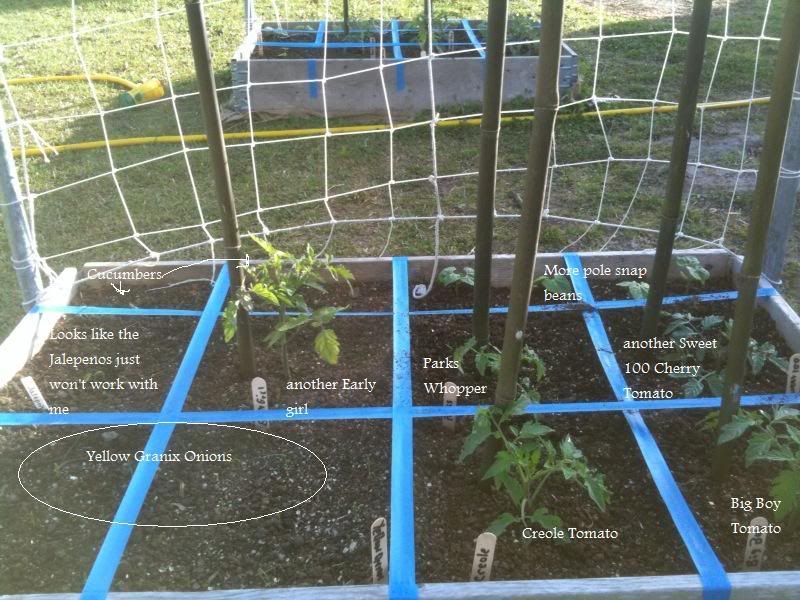 Bayou:

Welcome to the forum. Been lurkin'? Sounds to me like a Big Ole Redfish hiding in the deep waiting for a shrimp. I too was hooked as soon as I read the book. Even after we have read the book and had our first harvest it is sometimes hard to shake the old ROW way of life until we remember being a Summer Santa Claus - hoe, hoe, hoeing.

I lived in Harvey, LA for 4 years while in the Navy and my brother is still around Breaux Bridge so I know of some of the gardening challenges and triumphs of around the Bayou. If I or anyone else here can help with your SFG please post your questions. If you can help someone else please post answers or opinions and post pictures when you can. Also check out your regional forum near the bottom of the main forum page.

WOW: Your pictures are great. They just loaded with my slow, slow, slow internet connection. Love your garden. I like how you made your squares from reclaimed material. I make mine from as much reclaimed material as I can. Sure would like to have your source! I see that you do a lot of vertical gardening. In the long summers of Louisiana they must really produce well for you. What are your favorite crops and do you can/freeze any excess? From the number of boxes that are in your pictures you should be producing a bunch. What do you plant in your boxes and do you rotate your crops from box to box with the seasons and years? Oh, and one more question. Can you post your favorite recipe for gumbo made with fresh veggies harvested from your garden in the recipe forum? I do like gumbo!

As Always, God Bless, Ward.

Certified SFG Instructor




Posts

: 935


Join date

: 2010-02-26


Age

: 66


Location

: Wake, VA



Congratulations Bayou! Looks like you are off to a great start - things are blooming already! It's always nice to see another lurker emerge from the shadows.


Certified SFG Instructor




Posts

: 778


Join date

: 2010-03-02


Location

: Frisco, Texas



Thanks guys!

Ward, I'm in Jeanerette, just a stones throw away from Breaux Bridge. We can't get enough Tomatoes and Cukes in this house. But my all time favorite has to be fresh sweet corn. My vining and climbing plants are always very bountiful, even in the row garden I used vertical and overhead systems for those crops. I planted some pole beans this year, because kids love snap beans. In the row garden I planted bush beans.

As far as the reclaimed items, I put myself on a very strict budget this year, as so I don't overdo it (after all, that row gardener is still buried inside of me, and the skepticism lingered all winter.). The support for my vertical plants was salvaged from those portable garages that have the tarp on top. They almost got thrown away until I had the brainstorm. I started my compost last year, so the only items in my garden that I paid for was vermiculite, peat moss, a few PVC 90's, string and seeds (which I sent my better half to the nursery for, and she picked up more seeds than I asked for.) That will turn out well though, because of the 14 different varieties of tomatoes I have we can choose the ones we like best and use only those next season, and I'll be able to throw some heirlooms in the boxes next year also. I plan on adding at least three more boxes next season, as to aid in the crop rotation from year to year.

These boxes ARE stackable, so I'm thinking of potatoes in the fall and adding boxes on top as the plants grow. I just don't know how well they will do as a fall crop.

As soon as I can, I'll post a recipe for both gumbo and a jambalaya.

Randy
Thanks for the great pics, Randy. The first thing that jumped out at me was your grids. Plastic ribbon! Not only colorful but cheap. That has never been mentioned on the forum before as a possibility. And I have plenty of pink ribbon around that I use as 'flags' when I'm carrying extended loads on my truck. Cool!

Corn is one of my priorities in the garden too. I have a 8x25 raised bed, no grids. I use a modified storey stick to plant at 1 foot seed spacing and 1 foot rows. I can't bring myself to grow any closer-not after having looked at the root structure.

What I have learned recently is that there are short, mid, and long season corn. The short season corn doesn't grow tall and will have multiple ears. It's my understanding that is what works best in a sfg box.

I grew some peaches and cream last year, a white and yellow hybrid, that was the best I've ever eaten. Occasionally, I would stand next to the corn and eat an ear or two for lunch, raw. It was that good. But the climate isn't always kind to us here in the PNW, the year before I planted 200 seeds, and got 5 puny, stunted ears that I threw in the compost because I was so disgusted!


Anyhow, welcome aboard, and we look forward to more pics



Posts

: 7392


Join date

: 2010-02-26


Age

: 64


Location

: yelm, wa, usa



Lovely garden! I am equally impressed by the grid. is it ribbon or painters tape? Also, what are you growing in the box with the elevated horizontal string grid?

Forum Moderator Certified SFG Teacher




Posts

: 14083


Join date

: 2010-03-06


Age

: 54


Location

: Keene, NH, USA ~ Zone 5a



Huh! Now that you mention it, it does look like painter's tape!
I wonder if the elevated string is support for corn?
I wish my garden was that far along.




Posts

: 7392


Join date

: 2010-02-26


Age

: 64


Location

: yelm, wa, usa



That's exactly what it is. It's funny that you mention ribbon though. I had some to use (same color as the painters tape), but I had no way to attach it. While looking for some tacks I found the tape, that's the story behind that. I'm sure I'll add the ribbon soon though, because the tape isn't weathering well.
The elevated grid is for support on the corn, I'm going to thread them a little smaller once the corn grows thru. With the winds blowing off the Gulf, and the popup thundershowers here, I need all the help I can get keeping them up.
Boffer, I had already known about the seasonal corn, long, mid, short, what I didn't know, however, is that short was preffered for the SFG. I'm glad to hear it though, because that's what I planted. If I figured it right, then I should get 4 plantings in that box before the first frost here. I too, can eat them straight off the plant, if I get caught with an empty cob I then blame it on the worms.

Not to upset you further, but these pics were taken last Saturday. Today, all the plants are almost doubled in size.
Last year was the first time I ever ate an ear of corn right out of the garden (not my garden!) Maybe next year I'll get brave and try.

But your garden looks great, and I am sure you will enjoy putting your skepticism to sleep!



Posts

: 2188


Join date

: 2010-03-03


Age

: 60


Location

: Acton, Massachusetts Zone 5b/6a



---
Permissions in this forum:
You
cannot
reply to topics in this forum