Hello, my boyfriend and I are starting our first SFG. I have had larger regular gardens in the past so this is gonna be an experiance. We have been doing alot of research and planning, but have a few questions about if certain vegetables should not been planted near each other. Any good websites to go for info on this. Thank you for your help. Shannon and Mike
Shannon
my boyfriend and I are starting our first SFG
This is going to be a great change from traditional gardening, no more double digging, next to no weeding and once your SFG beds are set up and filled with Mel's Mix your major jobs are going to be planting, watering and watching while those veggies grow and mature.
Here is a link to a previous thread on >>>
COMPANION PLANTING
Enjoy you new garden.



Posts

: 3141


Join date

: 2010-06-10


Age

: 70


Location

: Coastal Oregon, Zone 9a, Heat Zone 2 :(



Thank you so much for the link. We are working on aquiring our soil mix items right now, got our vermiculite today.. Trying to decide on all the compost types...
Here is another link for you. Helps you pick good compost for the best mels Mix ever.
MELS MIX



Posts

: 3141


Join date

: 2010-06-10


Age

: 70


Location

: Coastal Oregon, Zone 9a, Heat Zone 2 :(



| | | | | | |
| --- | --- | --- | --- | --- | --- |
| beans | beans | beans | broc | open | open |
| cuke | cuke | squash | squash | zucch | zucch |
| rosemry | g.pep | b.sprts | b.sprts | r.peps | j.peps |
| carrots | garlic | r.pots | r.pots | sberry | sberry |
Wow, that was a fount of info.... We have located a place to get worm castings, we can get mushroom compost and black cow from our local feed store, we are working on locating a place to get chicken manure as well as horse manure. We dont really cook or anything to do our own compost heap but we are trying to figure out a way to do so.
Also, our tentative 4x6 garden plan is above any ideas how we can make it move effective or better. Please keep in mind this is our first time SFG, so we dont want to go to advanced. The cucumbers, squash and zucchini will be vines on trellis. The beans are on the north side.
Thanks again to all the "experienced" growers who give us newbies all the info and knowledge in your heads.
I would make the following changes: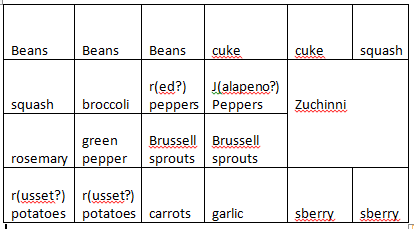 If the beans are pole beans they need a trellis. OK. So do squash and cukes but they should not be in front of the beans to shade them out. One squash on the end if you can extend the trellis or let the squash spill over should be ok.

Zucchini (spelled wrong up top) will need 4 squares at least. They should actually be in the corner maybe but thought they might shade out strawberries. Some people prefer separate boxes for them.

The potatoes will need a riser so are easier to deal with in a corner, IMO. Not a deal breaker.

If you are not saving seed, the peppers should be ok, but the pollen will mix amongst them and the seeds will not be true. I think the peppers should be ok though. If your green pepper turn out hot, then I am wrong.

And I might possibly switch the Brussel sprouts with the peppers to their north. Brussel sprouts get very leafy and tall.




Posts

: 2467


Join date

: 2010-05-05


Age

: 62


Location

: Warner Springs, CA USDA Zone 8a, Sunset Zone 7 (I think)



Hello and welcome from another upstate SCian! I'm in Fort Mill, just outside of Charlotte. Glad to have you! Hope you find as much help and support as I have here the past year. This is year number 2 for me, and I'm more than hooked. Counseling might be in order in fact.

Best of luck to you, again, welcome!
Tracy in SC



Posts

: 309


Join date

: 2011-03-20


Age

: 42


Location

: Fort Mill, SC



Also, garlic is usually planted in the fall and harvested in the spring. But hey, I planted late one year and it did fine. My fall garlic was better though.



Posts

: 2467


Join date

: 2010-05-05


Age

: 62


Location

: Warner Springs, CA USDA Zone 8a, Sunset Zone 7 (I think)



---
Permissions in this forum:
You
cannot
reply to topics in this forum