So last year I attempted to start my own cruciferous veggie plants (without a light mind you) and, as I have now learned, I got a lovely case of damping off and they all bit the dust. So, I invested in a 18" fluorescent light to mount above a shelf in my laundry room and managed to grow my own tomato plants last year.
Since I do not give up easily, I decided to try again with the ones I killed last year and...they are still alive (and looking rather good I do believe)! I don't use a heat mat, but sprout in vermiculite and then move to square pots (recycled from previous plant purchases and run through the dishwasher) with two plants in each pot. I'll repot if they get too big but I should be able to get them in the ground in the next 3-4 weeks. I'm just so amazed they are still alive. I added a second light to give me more room this year. I love my little baby plants!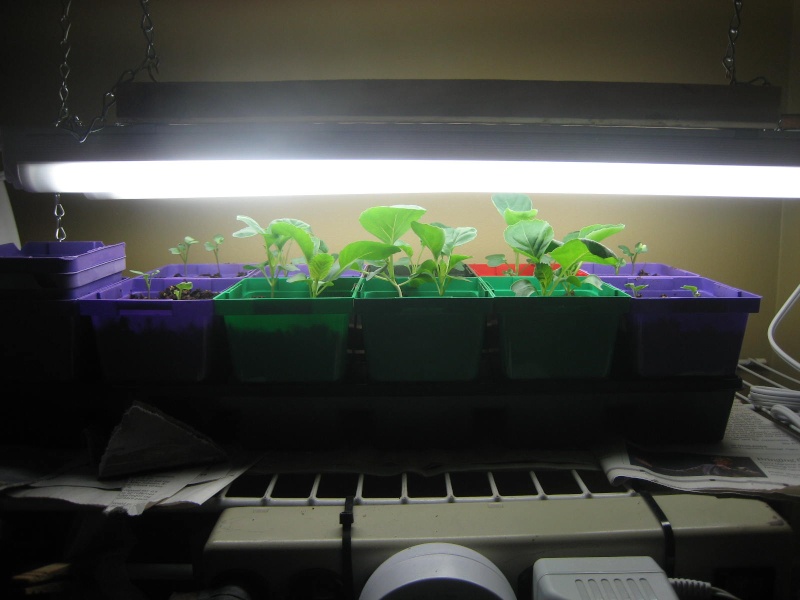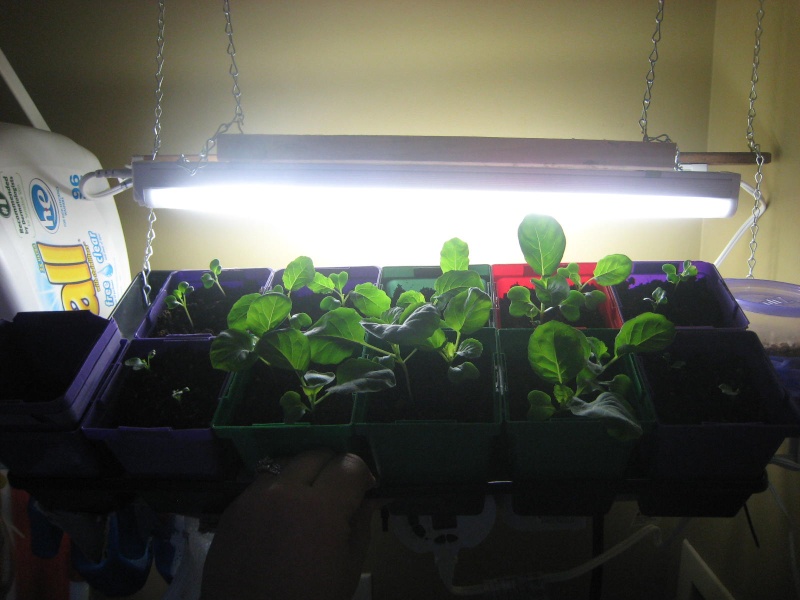 Green pots in the front are cabbage (Caraflex - "cone shaped" ones from Johnnys), the three middle ones in the back are cauliflower, and the purple pots on each end are broccoli.



Posts

: 105


Join date

: 2011-02-18


Location

: Omaha, NE, Zone 5



Smartchick,
That's unbelievable, incredible!



Posts

: 355


Join date

: 2011-12-12


Age

: 70


Location

: Chicago, South Shore, c. 100yds to Lake Michigan, Zone 6a



Great! Isn't it wonderful to see your little creations growing up and green? I just love starting seeds each year.



Posts

: 4673


Join date

: 2010-03-21


Age

: 75


Location

: Southwestern Maine Zone 5A



Nice looking Starts under the Lights.

What is the plant tray sitting on? You said you're not using a heat mat, looks like some sort of a grate?



Posts

: 51


Join date

: 2011-03-10


Age

: 60


Location

: Milton, WA; PNW - Zone 7-9



They are actually sitting in a tray that I got a couple of years ago when I bought a bunch of plants at one time near the end of the season - it is from a local nursery and it holds 18 three inch square pots. Underneath it I have some newspaper to absorb any water that leaks out after I water them (the tray has small drainage holes in it) and they are sitting on a wire shelf in my laundry room above the washer. I have two 18" lights that are connected together and then hooked to a digital light timer (that I usually use at Christmas for our tree. : ) ). This way I don't have to remember to turn them on and off every day.



Posts

: 105


Join date

: 2011-02-18


Location

: Omaha, NE, Zone 5



---
Permissions in this forum:
You
cannot
reply to topics in this forum