I finally got some seeds sown...
Two lots of red onions, two lots of white pickling onions.
Early Copenhagen Cabbage
And not forgetting Collards...
I'll be back down at the shed tomorrow sowing lots more stuff...
Had to call a halt because my arthritic spine was killing me. I need to get a bar stool to sit on when working in there.
The heater is working fine and the shed was 60plus today.. got a little too warm for me.. I like to be kept cool...lol

Tomorrow, tomatoes, peppers, and herbs and flowers.... and other things I can't remember without looking at the seed packets...lol

Aran



Posts

: 80


Join date

: 2012-01-06


Age

: 64


Location

: North Eastern Ontario, Canada, Zone 3



YAY! It's so exciting to be finally planting!




Posts

: 559


Join date

: 2011-04-18


Age

: 50


Location

: Springfield (central), IL, on the line between 5b and 6a



my lower back is hurtin me too!
it does feel good to get some seeds in the ground though.....this year hubby and the children are doing most of it......i tried to sneak in a few seeds and im paying for it tonight ....this is where i wish we had table tops....we were going to put legs on our 4x4's but got caught up in other garden plans....so maybe next year....i love doing the sowing and im really missing it....im glad to have little baby seedlings in the house to look after

so glad you were able to get out today!!
hugs
rose



Posts

: 2424


Join date

: 2011-05-09


Location

: Western WA



Great news on your first seeds in!

We are getting a tease of snow today, but it should be getting back into the 50s again soon here in costal Mass.. I hope to set up my cold frame this weekend and begin hardening off my seedlings this week.
I plan to sow seeds myself next weekend and transplant my seedlings soon after. Then starting my May and June crops indoors.
Happy gardening!



Posts

: 108


Join date

: 2011-07-06


Location

: East Weymouth- Zone 6B



Aran....Glad to hear you are getting started. You are in a cooler zone than me so I'm sure you are thrilled to get started. I was. Just remember it can only get warmer in the coming weeks. Have fun.
I don't mean to highjack your thread, but hoping Family Rose comes back to check later posts and have info that might help her.
Family Rose....Sorry to hear about your back. I, too, suffer low back pain from an auto accident years ago. Wish I had some tabletops but don't see that in my near future. I'm happy to have 12" high beds. I sit on 2 upended 28# size kitty litter buckets when working out there and it helps the back. I don't have to reach down so far. Try them. It might help your back, too. Since I can't kneel (bad knees, too) straddling the buckets helps a lot.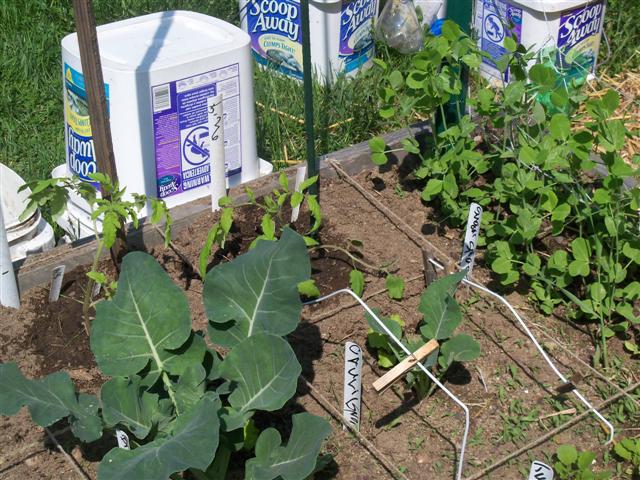 Like above, if you put 2 together, it makes it a bit higher and 3 makes it higher still, so you can put together as many as you need to make it comfy. Straddle it and you can work right up close beside the bed. A little tip for those with iffy backs. Works for me.



Posts

: 4687


Join date

: 2010-03-21


Age

: 75


Location

: Southwestern Maine Zone 5A



Good idea about the kitty litter buckets.. I was thinking I'd end up sitting on the ground this year...lol
I fell and hurt my lumbar region on some steps about 5 yrs ago and have developed arthritis there now...as well as Fibromyalgia after the accident...

I decided to pre-germinate today.. so I could work in the kitchen instead of the shed, the temp has been minus 20 C again today....
So I got everything prepared, kitchen paper towel cut into small sections, medium plastic bags, seed packets, scissors, sticky paper dressing from the first aid kit for labeling the bags...lol

Wet the paper towels, sprinkle seeds, seal into plastic bags and voila.... pre-germination commences...
Prepared today:
Sub Arctic tomatoes
Amish Paste tomatoes
Yellow Pear Tomatoes
Black Krim tomatoes
Sicilian Saucer tomatooes
Bonny Best tomatoes
Summer Thyme
German Winter Thyme
White stemmed Pak Choi
Green Stemmed Pak Choi
Chinese Cabbage 'Blues'

More to do tomorrow...

Aran





Posts

: 80


Join date

: 2012-01-06


Age

: 64


Location

: North Eastern Ontario, Canada, Zone 3



I made it outside today too and planted:
White Lady Turnips
Nutri Red Carrots
Sugar Snap Peas
Oregon Sugar Pod Snow Peas
German Giant Radishes
Gourmet Lettuce Blend
Mesclun Blend
Red & White Onion Sets
Garlic


____________________________
I have seen women looking at jewelry ads with a misty eye and one hand resting on the heart, and I only know what they're feeling because that's how I read the seed catalogs in January - Barbara Kingsolver - Animal, Vegetable, Miracle
sfg4u.com
FB: Square Foot Gardening 4 U

Certified SFG Instructor




Posts

: 1924


Join date

: 2010-09-29


Age

: 58


Location

: Glen Burnie, MD



---
Permissions in this forum:
You
cannot
reply to topics in this forum