Latest topics
»
Third Year SFG in Canada
by
trolleydriver
Today at 9:49 am
»
How's the Weather Where You're At?
by
trolleydriver
Today at 9:42 am
»
Your favorite watermelon and pumpkin
by
stealthmayhem
Today at 9:37 am
»
My early garden
by
sanderson
Today at 3:15 am
»
Garden Footwear
by
sanderson
Today at 3:14 am
»
Square footage
by
sanderson
Today at 3:03 am
»
Friday Rookie Topic XII: Cucumbers
by
yolos
Today at 12:28 am
»
N & C Midwest; July 2017 !
by
CitizenKate
Yesterday at 11:22 pm
»
Turan in the Western Mountains
by
Scorpio Rising
Yesterday at 11:15 pm
»
Healthy Meals
by
RoOsTeR
Yesterday at 10:19 pm
»
What are you eating from your garden today?
by
CapeCoddess
Yesterday at 6:56 pm
»
Tornado Cake
by
sanderson
Yesterday at 6:51 pm
»
CANADIAN REGION: What are you doing in JULY 2017?
by
trolleydriver
Yesterday at 6:29 pm
»
More on garlic scapes
by
recoush
Yesterday at 4:07 pm
»
What do you know about making sauerkraut?
by
RoOsTeR
Yesterday at 1:05 pm
»
HELP! Sweet Potato Plant!
by
countrynaturals
Yesterday at 11:26 am
»
Do I need to pollinate my zucchinis?
by
hammock gal
Yesterday at 9:24 am
»
2017: First full year of SFGing in ND
by
Robbomb116
7/22/2017, 9:10 pm
»
New England July 2017
by
quiltbea
7/22/2017, 8:10 pm
»
2017 SFG in Brooks, Ga
by
sanderson
7/22/2017, 7:38 pm
»
Happy Birthday!!
by
sanderson
7/22/2017, 2:26 pm
»
Green Caterpillars
by
sanderson
7/22/2017, 2:22 pm
»
What I've learned this year
by
sanderson
7/22/2017, 2:03 pm
»
Some of our Gluten-free Cajun Recipes
by
sanderson
7/22/2017, 1:50 pm
»
Senseless Banter...
by
sanderson
7/22/2017, 1:43 pm
»
TrolleyDriver's Compost Thermometer
by
trolleydriver
7/22/2017, 1:23 pm
»
California's Drought
by
countrynaturals
7/22/2017, 12:03 pm
»
Northern California & Coastal Valleys - What are you doing this month?
by
countrynaturals
7/22/2017, 11:51 am
»
Just Completed my Garden.....What Should I Plant NOW!
by
stealthmayhem
7/21/2017, 8:05 pm
»
Gardening in Central Pennsylvania, 3rd year SFG
by
sanderson
7/21/2017, 7:50 pm
I am in information overload between reading the ANSFG book, these forums, you tube videos and pinterest. It's fun but addictive

My yard as you face my house has sun rise in the right front corner and set in the back left corner. My lot is an odd shape - the front and sides are straight and the back line is at an angle sort of like a parallelogram that comes in closer to the house on the northwest side. This is where I have decided to locate my garden.
I wanted to ask opinions on the layout and placement. I bought kit on sale that is supposed to be 4 x 4 x 6 in the front and 4 x 4 x 12 in the back. I think that I will have more garden if I lay it out in a 4 x 16 x 6 arrangement. Is it too hard to care for a long garden like this? Should I separate it into different boxes?
How much room should I leave between the fence and my box?
Here is a picture of my test arrangement. The green frame is a little greenhouse cover frame that came with my kit.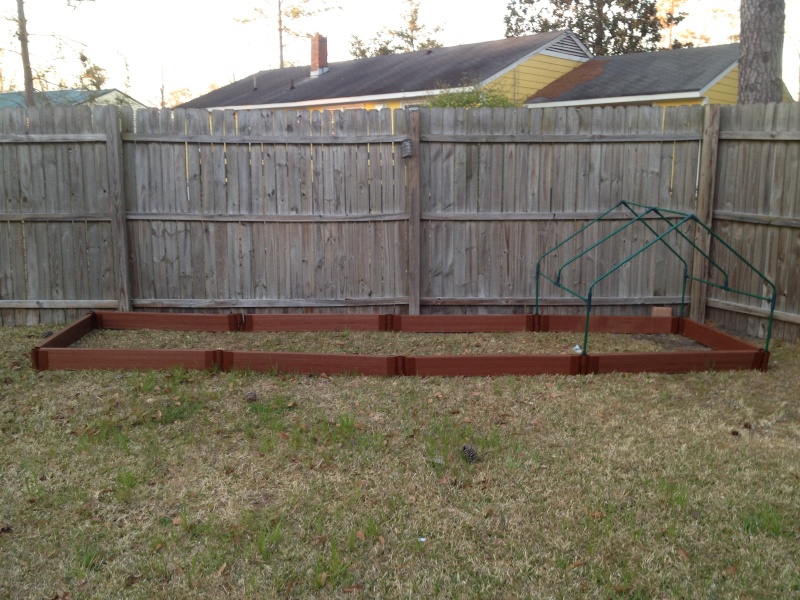 Posts

: 4


Join date

: 2012-03-01


Location

: southern coastal nc



AngelaNC
If you are going to put a box up next fence then make it 2' x 16' with no space between the back of the box and your fence.
It would make it better for you if you could make your boxes 4' x 4' and break them up if you have the room.
You should only be able to reach in 2' max from all sides of a box.

Based on you picture, I would break your photo layout into 3 - 4 x 4 boxes with 3 ' spacing around each box. I tried to make my spacing 2' but paid a price for not doing 3' (Not sure if your kit will allow 3 boxes)

Mike

Certified SFG Instructor




Posts

: 87


Join date

: 2011-06-21


Age

: 62


Location

: Ellicott City, MD



Well I have 4x4 beds and a 20 x 4 bed. I think in my case it is easier to care for the smaller beds rather than the big one. I also think it's easier to keep disease "quarantined" in a smaller box.

The other issue with the long bed is trellising sections of the bed. In a 4x4 if there is a trellis covering 4 feet it isn't a problem because you can reach in and weed from the other three sides. When you have a long bed and you trellis 4 feet along the north side of the bed, now you have to reach across 4 feet to weed, harvest, tend, and generally take care of your plants. That's a long way to reach even for someone over 6 feet tall like me. My wife isn't able to reach it at all. It was tough to tie the tomato plants onto my trellises.

For me, it also "compartmentalizes" the chores in the garden - not that ANSFG has a lot of maintenance, but there is still watering, pinching off leaves, tying up plants, some minor weeding , and whatnot, and it's easier for me to say today I'll do these two beds and call it quits afterwards if I wish. A longer bed takes a LOT longer to weed and tend.

On the plus side, it does give a bit more reserve nutrients, water capacity, and room for the roots to travel across the garden. Last year my tomato plants sent their roots across the garden wherever they wished. I am still deciding which way to plant my garden for this year, but I know I'll try to keep the trellising to a minimum on the long bed.

From the fence a minimum of 4 feet... 6 feet makes it easier to get lawn mowers, wheel barrows, hoses, and fence maintenance chores taken care of.

Hope my experience in this helps you make a decision which is right for your case.
Mark



Posts

: 121


Join date

: 2011-03-21


Location

: Mid Michigan



You bring up some great points fiddleman. I am going to trellis the length of my 8' bed and never gave a thought to my wife or kids not being able to reach in and work in the center parts

There are plenty of other beds they can work in but, never even considered them not being able to reach those areas in the 8'.
____________________________
I am my gardens worst enemy.

Forum Administrator




Posts

: 4262


Join date

: 2011-10-04


Location

: Colorado Front Range



Perhaps I misunderstand your description, but from what you said it sounds like the fence is the south wall?

Ignore this if I got that wrong, but if so I would move it closer to the north wall.



Posts

: 2804


Join date

: 2012-01-14


Age

: 60


Location

: british columbia zone 5a



---
Permissions in this forum:
You
cannot
reply to topics in this forum