Latest topics
»
Texas Dream garden 2017
by
kamigh
Today at 10:50 am
»
Bryan Greenbeard of Minnesota's 2017 Plans
by
Greenbeard
Today at 10:27 am
»
2017: First full year of SFGing in ND
by
Robbomb116
Today at 10:18 am
»
Hello from TN
by
flowinowen
Today at 8:56 am
»
How's the Weather Where You're At?
by
trolleydriver
Today at 8:42 am
»
CANADIAN REGION: What are you doing in May 2017
by
Kelejan
Yesterday at 11:46 pm
»
N&C Midwest: May is here! 2017
by
CitizenKate
Yesterday at 11:19 pm
»
Saving cantaloupe from cucumber beetle?
by
camprn
Yesterday at 8:17 pm
»
Soaking seeds????? HELP
by
Yardslave
Yesterday at 6:30 pm
»
Third Year SFG in Canada
by
CapeCoddess
Yesterday at 5:39 pm
»
Senseless Banter...
by
sanderson
Yesterday at 2:47 pm
»
New England May 2017
by
sanderson
Yesterday at 2:41 pm
»
TrolleyDriver's Compost Thermometer
by
trolleydriver
Yesterday at 2:29 pm
»
2017 SFG in Brooks, Ga
by
yolos
Yesterday at 2:20 pm
»
growing corn
by
Turan
Yesterday at 2:12 pm
»
Strawberry protection
by
donnainzone5
Yesterday at 1:24 pm
»
Using Eggshells for your garden
by
countrynaturals
Yesterday at 10:47 am
»
Hello from St Louis
by
bigdogrock
Yesterday at 9:33 am
»
Planting tomatoes, cucumbers and squash back to back on wire mesh trellis.
by
walshevak
Yesterday at 7:03 am
»
boxes on a slope?
by
AtlantaMarie
Yesterday at 6:24 am
»
Rolly Pollys
by
sanderson
Yesterday at 3:40 am
»
Amaranth
by
sanderson
Yesterday at 3:37 am
»
surprising results from soil test
by
dstack
5/27/2017, 9:52 pm
»
Carrot Week 2017!
by
trolleydriver
5/27/2017, 4:06 pm
»
Yard and garden Maintenance Gadgets
by
yolos
5/27/2017, 1:54 pm
»
Lil' Goners
by
Scorpio Rising
5/27/2017, 1:13 pm
»
Ground Cherries
by
countrynaturals
5/27/2017, 10:59 am
»
Excited to be a part of forum
by
Kelejan
5/27/2017, 12:37 am
»
Double summer squash flower
by
sanderson
5/26/2017, 8:45 pm
»
New in NY...Hi all
by
Scorpio Rising
5/26/2017, 7:44 pm
As the title suggests, I'm new to this whole SFG thing. I've got a plan I'm comfortable with for 4 4'x4' boxes. I've been impressed with the reception this SFG idea has gotten from my wife, but I'm not willing to press my luck. I'm concerned with price & appearance ...mostly because she is.

This brings me to a question. I'm planning a 4x4 box full of tomatoes, wherein I'll be planting 8 tomatoes (if I'm remembering right). What's a pleasant-looking trellis system that won't break the bank? I was thinking conduit & nylon netting, but can't figure out the optimal layout. The best I could come up with was 2 trellises in an X pattern with netting like this, |X|, but I'm not sure how the netting would work in the middle part. (I guess I could cut and tie it back together in the middle. I **WAS** an Eagle Scout after all.)

Am I overthinking? Underthinking?

ps. Staf, I spent several years of my childhood in York SC.



Posts

: 128


Join date

: 2012-03-18


Location

: Clemson SC, zone 7b-8a



I think that X would work but will take a lot of effort to do. I know that some people have put their trellises right down the middle of their boxes and that has worked. I have only ever done one tomato plant at a time so i do not have any actual experience with more that one. I don't like tomatoes but my husband and kids love them. So I guess you could see which one you think would work better, look better, and be the most cost effective. Hope this helps and good luck!



Posts

: 596


Join date

: 2012-03-12


Age

: 31


Location

: Hampton, Georgia



I put all my tomatoes at the north side of the box, meaning 4 tomatoes per box. Cost is minimal since I used two 7 1/2' metal fence posts, one on either end, wire across the bottom from post to post about 8" up from the soil, and tomato stakes wired across the tops, with nylon tomato twine for the tomatoes tied vertically. Just tie the twine to the bottom wire and to the stake going across the top.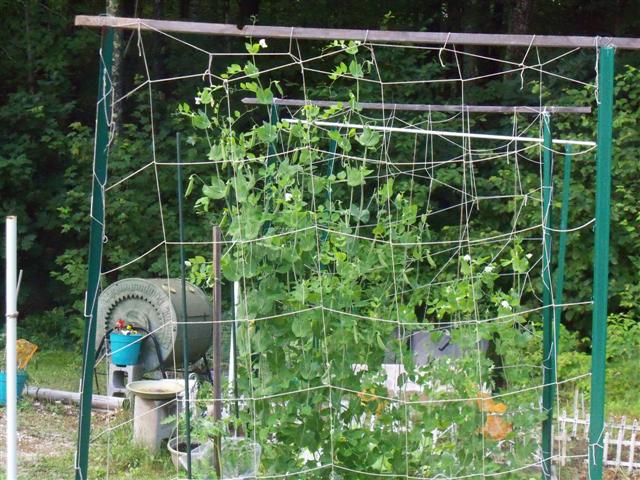 The fence posts work for anything growing vertically. In this pic is the trellis netting for the peas.
You can see the twine from bottom to top in this picture. Every week I go out and gently twist the tomato one turn around the twine. I found that nylon tomato twine works best for me. The cotton broke midseason and the sisal was too rough. You don't have to tie the tomato at all.
Remember, you don't want to put in tomatoes in the same squares next season. You'd do better with peas to fortify your soil the next year. I just switch mine around year to year. That's why fence posts at the north ends of all your boxes (they stay there forever) work best. You can do tomatoes, cucumbers, any trellised crop, also your peas and pole beans.
A long view.



Posts

: 4646


Join date

: 2010-03-21


Age

: 75


Location

: Southwestern Maine Zone 5A



---
Permissions in this forum:
You
cannot
reply to topics in this forum