Do any northern gardeners have tips for growing watermelons?

I'm in Zone 4A - in the Ottawa Valley and this year I'm going to give watermelon a try. I don't usually have much luck starting seeds indoors and transplanting outdoors because I don't have grow lights, etc. I direct sew my winter squash seeds outside and usually push the season by planting early and pull out tarps if frost is expected. My garden is quite sheltered and I think this helps extend the season on both sides a bit.

I plan to (optimistically) trellis the vines up cattle panel fencing.

Has anyone had luck with watermelons? Are there secrets to your success?

I've ordered Mel's book, but it looks like it might not arrive until the end of April.

Thanks!



Posts

: 3


Join date

: 2012-03-10


Age

: 40


Location

: Pembroke, ON Zone 4A



I've only had watermelons for 2 years but I'm in 5a and they do fine.
I sow directly in the soil but I warm it up first by putting a cut-off milk jug over the spot where they will be sown. In a week or so, I plant the seeds, water in, and cover again with the milk jug to keep the area warm. Don't put the cap on the jug or they'll cook. I put a thin bamboo stick thru the cap into the ground to keep the jug from blowing away.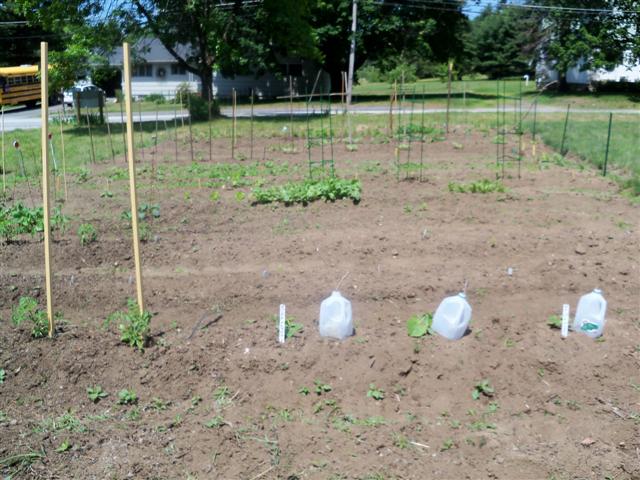 Above: The jug, or even a large 3-litre soda bottle will work, keeps the soil warm enough for the seeds to get a good start. Be sure to keep the spot watered. As soon as they attain a little growth and the air has warmed up, I remove the jug or bottle. I do this also for pumpkins and cantaloupe.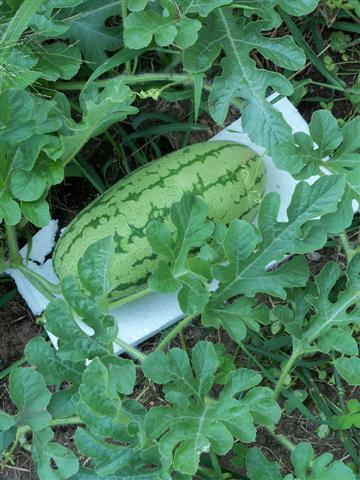 Above: One of my Sugar Baby watermelons. Get a smaller variety that matures earlier than the big ones and you'll do fine. This particular Sugar Baby gave me fruits ranging from 7.5 to 14 lbs.



Posts

: 4682


Join date

: 2010-03-21


Age

: 75


Location

: Southwestern Maine Zone 5A



Veggies Only, you might also try putting black plastic over the soil, to warm it up, and just plant in a hole in the plastic.

Jo



Posts

: 1532


Join date

: 2011-05-04


Age

: 63


Location

: Cottageville SC 8b



check out this cool video I found http://www.youtube.com/watch?v=l002A9Uoqp8



Posts

: 1697


Join date

: 2011-04-01


Location

: zone 9a St.Johns county FL



Shannon.....great video. What a simply wonderful idea. Two garden areas from one space. Love the tip on using bamboo poles to support the growing melons. Everyone needs to watch this video.



Posts

: 4682


Join date

: 2010-03-21


Age

: 75


Location

: Southwestern Maine Zone 5A



Shannon,
Get video - just love his idea!




Posts

: 675


Join date

: 2010-05-05


Age

: 62


Location

: Central NJ - From 6A to 7A 2012



Thanks for the suggestions.

Quiltbea - thank you for the mini hot house milk jug photo - I'm going to give this a try. I have sugar baby seeds as well; hopefully I'll see something like your second photo later this summer!

Shannon1 - thanks for the video link. I especially like the pole support system through the trellis framework to support the growing melons. What a great idea!



Posts

: 3


Join date

: 2012-03-10


Age

: 40


Location

: Pembroke, ON Zone 4A



Yet another way to use cattle panels



Posts

: 1697


Join date

: 2011-04-01


Location

: zone 9a St.Johns county FL



---
Permissions in this forum:
You
cannot
reply to topics in this forum