Spring, and my garden is nearly ready.....
Grson and I were out today cleaning up the boxes and the coldframe. Inside an hour, we had it in good shape. Last years mulch and leaves and a few weeds pulled and tossed on the compost pile. So simple. The soil is so dark and rich its beautiful. Tomorrow I'll lay on an inch or two of fresh compost and in the coldframe, I'll transplant some arugula and mizuna which are now under the lights. The broccoli, cabbage and cauliflower still need a couple weeks so I won't chance it. I'll put the plastic on the A-frame and sow some carrots and a few other things there. Tonite I'm going to soak some sugar snap peas to get sown outdoors tomorrow.
Above: My nine 4 x 4, 12" tall boxes. The straw is still covering my strawberry patch along the front. I want to keep them from going thru a frosty nite expected soon so won't remove the straw yet.
Our day reached 79*F which is verrry unusual, but it was good working weather. The next days will be in the 50s and 60s expected. I put the cover over the coldframe to warm up the soil a bit. I'm in Seventh Heaven with my garden almost ready.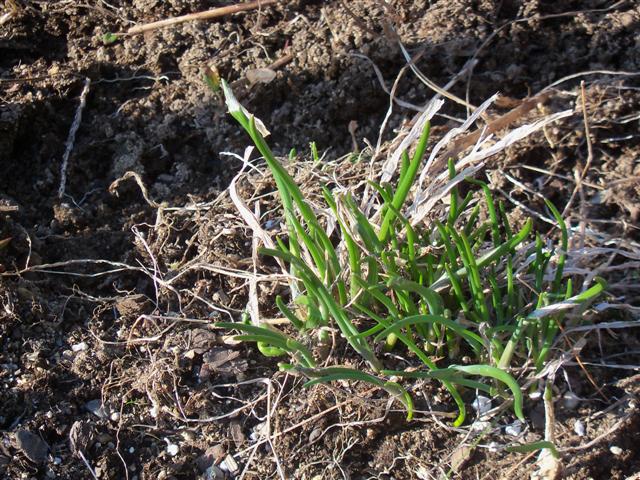 Above: The onion chives made it thru under their white blanket of snow.
The garlic were under a bed of straw. Removed it today and no sign of garlic yet. The asparagus aren't doing anything yet either, but I can be patient. In the front of the house along the driveway, the dwarf fruit trees are still under snow. It always takes longer along that stretch of yard with its tall pines shading it so well until afternoons.
Oh, the soil temps were all 60*F in each bed except the A-frame which was 62*F. I think I'm about ready to start.
HAPPY SPRINGTIME EVERYONE FROM A MAINE GARDENER IN ZONE 5A.



Posts

: 4687


Join date

: 2010-03-21


Age

: 75


Location

: Southwestern Maine Zone 5A



You've been busy! Everything looks great QB
It's hard to control yourself when the weather is so nice

I know as soon as I get over zealous, we will have a massive snow storm or cold spell. I'm trying my best to maintain

And Happy Spring to you too from Colorado 5b

____________________________
I am my gardens worst enemy.

Forum Administrator




Posts

: 4297


Join date

: 2011-10-04


Location

: Colorado Front Range



---
Permissions in this forum:
You
cannot
reply to topics in this forum