I am so proud of myself! And thanks to people here, sharing ideas and pictures, I was able to do this.
As you can see, I'm not actually finished, but i'm far enough to share my progress and hopefully to inspire someone thinking of doing this....so far so good.
At first, I ripped out the sod around each bed, but then I thought it'd really get to be a pain to mow and trim around. So, I ripped up the surrounding sod and will lay landscape fabric and rock in there. (My neighbor just happens to be getting rid of his rock....I get to HAVE it!!!! yahooo!)
Now, I just have to build my trellis and buy compost (I have the other 2/3 - but MN garden centers aren't quite ready yet...no compost available...I can't wait!).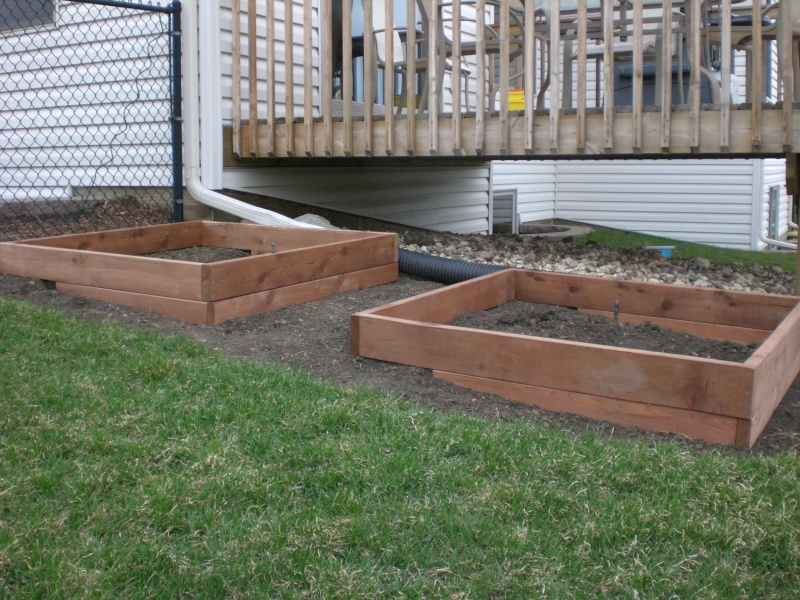 here's another view (real exciting, i know) :
There will be a small 2 x 4 bed on the other side of the fence. And look waaay back toward the garage there....that's my homemade compost bin! On the left of that will be where the rain barrel sits.
I'm ready to go!!! (ok, almost ready to go.)
They look good.
What type of wood is that?
When I went to the big box store I didn't have much of a choice in wood, it was either treated, composite or regular pine framing lumber. I chose the latter for price.

That wood looks good. Did you stain it or is it natural?



Posts

: 12


Join date

: 2010-04-02






Posts

: 31


Join date

: 2010-03-29


Location

: Southeast, US



The wood is cedar.
It is stained with a product called Woodscapes (Serwin Williams) and it is tinted "Yankee Barn".

It is not necessarily for gardens, but I will lay plastic/weed fabric down on the entire bare area, then I will cut the fabric within the bed area so it folds up to the inside of the wood.
Hopefully, that will provide enough protection for the wood so it lasts a LONG time, and of course, there will be no contamination from the stain to my produce.
Great looking beds. And great score with the free rock from the neighbor. Please post some pics once you've got them planted.


Certified SFG Instructor




Posts

: 778


Join date

: 2010-03-02


Location

: Frisco, Texas



Looking good so far! I bet you can't wait for things to start growing in there.



Posts

: 25


Join date

: 2010-04-03


Location

: New Zealand



---
Permissions in this forum:
You
cannot
reply to topics in this forum