I am new here. I have just started my new SFG.
I built four 4x8 boxes and one 4x4 box earlier this week, yesterday we had company and I was just itching to go fill those boxes. Anyway I managed to get out there today, got 3 of them filled with mels mix and 2 of them mostly planted.
I transplanted broccoli, cauliflower, 2 types of cabbage, brussel sprouts, onions, ciltantro, thyme and basil.
Tomorrow i will work on planting seeds and taking pics.
Man, I do feel like "Little Red Hen" though. Nobody wanted to help haul all the compost and stuff, I know they will want to help eat the harvest though!

I am tired.
I will post pics tomorrow.
-rebecca-
Sounds like it was a fun day. The one to watch out for is the basil. If we get a frost, you might want to protect it. They are sensitive little things.

RE; Little Red Hen - at least the upfront on the first year is the only time it's a lot of work. Looking forward to pictures!



Posts

: 2188


Join date

: 2010-03-03


Age

: 60


Location

: Acton, Massachusetts Zone 5b/6a



@martha

wrote:RE; Little Red Hen - at least the upfront on the first year is the only time it's a lot of work. Looking forward to pictures!
I hate to disagree with Martha but... If you have any success at all chances are year two will start with adding more boxes! That's what my hubby is insisting on. Eventually though, it will be no work at all to do the spring planting. Gotta love SFGing!
Um, I stand corrected. I am planning on adding several new boxes this year myself.

Didn't mean to mislead.



Posts

: 2188


Join date

: 2010-03-03


Age

: 60


Location

: Acton, Massachusetts Zone 5b/6a



i already plan on that, i have placed the boxes so it will be easy to add more next year.
We left ourselves extra room too. I am so glad that we did because it's so much fun that I want to try all sorts of new varieties. What are you planning on growing this year and what has to wait until next?
This year I have tried to focus on things that we already eat a lot of, or would eat more of if they were better quality than that which we can find in the local store.

Started plants i have:-
broccoli
red and green cabbage
cauliflower
sprouts
basil
cilantro
thyme

onions

Seeds started outside so far:-
radish
peas
lettuce
spinach


Seeds started indoors:-
several different tomatoes
more lettuce
bell peppers
eggplants
summer squash
pumpkins
watermelon
cantaloupe
rhubarb
marigolds
Nasturtiums
lemon cucumber (?? don't ask, but hubby picked this one out ??)
various herbs

To plant soon:-
Scarlet runner beans
carrots
more of spinach, lettuce,radish,peas

On order but not here yet:-

potatoes
kidney beans

And also several novelty seeds for the kids who will be building a"Garden of Giants" from the book "Roots, Shoots, Buckets and Boots".

giant pumpkins
birdhouse and egg gourds
yardlong runner beans
various other pumpkins, i tell you these kids are addicted to growing pumpkins!

Wow, that seems an ambitious list, but its not like i am growing 50ft rows of it all.

Hopefully I will plant several more cabbage, broccoli, sprouts, leeks etc for the fall. I would also like to plant some winter wheat somewhere, but haven't picked out a spot yet (not SFG).

I haven't really thought about anything different I would do next year, only expand so that we don't have to buy any produce. I would be nice not to have to go to the grocery store at all. We have goats, chickens and turkeys, so eggs, milk, cheese are covered.

I also planted a small orchard this year (apples, peaches,plums,pears), i would like to add another peach, more apples and cherries, but that will have to be next year now. I would like to also add lots of soft fruits.

-rebecca-
I wish that we could all be that self-sufficient. I admire your ambition.

Last year we planted:

radishes
lettuce
carrots
bush beans
peas
squash
cucumbers
bell peppers
acorn squash
zuchinni
and corn.

We have blueberry bushes as well.

This year we're adding more boxes for:

potatoes
onions
garlic
pumpkins
more bell peppers
herbs
and anything else I can fit in! LOL.
Last year was my first year and I've learned what the family likes best so I made changes to my garden plan this year.
I started with 9 boxes last year and had enough garden loam left over that I put in 4 mounded beds as well. The strawberry bed is in great shape this year since its the first productive year. I can't wait to eat them.
url=http://www.servimg.com/image_preview.php?i=47&u=15016226]
[/url]
Its an ongoing learning experience and lots of fun. The first year with making and filling the boxes is the hardest and with that behind you now, you can reap your harvests.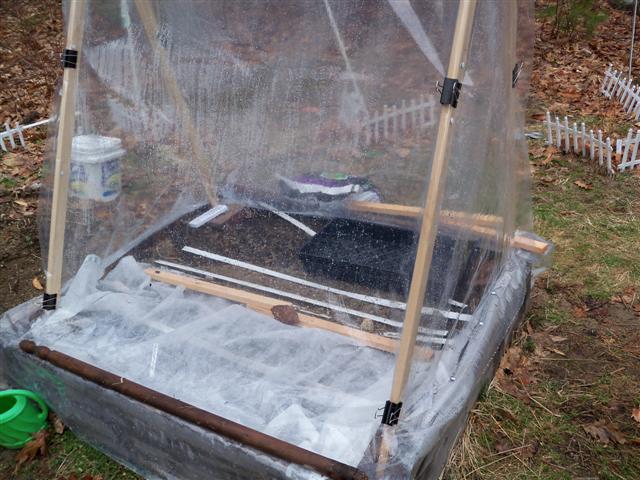 I even build myself an A-frame since I couldn't build a coldframe.
This year I've squares inside of radishes, all lettuce mix, scallions, carrots, chive and spinach. They are all beginning to come up and I can keep it open days for sunshine and closed days against our cold nites.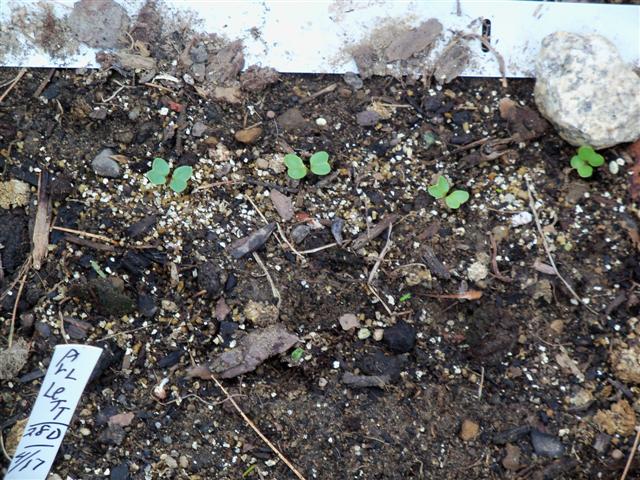 After having record-breaking days last week, we are back to normal with 40s day and 30s nite.



Posts

: 4646


Join date

: 2010-03-21


Age

: 75


Location

: Southwestern Maine Zone 5A



---
Permissions in this forum:
You
cannot
reply to topics in this forum