bush type squash calls for 9 squares. vining only calls for two? can I plant a bush type in a corner, leaving the surrounding three empty? or will it need to draw nutrition from 9?
The 9 square spacing is recommended because of the room the bush type squash leaves take up.

Some of our members have reported success when planting bush squash by itself in a 2 X 2 box. They are aware that the leaves will spread outside the box.

I have not grown a squash in the corner square and left the three surrounding squares vacant, but it seems reasonable that the squash would do well in that situation. Just be aware that the squash will take up room outside the box.



Posts

: 3141


Join date

: 2010-06-10


Age

: 70


Location

: Coastal Oregon, Zone 9a, Heat Zone 2 :(



thanks furbalsmom. it looks like the greenhouse construction is going to be delayed a couple of months so I thought I might as well put in one box. since it will be going right into the hayfield there is plenty of room for it to flop over the edge. i might try a couple of radish in the shaded square, nothing ventured, nothing gained.
This is why squash and zukes need 9 sq feet as a rule: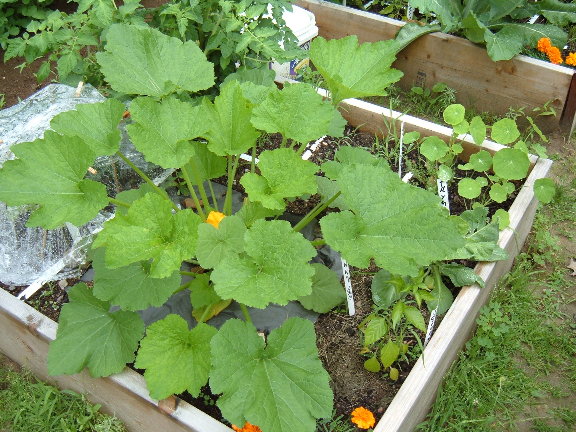 Above: This was still a baby on 7/3 in its 9 sq feet with a longgg way to go before it stopped producing. Those leaves get even bigger and more plentiful.



Posts

: 4688


Join date

: 2010-03-21


Age

: 75


Location

: Southwestern Maine Zone 5A



aren't they cute as babies though? we call squash plants audrey, they grow and grow, feed me, feed me. i was just worried they would need the nutrition in all nine squares, like i said, they are going into a hay field so will be plenty of room this year and next year i will have time to order vining type.
---
Permissions in this forum:
You
cannot
reply to topics in this forum