Latest topics
»
Hello from Central AZ
by
AtlantaMarie
Today at 6:42 am
»
Hello from Houston
by
sanderson
Today at 4:16 am
»
Looking for a spreadsheet for planting times
by
aprilshomemade
Yesterday at 11:50 pm
»
New SFG box-Humanitarian way
by
trolleydriver
Yesterday at 8:01 pm
»
Fourth Year SFG in Canada
by
trolleydriver
Yesterday at 7:55 pm
»
CANADIAN REGION: What are you doing in March 2018
by
trolleydriver
Yesterday at 7:28 pm
»
Hi from Richmond Virginia
by
AtlantaMarie
Yesterday at 7:18 pm
»
Shameless Self Promotion!
by
sanderson
Yesterday at 4:53 pm
»
Coco coir... How often to replenish?
by
plantoid
Yesterday at 12:29 pm
»
California's Drought
by
sanderson
Yesterday at 3:01 am
»
First day of spring
by
Scorpio Rising
3/22/2018, 9:08 pm
»
SW Ohio (Cincinnati Area)
by
Scorpio Rising
3/22/2018, 9:06 pm
»
What are you eating from your garden today?
by
Scorpio Rising
3/22/2018, 9:02 pm
»
N&C Midwest—March and Spring is Here!
by
Scorpio Rising
3/22/2018, 6:23 pm
»
SUGA 2018
by
SQWIB
3/22/2018, 8:26 am
»
Happy Birthday!!
by
sanderson
3/21/2018, 2:09 pm
»
Do You Get The SFG Newsletter?
by
sfg4uKim
3/21/2018, 8:36 am
»
Garden Tower Project
by
sanderson
3/21/2018, 2:14 am
»
Any suggestions on the stump grinding sawdust plus soil?
by
sanderson
3/20/2018, 6:55 pm
»
How much time for gardening?
by
sanderson
3/20/2018, 6:42 pm
»
Sanderson's Urban SFG in Fresno, California
by
sanderson
3/20/2018, 4:03 pm
»
Northern California & Coastal Valleys - What are you doing this month?
by
trolleydriver
3/20/2018, 1:13 pm
»
New England Mar 2018
by
CapeCoddess
3/20/2018, 10:45 am
»
Trellis mod
by
SQWIB
3/19/2018, 8:39 am
»
How's the Weather Where You're At?
by
Scorpio Rising
3/18/2018, 6:38 pm
»
Powdery Mildew and SoCal Fall Planting
by
countrynaturals
3/18/2018, 12:34 pm
»
Boat Gardening
by
AtlantaMarie
3/18/2018, 6:51 am
»
How many green beans per square foot?
by
Scorpio Rising
3/17/2018, 9:27 pm
»
2018 SFG in Brooks, GA
by
yolos
3/17/2018, 8:34 pm
»
Comfrey
by
sanderson
3/17/2018, 8:21 pm

I'm new to SFGing. I bought and read the book over a year ago, and I just finished reading it again about a month ago. We finally bought a house so I decided it was time to actually DO and put in a garden.
I decided on a location, sunny all day until the sun settles over the mountain (around 6:30-7pmish). The beds are pointing to the south and run "longways" north to south. I originally bought wood to build 3 4'x8'x8" beds, but after seeing the costs associated with this I'm only going to put in two of them this year I think. I have the wood for bed # 3 and will likely put it in next year if all goes well this year.
The beds are pressure treated, but the chemicals they use now aren't nearly as bad as they used to be so I'm just going to deal with the minor leaching issues. I didn't want to deal with remaking the beds every 2 years if I used pine, and the cedar was more costly then the pressure treated. I think the treated will last the longest so that is why I went with it.
Before you see the pictures, I need to mention that the backdrop is my neighbors property (the only neighbor I can see...). That is his junk, not mine.
Issue #1: The ground was no where close to level. I had to level the ground and the beds. I used regular topsoil for this since I didn't want cheap fill in my yard (rocks and all!). The topsoil was $40/cubic yard. I needed 2 cubic yards to level the two beds. It seems like a lot in the truck...and disappears fast once you spread it!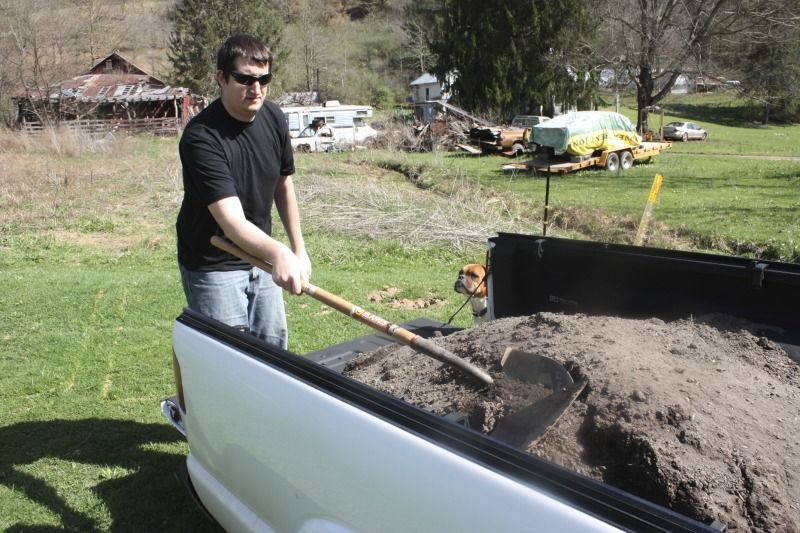 The first scoops of dirt. You can see the outlines of the beds in the grass behind me. Don't worry, they are 3ft apart, they just weren't sitting in their actual spots when they killed the grass!
------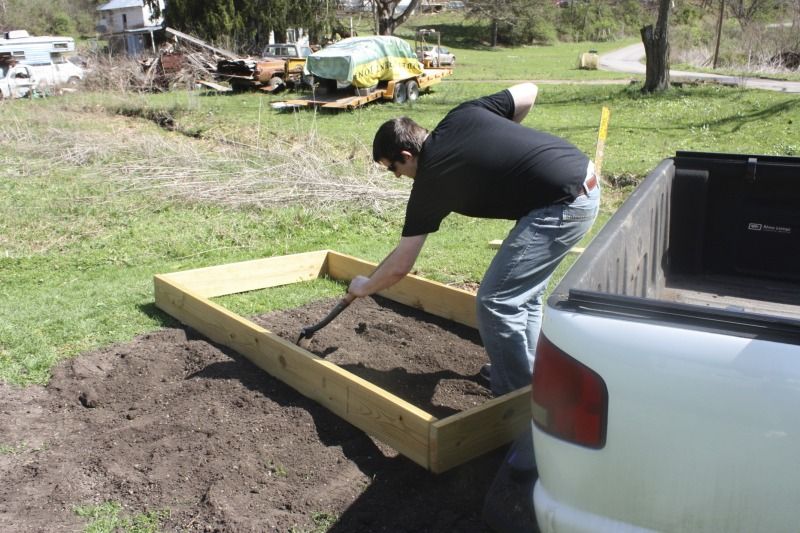 Leveling the bed, 1 cu.yd of topsoil is already on the ground. This bed was completely leveled with the dirt from the first load. The top left corner was the high corner and all the others needed soil built up under them and around them.
------------------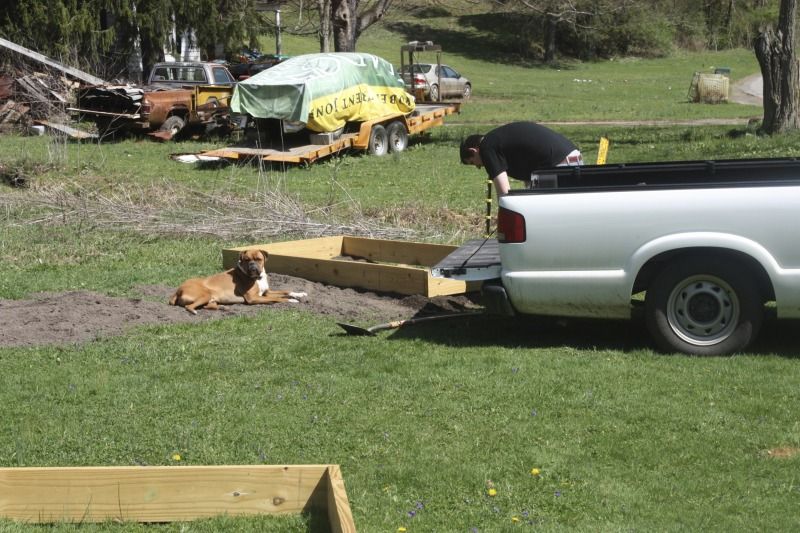 Getting closer to level, got a helper camping out on the new dirt. Most of the first load was put into a hole on the left side of the picture. This is where bed #3 will go next year. I will need another load of topsoil to level that spot out as well as it still isn't even close.
-----------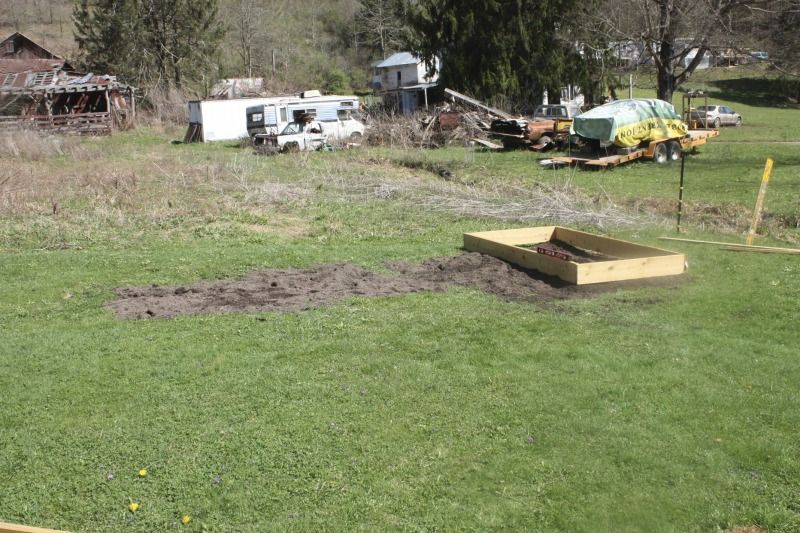 Bed #1 is leveled and the truck is moved top go get load 2 of the top soil. I found out an S-10 truck really doesn't appreciate carrying 1cu.yd. of soil. I think I exceeded the rated capacity of the truck by about double.
-------------------
Load 2 is here and bed # 2 is leveled. Sweeping out the last of the dirt in the VERY low spot where bed #3 will go next spring (and possibly this one if I still feel like building another bed I suppose)
----------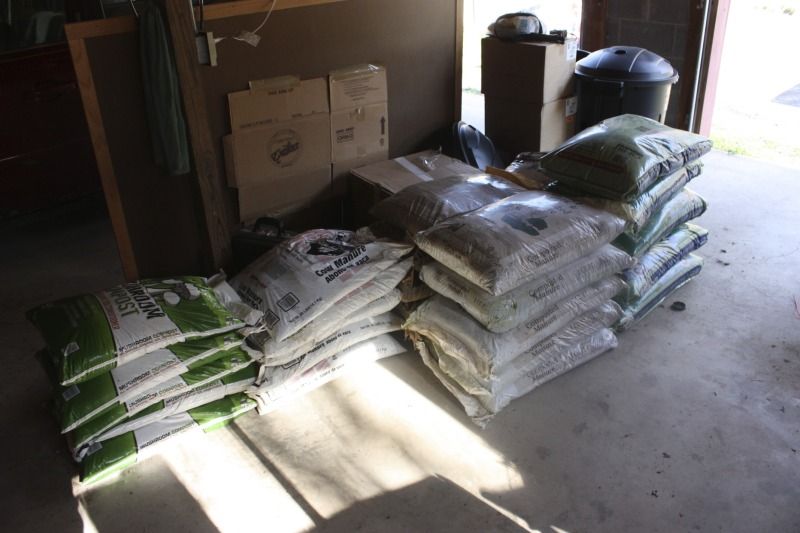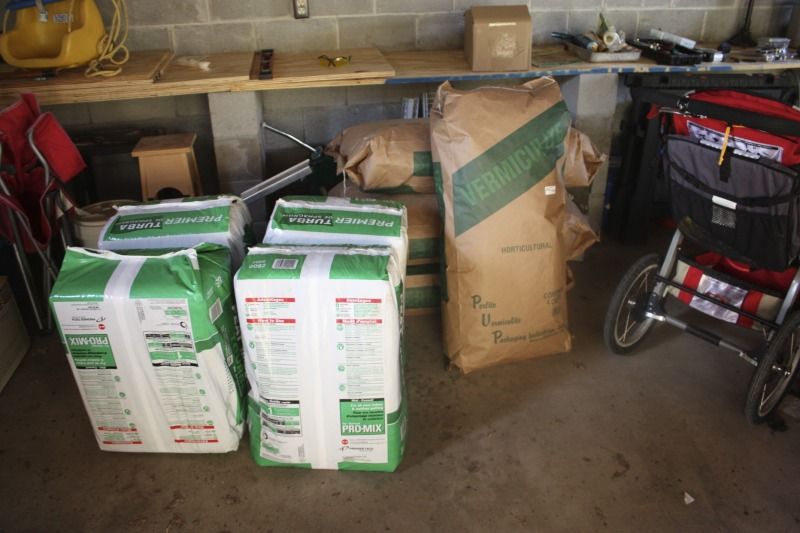 5 Types of compost that will be going into the beds and the vermiculite and peat. Here is a link to my post regarding the
makeup of my compost
. It is sub-optimal, but I live away from major civilization and options are limited.
-----------------------------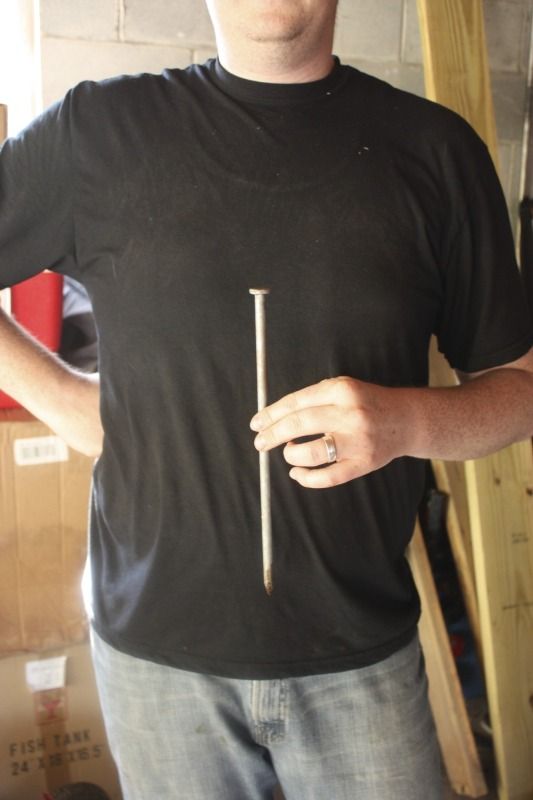 When I was unloading the peat from my truck I tossed the bail on the floor and this came rocketing out of the bag. Luckily I was the only one in the garage and I was standing in my truck. It was quite a shock.
-------------------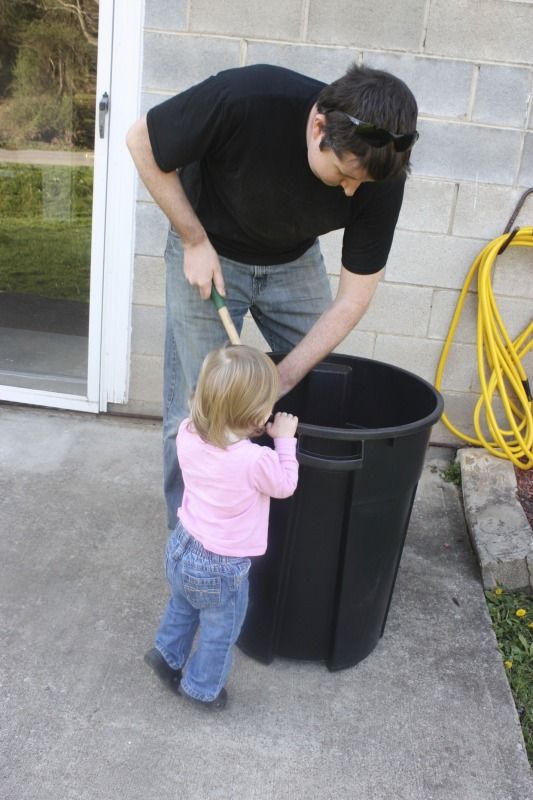 I had to put this picture up because it was incredibly cute. I'm wetting and fluffing the peat before I measured it out for the Mel's Mix. My daughter wanted to see what was going on.



Posts

: 8


Join date

: 2012-03-11


Location

: clarksburg , wv



Garden schmarden... LOOK at that cutie patootie! Very sweet helper, Daddy....
...and your gardens are gonna be great, too!...



Posts

: 194


Join date

: 2012-03-18


Location

: Coastal Britsh Columbia



Hi there BIG COUNTRY

I live in the middle of nowhere too... We do what we can do.
Very cute little assistant there OH and your OTHER assistant....

Keep gardening and keep taking pictures....

Looks like a great project, and before you know it, your garden will outshine the clutter yard next door...



Posts

: 2804


Join date

: 2012-01-14


Age

: 61


Location

: british columbia zone 5a



LOVE the pictures! Thanks for sharing your progress. Welcome to SFG world!


Certified SFG Instructor




Posts

: 1413


Join date

: 2011-05-11


Location

: Vancouver, WA



Looks great! And your little helper is adorable!



Posts

: 38


Join date

: 2012-03-08


Age

: 44


Location

: NE Poland, but from Michigan Zone 6a




---
Permissions in this forum:
You
cannot
reply to topics in this forum