Latest topics
»
Total lunar / solar eclipse
by
CapeCoddess
Today at 1:39 pm
»
Composting Particle Board?
by
dk54321
Today at 12:56 pm
»
Any Strange and Wonderful Visitors? Photos please!
by
CapeCoddess
Today at 12:38 pm
»
New England August 2017
by
CapeCoddess
Today at 12:13 pm
»
How's the Weather Where You're At?
by
trolleydriver
Today at 12:06 pm
»
The Best Steps for Storing Tomatillos
by
donnainzone5
Today at 11:36 am
»
2017 corn pictures
by
countrynaturals
Today at 11:11 am
»
Eggplant - (Japanese) Millionaire
by
countrynaturals
Today at 11:10 am
»
Hello gardener's
by
trolleydriver
Today at 7:51 am
»
What are you eating from your garden today?
by
bigdogrock
Today at 6:45 am
»
What I've learned this year
by
countrynaturals
Yesterday at 9:17 pm
»
CANADIAN REGION: What are you doing in August 2017? 2017
by
Kelejan
Yesterday at 6:20 pm
»
Plumeria ?
by
sanderson
Yesterday at 6:07 pm
»
How Many Square Feet Do You Have?
by
llama momma
Yesterday at 1:58 pm
»
Cutting back on my SFG about 75%
by
sanderson
Yesterday at 12:38 pm
»
Baba Ghanoush
by
sanderson
Yesterday at 12:04 pm
»
Beets; Don't be intimidated!
by
BeetlesPerSqFt
Yesterday at 11:05 am
»
Third Year SFG in Canada
by
sanderson
Yesterday at 10:30 am
»
Happy Birthday!!
by
sanderson
Yesterday at 10:09 am
»
Caterpillars -Armyworm?
by
BeetlesPerSqFt
8/19/2017, 8:58 pm
»
Oregon City Newbie
by
trolleydriver
8/19/2017, 1:04 pm
»
Newbie Oldbie
by
sanderson
8/19/2017, 12:53 pm
»
who has chickens
by
llama momma
8/18/2017, 1:40 pm
»
Tips for compost tumbler
by
trolleydriver
8/18/2017, 12:10 pm
»
Franken-mato!!!
by
hammock gal
8/18/2017, 7:48 am
»
Mid-Atl - Aug 2017 - Planning/Planting Fall/Winter Garden
by
BeetlesPerSqFt
8/17/2017, 11:05 pm
»
Amaranth
by
Scorpio Rising
8/17/2017, 9:53 pm
»
It's actually more like surviving.... these days...
by
RoOsTeR
8/17/2017, 3:14 pm
»
Northern California & Coastal Valleys - What are you doing this month?
by
countrynaturals
8/17/2017, 2:40 pm
»
Heat wave and shade screen
by
sanderson
8/17/2017, 1:17 pm
I got this idea from the Houston Museum of Natural Science Butterfly exhibit. Last year I had problems with pollination so this year one of my big goals is to attract pollinators to my garden. I have some Mexican heather, marigolds, bee balm, and chamomile and now this butterfly feeder that I'm sure the bees will also find beneficial. My hope is that when my garden begins to bloom all the pollinators will already be used to coming to my garden.
Take a bright colored plate or bowl and place a bright colored dish scrubber in the middle of it. Then pour in a mixture of 1 part sugar to 4 parts water. The museum also adds amino fuel but I left that out. I used a red bowl and a yellow scrubber.
I am thinking about making a worm tube for my garden also and using this butterfly feeder as my worm tube cap. Instead of turning a terracotta pot upside down over the tube place the terracotta pot right side up into the tube opening and then place the bowl inside the top of the terracotta pot.
I would like some suggestions on how best to use this. Should I keep the feeder out all spring and summer? Should I keep it out now and then remove it when my garden begins to bloom to encourage the pollinators to go to my flowers? Should I wait until my garden starts to bloom before putting out the feeder?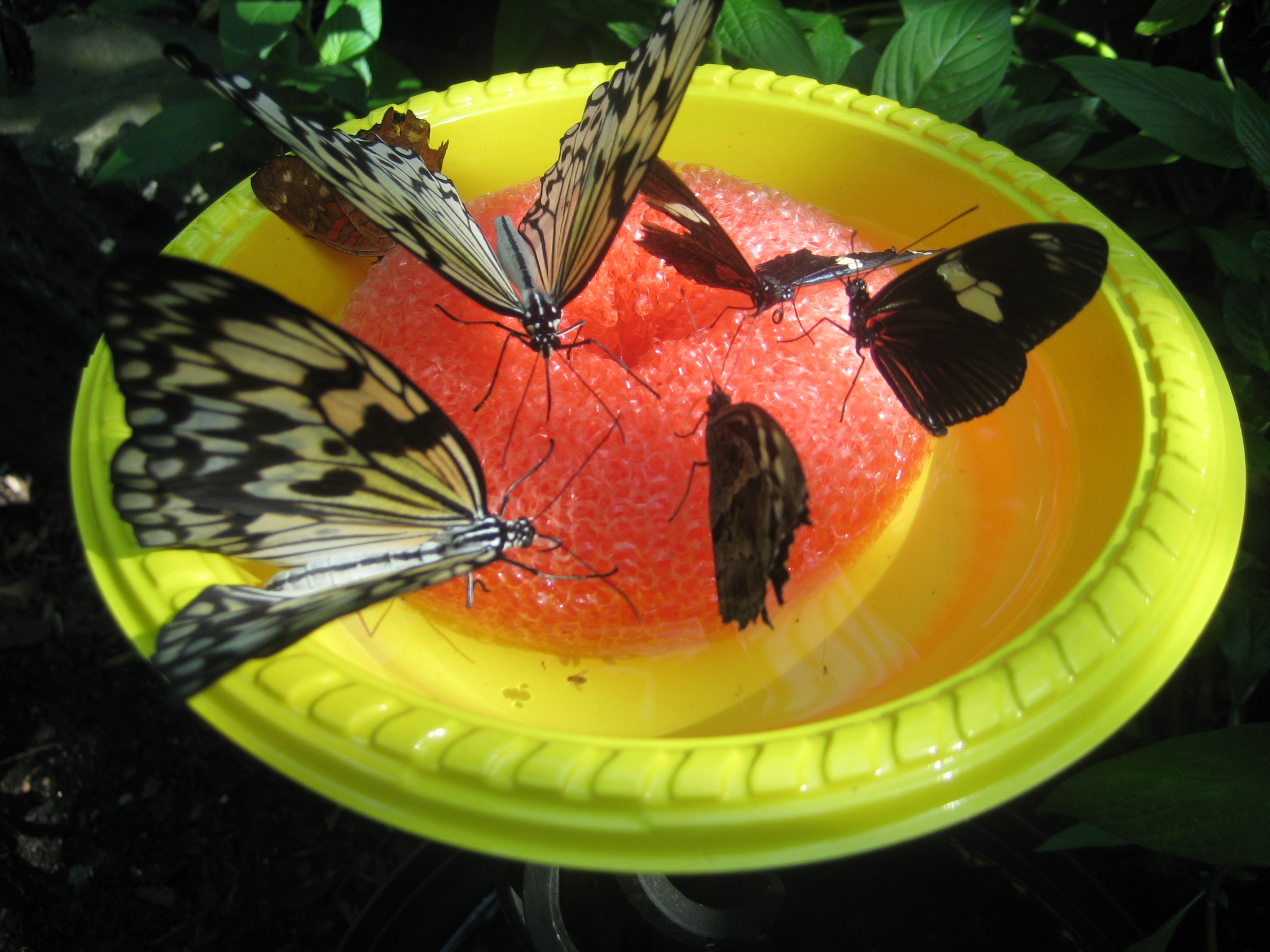 Last year, due to the flooding of the Mississippi River, we had very few bees in our area. So few, in fact, that my blueberries failed to produce. Thankfully, they're back this spring and the bushes are attracting them by the hundreds. . . which isn't relevant here. But this is, does your plan draw ants or other unwanted creatures?



Posts

: 79


Join date

: 2012-03-05


Location

: Newbern, TN, 7A, Extreme West Tn. - 15 Miles from Miss. River.



I think putting it out now, until your garden starts to bloom, then take it down.

Yesterday I had coffee with sugar in it and the butterflies were trying to get a drink.

Jo



Posts

: 1532


Join date

: 2011-05-04


Age

: 63


Location

: Cottageville SC 8b



Not sure about unwanted pests since I just put it out this morning. I asked my wife to let me know if she notices anything attracted to it while I am at work. I will keep this thread updated. I also plan to bring it in at night and put it back out in the early morning.

If I get ants I was thinking about maybe putting a little ring of vaseline around the tube holding the pot or something else like that to keep ants out of it.
Texas has the most butterfly species and subspecies than any other state! Here in California I lure the Monarch with milkweed and other native plants from my state for nectar.

"If you want to attract butterflies, here are a few things to make sure you have to get started:

• A sunny place to bask to warm their bodies: Butterflies are cold-blooded and bask in the sun to raise their body temperatures. A sunny, flowering garden with a flat stone for basking tucked among the blooms will help attract butterflies.

• Some shade for when they rest: Shrubs, small trees and vine-covered trellises provide protection from wind and rain as well as a resting place.

• A fence or tree for a windbreak: Butterflies dislike strong winds, so it helps to include ornamental grasses and tall plants to provide windbreaks.

• Damp soil or sand for a water source: Butterflies drink by sucking water from moist ground. Sink a saucer in the ground, fill with sand and soak. Then put a flat pebble at the edge for a perch. (this might be better than a sponge that you will need to clean and replace often.)

• Nectar plants for food: Butterflies are attracted to the simpler, brighter flowers. Size, shape, fragrance and visual markings on flowers help butterflies locate nectar. Butterflies more easily spot masses of color, so place flowering plants in groups if possible.

• Food plants for the caterpillars: Encourage female butterflies to lay eggs in the garden by planting larval food plants. The caterpillars that hatch will seek a safe place to form a cocoon. Several days later, a new butterfly will emerge. The larvae, or caterpillars, will eat tender foliage on these food plants, but leaves will grow back. (don't over-spray the foliage because there might be baby caterpillars in there.)

• No pesticide: Butterflies need an insecticide-free garden. Avoid toxic products."....Houston Chronicle. To see the list of flowers and larva plants go to this link:
http://www.chron.com/life/gardening/article/How-to-attract-butterflies-1808221.php

Good luck and have fun watching those butterflies arrive soon!



Posts

: 192


Join date

: 2011-08-14


Location

: 10a - San Gabriel Valley - Pasadena, California



Thanks for the info Roseinarosecity.

I wish I had the space for more intense planting of flowers but my gardening area is a strip of ground on the south side of my house that is about 5 1/2 feet wide and enough space for about 4 4x4 beds running east to west. In that small area I am trying to put as much polinator attracting flowers as possible. I have the wind break since it is right up against my house.


These have been out for 2 days and not a single ant. I do try and keep ants away from my garden so I'm sure that helps. I also have not seen anything else feeding from these. I really thought the bees would be all over it by now maybe I should switch one of my red bowls to a white bowl.
---
Permissions in this forum:
You
cannot
reply to topics in this forum