Latest topics
»
CANADIAN REGION: What are you doing in January 2018
by
Kelejan
Today at 10:20 am
»
My first Attempt
by
21Actual
Today at 9:56 am
»
Newspapers vs Weed Cloth
by
Saazhops
Today at 9:45 am
»
Biochar?
by
SQWIB
Today at 9:18 am
»
SUGA 2017
by
SQWIB
Today at 8:14 am
»
Spring Fever Anyone?
by
plantoid
Today at 5:37 am
»
Too Many Red Wiggler Worms in Raised Beds??
by
plantoid
Today at 5:21 am
»
What is this? Plant identification?
by
sanderson
Today at 3:10 am
»
Areogardening
by
sanderson
Today at 2:38 am
»
January 2018 Avatar: Surprise Us
by
sanderson
Yesterday at 4:51 pm
»
My Shreveport Garden 2018
by
sanderson
Yesterday at 4:47 pm
»
2018 - First Annual Seed Exchange Week - January 20-28 (Edited)
by
BeetlesPerSqFt
Yesterday at 4:13 pm
»
Are vegetables hurt by too much light?
by
BeetlesPerSqFt
1/20/2018, 8:38 am
»
Seed Starting!!
by
brianj555
1/19/2018, 9:14 pm
»
How's the Weather Where You're At?
by
sanderson
1/19/2018, 2:56 pm
»
Weight Watchers Turkey, Bean and Vegetable Chili
by
hammock gal
1/19/2018, 8:43 am
»
Sow True Seeds
by
AtlantaMarie
1/19/2018, 8:00 am
»
Colored Mulch
by
No_Such_Reality
1/18/2018, 7:12 pm
»
Taking on 4 Season Gardening
by
Roseinarosecity
1/18/2018, 5:19 pm
»
Fourth Year SFG in Canada
by
trolleydriver
1/18/2018, 3:53 pm
»
Senseless Banter...
by
sanderson
1/17/2018, 9:42 pm
»
Butternut squash, turkey Italian sausage, cannelini bean soup
by
yolos
1/17/2018, 9:25 pm
»
Happy Birthday!!
by
yolos
1/17/2018, 9:12 pm
»
N&C Midwest—January 2018!!!
by
Scorpio Rising
1/17/2018, 7:08 pm
»
Is there ever enough compost?
by
has55
1/17/2018, 2:41 am
»
What are you eating from your garden today?
by
Scorpio Rising
1/16/2018, 9:10 pm
»
Gophers
by
countrynaturals
1/16/2018, 12:32 pm
»
High heat tolerant tomatoes
by
walshevak
1/16/2018, 6:03 am
»
Mid-Atl - Jan 2018 - Brrrrrrrrrr! and Happy New Year
by
AtlantaMarie
1/15/2018, 6:43 am
»
New England Jan 2018
by
hammock gal
1/13/2018, 5:50 pm
I'm about to plant my parsley outdoors and I think I remember that Mel says it is a good idea to plant it in it's own container inside the 4x4 so it can be easily brought indoors at the end of the season.

If I'm going to plant the parsley in a container inside the 4x4, I wonder if it would be better to just plant it in its own container and use the square intended for parsley for something else? What does everyone else do with herbs that can be brought indoors over the winter?

My thoughts are to build a 12"x12"x6" box for each herb complete with a plywood bottom (and drainage holes) so they can be brought inside when the weather cools. My concerns with this thought are that I may find myself with a gazillion boxes in my living room when winter comes. Also, I'm concerned about the maintenance of individual boxes over the summer. Are these harder to protect from critters (should I build a mesh cage for each one, for example?). If I'm planting in individual containers, could the 4 parsley plants per square be planted individually in 6" square containers? Would these "blow over" in the wind, etc.?

This is my first year gardening at all and I love the SFG method so far. (I'm very detailed and like lots of step-by-step instructions.) I hate the thought of losing the fresh herbs when winter comes, so I'm very interested in finding out how other SFGers solve this problem.

If this is covered in a previous thread, my apologies. I've tried searching everything I can think of to find the answer.

PS Thanks for all the posts out there! They are soooooo helpful!!!!



Posts

: 15


Join date

: 2012-03-03


Location

: Knoxville, TN



Hi Jennifer!
+1 on your question. It's something I've been trying to figure out this year too. I've seen the idea of burying the pots in ground if you want it to "feel" like the herbs are in the garden. I've seen putting them in squares or pots - but be careful when bringing them in that you don't bring "critters" in with them.
If it were me and they needed protection, I would group several of them together and then make a cover for the grouping....
I'm also strugging with the different sizes of herbs and which do well for this purpose...i.e. dill gets pretty darn big and so not sure that's worth trying to bring in...rosemary won't overwinter in my area so I'd have to bring it in...but also gets larger...
Anyone got any pictures/advice for us?




Posts

: 559


Join date

: 2011-04-18


Age

: 51


Location

: Springfield (central), IL, on the line between 5b and 6a



I put all my herbs in the garden beds for 2010. They grew well, but I lost them with the cold weather.
I put them in pots, except for a spare basil and my perennial chives, last year and they did very well. Even the Rosemary. I brought them inside in late fall and they provided me with fresh herbs thru the winter. My thyme is still giving in late March so I'm going to put them in pots again this year and save my bed squares for a few new crops I'm trying, like radicchio, Bok choy, collards, and kale.
Another consideration is that herbs don't require the best of soils nor do they need as much watering as food crops, so putting in pots to serve their differing needs works better than in the beds.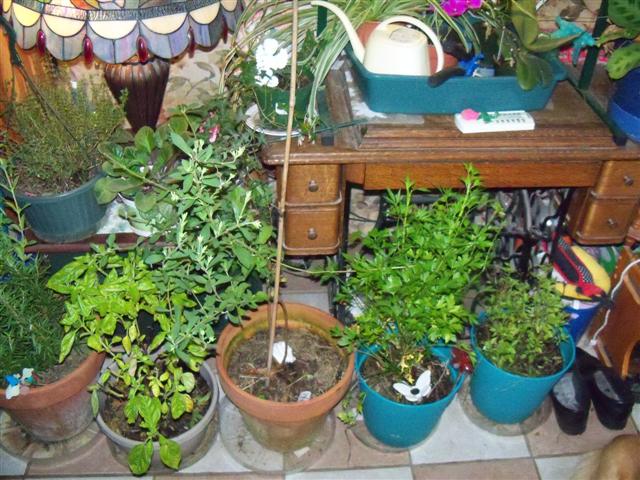 My herbs inside last Oct 30th.
I recommend putting herbs in pots to bring indoors in the fall for winter use.



Posts

: 4700


Join date

: 2010-03-21


Age

: 75


Location

: Southwestern Maine Zone 5A



I'll be growing my herbs in pots and window boxes this year... They'll all have their own pot, big and small.... although I will add some Basil around the tomato plants, they grow well together.... Since I'll be growing lots of tomato plants I'll need lots of Basil too so lots of pots would be too much to handle...lol

Aran



Posts

: 80


Join date

: 2012-01-06


Age

: 64


Location

: North Eastern Ontario, Canada, Zone 3



Rosemary, parsley, mint and chives all have their own pots. I put thyme into a bed, and always pair up my basil with tomatoes. I'm going to try cilantro in the sfg, because I've had terrible luck with it otherwise. If this fails it's my last try with it.



Posts

: 60


Join date

: 2012-02-14


Location

: Central Ohio






Posts

: 4700


Join date

: 2010-03-21


Age

: 75


Location

: Southwestern Maine Zone 5A



I find that basil is sensitive to the amount of light and heat it is exposed to. She will die back quicker than spinach will bolt without enough mediterranean style days.

Parsley has a deep tap root like a carrot and could be happier in a deeper pot than 6"

Some herbs seem happier in a mixed pot, parsleys, chives, thyme and tarragon do well together.

Oregano never really dies outside (I live in one of the 7s) it just stops actively growing, same with sage. I don't have a problem with sage and thyme living outside through the winter even though I clip them at least once a week.

In a large enough pot both rosemary and bay laurel will survive in a cool room (like a mud room or an unheated garage) if they get enough light. Same with celery (which isn't really an herb) except that winter celery does not need light.

My experience has been that herbs are happier if they are started in August for the house rather than brought in. Your mileage may vary.



Posts

: 2054


Join date

: 2010-03-03


Age

: 60


Location

: Everett, WA USA



---
Permissions in this forum:
You
cannot
reply to topics in this forum