Latest topics
»
April 2015: What to plant in No. California/Central Valley area
by
countrynaturals
Yesterday at 11:54 pm
»
Jaffa's garden - year one
by
countrynaturals
Yesterday at 11:47 pm
»
Northern California & Coastal Valleys - What are you doing this month?
by
countrynaturals
Yesterday at 11:43 pm
»
Pallet Wacking
by
ralitaco
Yesterday at 11:40 pm
»
CANADIAN REGION: What are you doing in April 2017?
by
Jaffa55
Yesterday at 10:49 pm
»
Third Year SFG in Canada
by
Jaffa55
Yesterday at 9:05 pm
»
EWWWWW.........bugs and stuff...good or not so good?
by
recoush
Yesterday at 8:13 pm
»
Sub Irrigation Planter
by
CitizenKate
Yesterday at 7:55 pm
»
cucumber beetles
by
BeetlesPerSqFt
Yesterday at 7:48 pm
»
New England April 2017
by
CapeCoddess
Yesterday at 7:17 pm
»
Mel's Mix shows it is worth its weight in gold
by
plantoid
Yesterday at 6:31 pm
»
N & C Midwest: April 2017!
by
recoush
Yesterday at 6:09 pm
»
Amaranth
by
countrynaturals
Yesterday at 6:06 pm
»
to solarize, or not...I'm torn
by
dstack
Yesterday at 5:41 pm
»
Bryan Greenbeard of Minnesota's 2017 Plans
by
Greenbeard
Yesterday at 5:09 pm
»
First of the Season
by
newbeone
Yesterday at 4:49 pm
»
2017 SFG Adventures in Hampstead, NC
by
Turan
Yesterday at 1:22 pm
»
An excellent read for those with Diabetes
by
CapeCoddess
Yesterday at 6:44 am
»
Geezer's 17
by
Turan
Yesterday at 12:22 am
»
Has anyone tried 13 per square?
by
Turan
Yesterday at 12:04 am
»
Get Moving!
by
StrongAsMeat
4/22/2017, 10:20 pm
»
Happy Birthday!!
by
StrongAsMeat
4/22/2017, 10:14 pm
»
Butterflies
by
countrynaturals
4/22/2017, 4:36 pm
»
Reading Material?
by
TNGeezer
4/22/2017, 3:56 pm
»
Hello from Chino, CA (Zone 10a)
by
sanderson
4/22/2017, 3:00 pm
»
Podding Radishes, Anyone?
by
countrynaturals
4/22/2017, 2:48 pm
»
who has chickens
by
RC3291
4/22/2017, 2:00 pm
»
April Avatar: Show Yourself!
by
llama momma
4/22/2017, 1:22 pm
»
Please comment on the plant layout for 2017
by
greenthumbtobe
4/22/2017, 12:26 pm
»
Healthy Meals
by
RoOsTeR
4/22/2017, 11:21 am
This year, I'm starting to dabble with extending the growing seasons. To keep tabs on the temperature, I came across this interesting device:

La Crosse Technology TX60U-SET Online Temperature and Humidity Wireless Alert System

http://www.amazon.com/gp/product/B003E46EU4/ref=oh_o00_s00_i00_details

So get this... you hook this puppy up to your router and it communicates wirelessly to a remote thermometer that reads temp and humidity and also has a probe that can go into soil (or water) to read that temperature separately. You can then set ranges for alarms and you can receive a text or email when one of the alarm settings is triggered. It also can record temperature readings over time to export data to a spreadsheet to make graphs.

One absurd flaw in the system is that the external thermometer unit is not waterproof. It can take misting but not direct rain. So I was thinking that I could build a simple housing for it and place it on the north side of the garden so it does not shadow any plants.

A little pricey for a thermometer but pretty cool if it works.

Those who are into extending your seasons, do you see value in this kind of thing?

Thanks for any thoughts!
What a great device
I have a few la crosse remote thermometers for monitoring what the temp is in the greenhouse AND in the hoop house and I just love them
However never had an alarm. WOuld love to be able to keep track of the temp for future references AS well would like to know how cold it got in the hoop house with out being up all night.

I am going to look into that.

Kind of funny, last year I had several tomato and pepper seedlings, and we were living in an RV while our house was being built.
SO to make a little more room for us to sit down, and a table for us to eat at, I created a plastic covered area outside after April 1st and left the thermometer under it and the receiver by my bed.
SEVERAL nights we were out in the middle of the night moving all of those seedlings back into the RV
Good thing I have a patient DH, anyone else would have thought I was nuts.
Four years ago, I would have thought moving seedings in the middle of the night was bizarre behavior. Not anymore! Since I started with SFG and vegatable garden, I consider neglecting your plants a serious character flaw.

" I consider neglecting your plants a serious character flaw. "

Funny how perspectives change over time
Nice concept. I think it's a serious flaw that the external thermo isn't waterproof

Uh, what where they thinking???
____________________________
I am my gardens worst enemy.

Forum Administrator




Posts

: 4182


Join date

: 2011-10-04


Location

: Colorado Front Range



Seems that people use this system for wine cellars & aquariums. But they also MARKET it for gardening and for pools... so they lose seroius points for not making it waterproof.

I have it on order. We'll see how it goes!
I use the la crosse thermometers without protection and thus far, have only had to replace the battery more often than would expect.....
Keep us posted as to the possibilities
Update... I've had the remote thermometer and gateway installed for about a week. Set up was a breeze. Much smoother than I thought it would be considering there were a few complaints online about installation. Still kinda weird to think that info is continuously sent from my backyard to my router to a website that I can access on any connected device.
So far it is working great and performs as advertised. I set one of the alarms to send me a text when the temp dropped below 35 degrees, and sure enough I got a text and it reminded me to tarp the lettuce and spinach before bed last week. Frost arrived at 2:20 am. I know because it records the temperature at preset intervals.
You can log into a website to see the last 5 readings. Sample below with a red rectangle around the readings: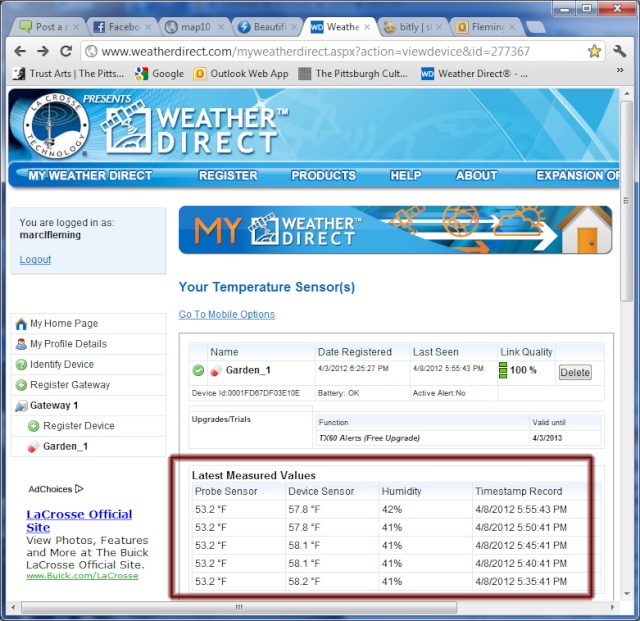 You can also download a spreadsheet that shows all recorded data: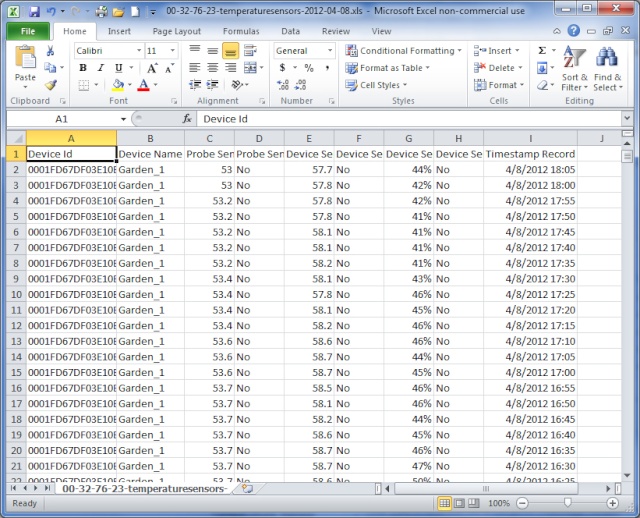 This is a raw file that you can sort and manipulate. Here I wish they had some off the shelf macros or ways to graph your data automatically in real time. Not everyone is familiar with Excel or spreadsheets and even those that are don't want to spend time graphing data in ways that are useful over and over again.
They recommend downloading and keeping a backup every month since WeatherDirect does not guarantee that it will archive your info indefinitely.
They also offer a mobile page of your current reading. Here is a link to what the reading is right now in my garden, updated every 5 minutes:
Marc's Veggie Garden Current Readings
Since the thermometer is not waterproof, I built a housing for it with a cedar plank I had left over from another project. Pictured below: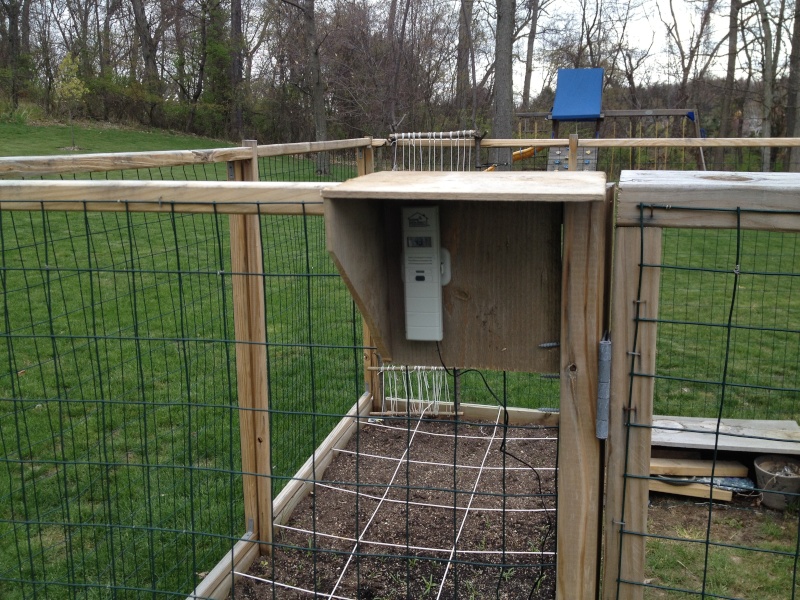 The probe extends down and into the garden to record soil temperature. The thermometer also records air temperature (duh) and humidity.
The frost warning is useful for sure. I think that in summertime, a temperature alert when it hits the 85+ degree range may prompt action to use shade cloth. The soil temp would be good to know for optimal planting of seeds. Mel has a germination chart in the back of his book.
Can anyone see a use for knowing the humidity with vegetable gardening? If it recorded soil moisture, that would be a good nugget of info.
I don't know yet if this will be worth the $60 investment in the long run for my little SFG garden. But it's been a fun project!
It sounds great....but I think it would be really hard to explain to my boss why I have to run home because my garden is alarming.




Posts

: 63


Join date

: 2012-01-22


Location

: Independence, OR



@Noie

wrote:It sounds great....but I think it would be really hard to explain to my boss why I have to run home because my garden is alarming.
I shared some veggies with my boss last year and he and his wife talk about it all the time when we see them. I think he would totally understand taking off!
In practice, you're right. Few people would take off for home when their garden calls. But what is kinda cool is that you can send emails and texts to multiple contacts so if you have a partner in crime (someone at home or a neighbor), they can assist.
---
Permissions in this forum:
You
cannot
reply to topics in this forum