I just downloaded a video on how to use Soil Blockers to start your seeds indoors.
The mix is made by combining:
3 Qts Peat Moss, fluffed
2 Tablespoons Greensand
2 Tablespoons Phosphate Rock
2 Tablespoons Bloodmeal
Mix these all together well, then add:
1 Qt Perlite
3 Qts Compost
Mix everything together well. This makes the correct consistency for the soil blocks so they hold together nicely.
Here's my video:
Remember, I've never done this before so I'm just learning. I think it covers the issue quite well just the same.
After sowing only one seed in the top of each block, I cover it with fine vermiculite, spritz with weak green tea, put the tray of blocks on the heat mat and cover with a dome until they germinate. And most important, label the blocks. I stick a blank address label beside the cells on the container's edge and write in the names.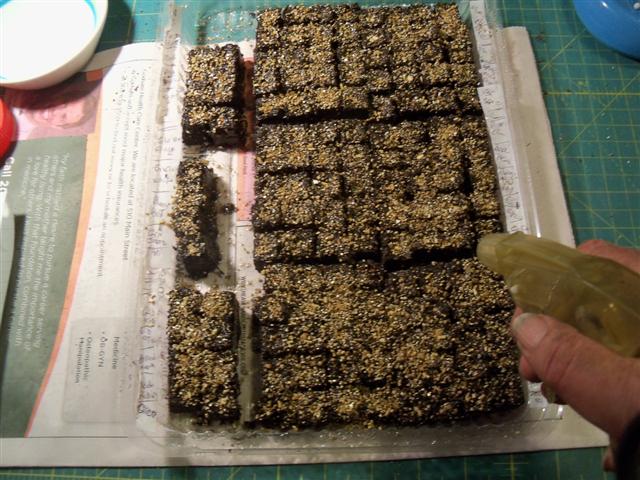 Today I started dozens of tomatoes and peppers, some Brussels sprouts and some Pak Choi.
Last edited by RoOsTeR on Fri 6 Apr 2012 - 19:25; edited 5 times in total (Reason for editing : spelling)



Posts

: 4695


Join date

: 2010-03-21


Age

: 75


Location

: Southwestern Maine Zone 5A



Awesome job Bea! Not only did I like the video, I loved hearing your voice. You are really good with one handed blocking.



Posts

: 2054


Join date

: 2010-03-03


Age

: 60


Location

: Everett, WA USA






Posts

: 2424


Join date

: 2011-05-09


Location

: Western WA



Fantastic job
Thank you for putting this together for us QB Lol, I'm with you Debs, impressive one handed block work!
Stickied!
WOW that is a great video, you have a cool accent...

As always there is so much more to learn, I had NEVER thought of using those disposable gloves.
Sometimes my hands become a mess with all the gardening and even the waterproof gloves get wet...
I made my DH watch the video too, I said next year THAT is what I am going to do....
congrats, thanks for sharing




Posts

: 2804


Join date

: 2012-01-14


Age

: 61


Location

: british columbia zone 5a



Okay, I am sold on soil block making!

Here is a question: Is there a good non-animal derived substitute for bone meal?



Posts

: 156


Join date

: 2011-05-25


Location

: Cincinnati, Ohio



Great tutorial video here on soil blocks, by our quiltbea!  

---
Permissions in this forum:
You
cannot
reply to topics in this forum