Latest topics
»
Forum Poll: Social Media
by
RoOsTeR
Today at 7:47 am
»
3rd World Country Gardening
by
sanderson
Today at 4:42 am
»
Butterfly Junction
by
sanderson
Today at 4:09 am
»
Help - Building new raised beds
by
sanderson
Today at 4:06 am
»
New England January 2017
by
sanderson
Today at 3:50 am
»
Gardening in Central Pennsylvania
by
trolleydriver
Yesterday at 11:47 pm
»
CANADIAN REGION: What are you doing January 2017
by
trolleydriver
Yesterday at 11:42 pm
»
To all my SFG pals and more.
by
sfg4uKim
Yesterday at 8:48 pm
»
Mid-South folks - please check in
by
yolos
Yesterday at 8:28 pm
»
What are you eating from your garden today?
by
BeetlesPerSqFt
Yesterday at 6:53 pm
»
Spring Fever Anyone?
by
Scorpio Rising
Yesterday at 6:27 pm
»
Third Year SFG in Canada
by
trolleydriver
Yesterday at 5:29 pm
»
Green Juicing: Growing & Recipes Ideas
by
CapeCoddess
Yesterday at 1:36 pm
»
Seed starting station..
by
BeetlesPerSqFt
Yesterday at 8:54 am
»
2017 SFG in Brooks, Ga
by
sanderson
Yesterday at 5:40 am
»
Escarole in SFG
by
BeetlesPerSqFt
Yesterday at 12:55 am
»
N & C Midwest: January 2017!
by
Scorpio Rising
1/22/2017, 10:36 pm
»
Cauliflower
by
sanderson
1/22/2017, 7:37 pm
»
Sad News from Jimmy Cee
by
ralitaco
1/22/2017, 7:27 pm
»
Northern California & Coastal Valleys - What are you doing this month?
by
sanderson
1/22/2017, 5:30 pm
»
Grow Light Question
by
camprn
1/22/2017, 4:30 pm
»
Senseless Banter...
by
donnainzone5
1/22/2017, 4:24 pm
»
My Shreveport Garden 2017
by
countrynaturals
1/22/2017, 1:15 pm
»
2017 Burpee seeds are already on display at HD
by
yolos
1/22/2017, 12:49 am
»
EMT Clips
by
sanderson
1/21/2017, 6:51 pm
»
How's the Weather Where You're At?
by
sanderson
1/21/2017, 4:24 pm
»
Baker Creek's Seed Bank Store in Petaluma, CA
by
sanderson
1/21/2017, 4:18 pm
»
Making Smoothies
by
sanderson
1/21/2017, 12:45 am
»
Holy snow Batman!
by
AtlantaMarie
1/20/2017, 8:18 pm
»
Food Dehydrators
by
sanderson
1/20/2017, 1:21 pm
Well hello folks... Here's my story:

My son turned 2 this past fall and eats fruits and vegetables in an amount that would normally feed 3 people. I decided to try to become more organic, and in my research bought the book by Mel... From there I built myself a 4x8 bed, and am already planning on building another one before the summer planting... My first bed, well, I may not have planned accordingly...

I planted March 22st as the temps that week had climbed to the 60s and 70s... Then a week later, boom hard freeze. Somehow, between my row covers and a sheet, all my plants survived... Here's what I have

Going north to south, I have 4 boxes of 9 snap peas each, 8 broccoli plants, 6 lettuce plants, 4 boxes of 9 sweet onions, and 4 boxes of 16 carrots each. I planted too many broccoli, but I'm hoping for an early harvest and will plant something in its place... the peas and onions have started to sprout, and like I said, everything survived the cold so far!!!

Onto what should I plant in my 2nd box. Unfortunatly the north side of my boxes will be the 4 foot end, not the 8 foot, so at best I have 8 spots for vines... I'm thinking peas to beans in one and tomatos in the other... Other than that, I'm thinking peppers, eggplant, kale, and more lettuce, staggering the lettuce and kale... How's that sound?



Posts

: 170


Join date

: 2012-03-30


Location

: Connecticut Zone 6A



Philct!
Glad to have you here! Be sure to check out your regional forum from the homepage for ideas on what to plant and how. You've got some great experienced members in the New England area!

That's fantastic about your son!! I had the craziest kid...ate every pureed vegetable there was...but the minute we went to something solid, it came back out and he wouldn't eat anything green (unless I hid it in something) his entire childhood. He's 19 now and I have seen a pretty girl get him to take a bite of salad and he will east some salsa now (if it's not TOO chunky...) so we are progressing...

Please keep us posted on your progress! We love pictures!




Posts

: 559


Join date

: 2011-04-18


Age

: 50


Location

: Springfield (central), IL, on the line between 5b and 6a



philct.....Welcome to the forum from another New Englander, though a bit further north. Don't despair about the broccoli. Once you harvest that center head, leave the plant. Small nibs (probably short for nibbles) will grow on the stalks all around the head area. They are small florets and perfect for eating. Just keep harvesting and you'll get many of them.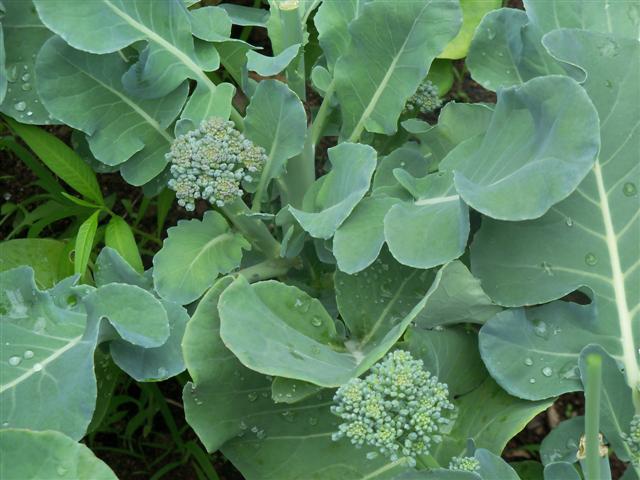 Above: Boccoli nibs on June 23rd.
As for your plan, sounds good. You can also grow vining plants on the outer west corner of your bed. I've staked a few tomatoes successfully when I had some I couldn't put anywhere else and they didn't interfere with an adjoining box.



Posts

: 4617


Join date

: 2010-03-21


Age

: 74


Location

: Southwestern Maine Zone 5A



[img:f265]
http://squarefoot.creatingforum.com/
[/img]
Here's the early look of the first box. On the left side I have my pea seeds, which are starting to sprout. the right side I have onions, also sprouting from sets, and carrots (everyone tells me I'm crazy for planting carrots). I plan on building another one in 2 weeks when I can hide the charges from my wife lol!!! Thanks for the kind words with my son, he is a machine when it comes to eating... Tonight he inhaled 2 tacos, rice and beans, and a nectarine. Yeah, he is 2...
Outer west eh? Is that because the late day sun won't be missed by the other plants?



Posts

: 170


Join date

: 2012-03-30


Location

: Connecticut Zone 6A



and might appreciate a little cooling shade.

Kay
____________________________
A WEED IS A FLOWER GROWING IN THE WRONG PLACE
Elizabeth City, NC
Click for weather forecast

Certified SFG Instructor




Posts

: 4327


Join date

: 2010-10-17


Age

: 74


Location

: wilmington, nc zone 8



---
Permissions in this forum:
You
cannot
reply to topics in this forum