Page 2 of 2 •

1, 2
Celery seeds can take a life time to germinate. I think you need around 70 o F for germination to really be effective ( check it out) .
 
Celery likes 50 to 67 o F for growing and a fair amount of rain or consistent levels of moisture & nutrients. It does not like being incinerated by hot sun or drying winds.

Here is how I raised celery seed quickly .. around 28 at the start of seeing them to 36 days for all seeds to show up .

Germinating  .. sow seed very thinly on top of a 1/8" layer of very fine vermiculite ( castor sugar sized granules work best but up to coarse sugar size will do ) that is sprinkled on some fine  sieved MM  don't compact it .

Put the warm moist compost in a dish , covered in thin white absorbent paper and then cover it in some thick sheet plastic or glass. Give it an airing each day and keep it on a diffused sunlit window often sees the germination in about 60 % of the seeds,.
 About every 4 th day give it a quick mist spray of room temp rain water.
Don't over do it  , do it every 4 day  till you see pin pricks of green ( use a magnifying glass if needed ).

Remove the coverings and spray mist daily with room temp clean rain water for a few weeks till they are 3/4 " long then transplant out into pot and grow on in warmth , plant out when 4 " tall
 
 Celery loves deep manured beds that have had well made and aged animal manures and bedding in it
 
Laying 1/2 " thick layer of old wet newspapers ( not glossy stuff ) or shredded tissue etc. six inches below the surface and putting on  4 inches of manure then 3 or more inches of soil ( or MM  ) will ensure that the bed retains the ideal moisture that celery likes.
 
 When planting out set the top of the soil on the plant about two inches below the mean surface and leave it in the trench with the stems uncovered .

Don't over water , perhaps buy a cheapie moisture indicator and rely on it ... not on how things feel.
Once the celery gets going the constant even level of warmth and moisture will see  your celery grow fairly fast giving you sweet thick stalks instead of green bitter boot laces.

 This is not the be all and end all of celery growing .. it takes a lot of research , trial and test to be able to consistently grow 20 " tall tender juicy firm crunchy celery heads but once you do it  you'll smile at those who can't .
I grew a celery from a stalk cut off of a store-bought bunch.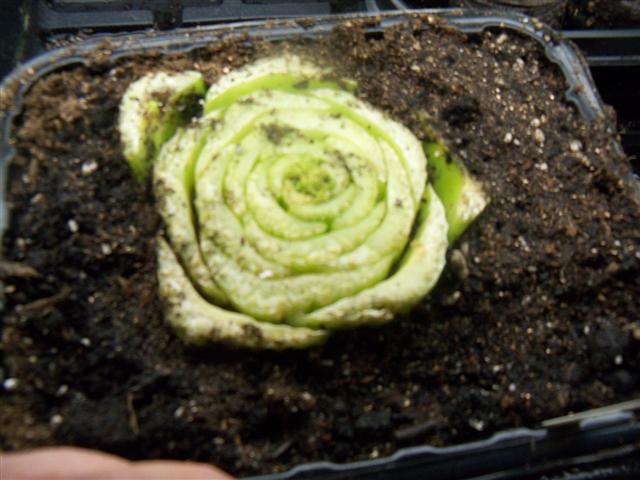 On March 11th I scored the bottom in an X and buried it in seed starting soil under the lights and kept it well watered.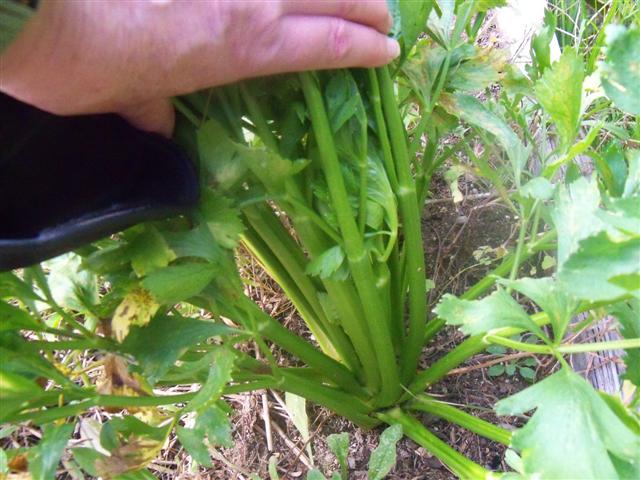 I transplanted it Apr 26th outdrs in a covered raised bed to avoid frosts.  This is what I have in that bed today. Sept 27th.....stalks.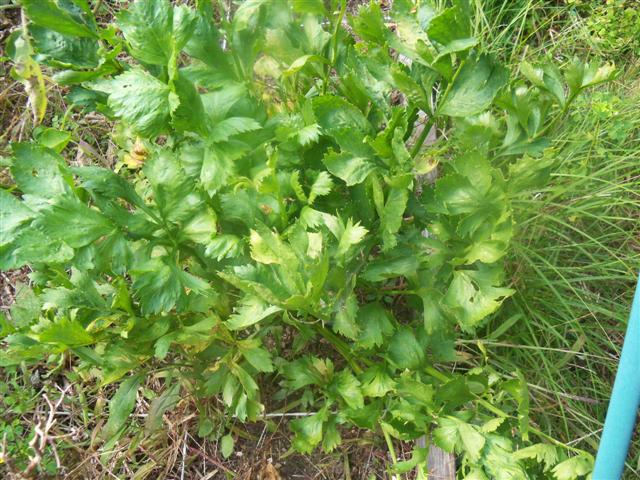 The tops look like this above.
I tasted an outer stalk and it was strong and tough so I probably should have harvested this earlier in the season, but I'm new to celery. Or maybe wrapping it in paper away from the sun would have blanched it. In any case, chopping some up for flavoring soup will be fine.



Posts

: 4687


Join date

: 2010-03-21


Age

: 75


Location

: Southwestern Maine Zone 5A



If you can use a 3 pint soda pop bottle to make a micro water dripper place one at the side of each celery plant and put some diluted liquid  houseplant feed in it you'll grow bigger , thicker sweeter celery and the flavour won't be so strong.

 To make the dripper  use a red hot needle and melt two or three tiny holes in the flat of the cap , fill the bottle replace the cap  , push it cap down in the bed by the plant and tie it to a stick so it stays up right . Refill the bottle as needed .
@sanderson

wrote:I planted celery seeds in Feb, transplanted in March and finally had a full size head of celery end of September.  Does celery normally take that long to grow full size?  A month just to germinate?

I planted tiny seedlings at 4/sq this September.  Will they be full size by March April?

Thanks
I finally have the photo to post.  I dried the leaves for seasoning.  The celery tasted good but were stringy.

Forum Moderator Certified SFG Teacher




Posts

: 14370


Join date

: 2013-04-21


Age

: 68


Location

: Fresno CA Zone 8-9



Is stringy celery an indication of growing to long ?
I've had stringy asparagus & string beans that have been stringy, I'd just as soon not eat them at all.

Certified SFG Instructor




Posts

: 1917


Join date

: 2013-02-16


Age

: 81


Location

: Indiana PA....zone 5



Celery is such a core ingredient for soup stocks that I don't think I would mind an extra-strong flavor, as I use it mostly in cooking. The best part is the leaves, the most flavorful part. Strings don't usually bother me either, as I tend to chop or slice it finely, so the strings don't fight the teeth much.

For a salad platter, I'm with y'all somewhat on the strings, though I never peel the strings off my celery. I know they annoy some people though, so I have to strip them out to serve them.



Posts

: 3638


Join date

: 2013-07-05


Age

: 56


Location

: SW Oregon



Jimmy, I'm too new to be able to comment on why the celery was stringy.

Marc, Mine is okay if finely sliced for cooking but not for fresh chomping.

Forum Moderator Certified SFG Teacher




Posts

: 14370


Join date

: 2013-04-21


Age

: 68


Location

: Fresno CA Zone 8-9



@jimmy cee

wrote:Is stringy celery an indication of growing to long ?

I've had stringy asparagus & string beans that have been stringy, I'd just as soon not eat them at all.
Not enough consistent moisture ..too much heat and being at the end of season all contribute to stringy plants .
Celery is a fairly slow growth crop here in the UK not sure how if fares where you are.
Sow mid March ,   plant out mid May to mid June  & start to   harvest end of August to mid February.
 Average time .. grown in  deep trench varieties   40 weeks from sow to cropping
Self blanching  25 weeks  .
I find this self blanching celery is much tougher and bitter than deep well manured trench grown stuff but it is much easier on me physically to grow. 
perhaps you might experiment using a stump and peat with a simple drip feed of tomato feed as nutrients and see if you can get the same results as the shop purchased stuff as lots of it is grown hydroponically or on inert material such as pulped paper   with a nutrient feed freely given each day
Page 2 of 2 •

1, 2
---
Permissions in this forum:
You
cannot
reply to topics in this forum