Any ideas on what is causing this: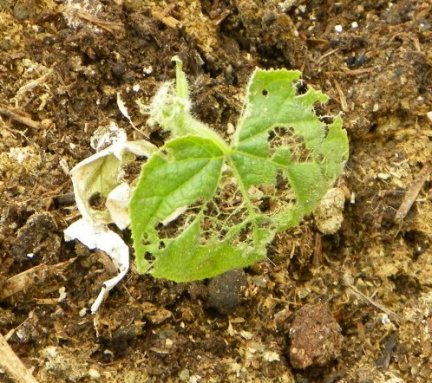 It was transplanted into the garden about a week ago and looked healthy then. The lower leaves started turning white. I wasn't too concerned as I had this happen last year and they out grew it with only an addition of a light sprinkling of bloodmeal. Also this time the other cucumber in the next square that was transplanted a week or so earlier did the same thing with the white lower leaves & is fine now.
Yesterday morning the holes appeared on this one but the other one is fine. What's up?



Posts

: 777


Join date

: 2011-01-23


Location

: Bloomington, CA



Possibly the cucumber beetle? The little yellow, greenish bug with either black spots or strips. You will find them pretty easily if that is what is getting your cucumbers. They are eating my little been spouts just coming out of the ground right now as there are no cucurbits in my garden yet. I was told by the missouri extension office to plant a few Blue Hubbard Squash plants near my other squash and cucumber plants and the cucumber beetle would leave all the other plants alone.They are so drawn to the blue hubbard that they will chose it above all the other plants. You just have to treat or kill them off that one plant in order to keep them under control! They have had great success with it so far. I have several growing in the green house now so I can set them out with my other plants. As for now a floating row cover may be the only natural help.



Posts

: 2


Join date

: 2012-04-01


Age

: 41


Location

: Missouri



---
Permissions in this forum:
You
cannot
reply to topics in this forum