We have a section of our deck that gets full sun all day. The deck and railing are about 10 feet above the ground. I just bought some planters today to rest on the rails and was wondering what you would suggest as better in a deck box rather than a 4X4 raised bed?
(First time gardener...so be easy on me!)

Welcome MartinaW!
Sounds like you have already read ANSFG and have SFG beds. How large are the planters? How deep? The size of the planter probably will dictate what you can grow as well as the fact that it gets a lot of sun!
One mistake I made was I bought the clamps that hang the box on the outside of the rail and I put some good sized rectangular planters on them...after about a year, we've found that it's starting to pull the rail outward just a teensy bit (evident by where the placement of the gate latch is). So we removed them.
Putting them on top of the rail would be an invitation to my dogs to get into them...LOL. But if you are placing them on top - you should have a nice even weight distribution...
It's great to see another Indiana gardener on here - there aren't a whole lot of us from my neck of the woods in MO, IL and IN.

My son lived in Evansville for a while with his work and loved it!



Posts

: 559


Join date

: 2011-04-18


Age

: 50


Location

: Springfield (central), IL, on the line between 5b and 6a



Here's the boxes: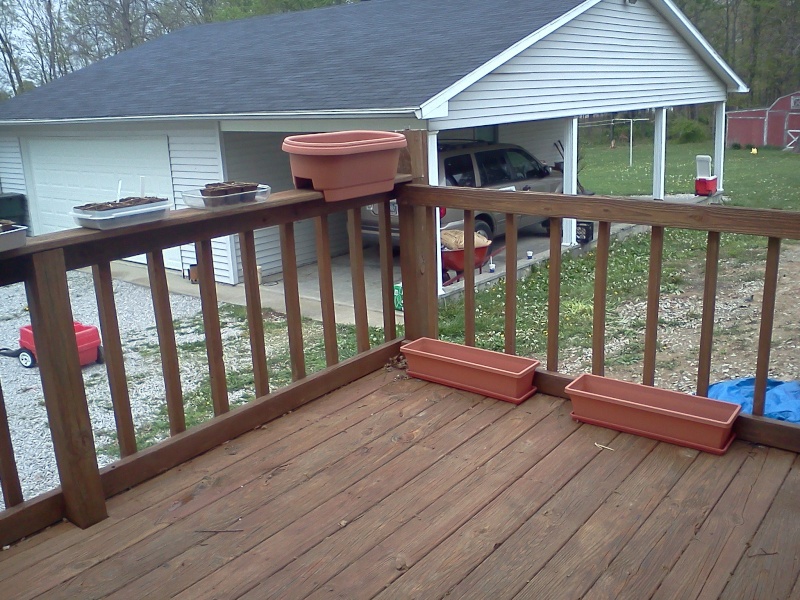 I'm thinking maybe snow peas on top to let them vine down? Maybe squash in the boxes that won't sit on top?
Here are our yet to be filled all the way square foot boxes: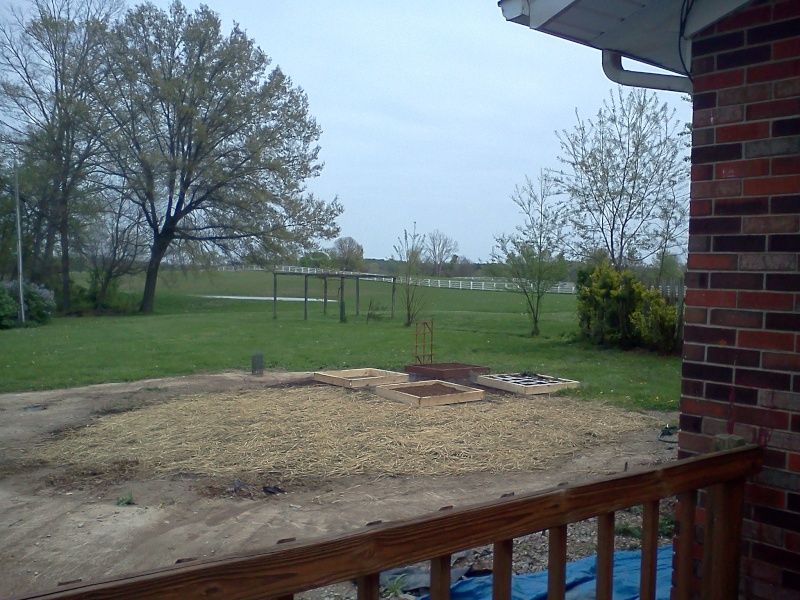 So far I've only put in strawberries from the nursery!
And apparently cilantro sprouts look the same as tomato sprouts... Any suggestions what to do with my seedlings to know?
I'm going to let someone more experienced respond back with what to grow in the boxes...

Also check for your state or county extension office and see if they have a website. They should give you a good idea of some plants and varieties that will do well in your area.
But it looks like you are getting off to a great start!
On the seedlings, I have to be one of the only people on earth who prefers parsley to cilantro so I have not grown it....(ducking the crossfire)...BUT, I would think once they get their second set of leaves, they will start to look different. Also when they get big enough, pinch a leaf and I'll bet they'll smell different too.




Posts

: 559


Join date

: 2011-04-18


Age

: 50


Location

: Springfield (central), IL, on the line between 5b and 6a



Welcome Martina
Here's the boxes:

Enlarge this imageReduce this image Click to see fullsize
Martina, I used deck railing boxes that straddle the railing year before last and grew spinach, lettuce, swiss chard, radishes and other smaller type veggies. The interior deminsions of my boxes are about 10 inches by 20 inches and about 5 inches high. Yours looks like it is deeper than mine.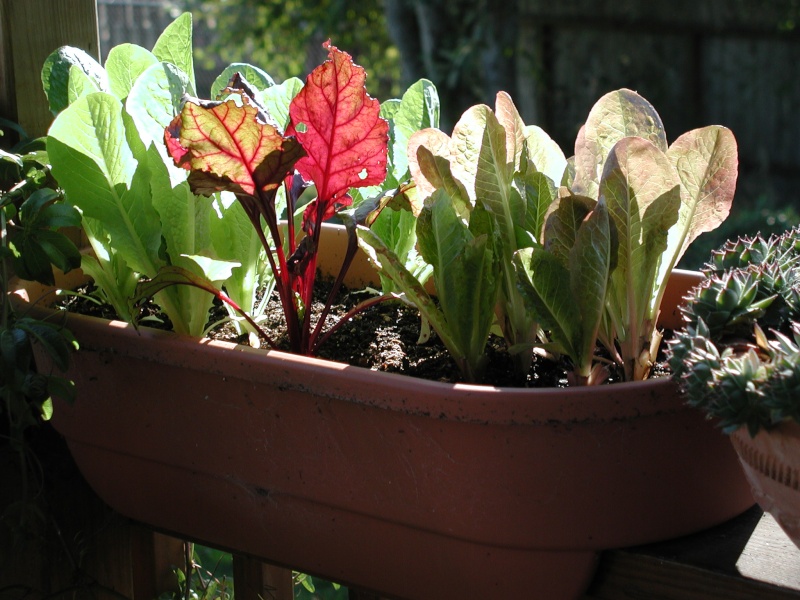 As long as you don't have children or dogs that would snack on your hanging plants,vining type snow or snap peas would grow well and be easy to harvest. I think you could also grow cole crops like broccoli or cauliflower in the railing planters, but you would be limited to probably two per planter.
It might be a bit tight to try to grow bush type summer squash in those boxes that will stay on the deck floor. I did grow a few strawberries on my porch using similar patio/deck boxes.



Posts

: 3141


Join date

: 2010-06-10


Age

: 70


Location

: Coastal Oregon, Zone 9a, Heat Zone 2 :(



---
Permissions in this forum:
You
cannot
reply to topics in this forum