I have been planning to start a vegetable and herb garden this year, and was doing research when I stumbled upon the Square Foot Gardening website. First of all, let me just say that this method is ingenious! I would have never thought of this on my own, and will make everything so much easier, and I can grow so much more!

My main question is that for some of the things I am planting, the website recommends vertical gardening. Would I just use a simple trellis? Some of the things I am growing are: peas, green beans (pole), cucumbers, cantaloupe, zucchini, and eggplant. Should all of those be vertically trained, or only some of the plants? Also, the trellis I am looking at purchasing is from Lowes, a 24" tall metal trellis, called the Garden Treasures Trellis 24". (I am unable to post the link because I'm a new member, sorry!)

I am not necessarily new to gardening, I've been a container gardener. I've successful grown carrots, radishes, hot peppers, tomatoes, bell peppers and several herbs. I've just never done vertical growing.

Thanks in advance for any help you can give!



Posts

: 2


Join date

: 2012-04-03


Location

: GA, USA



I have done the string trellis thing several times, have tried a couple different ways.

This year, I am going to use cattle panel - a fence like product. The only issue is that it is very large and will need to be cut- at least in half.

I will support these with fence "t" posts, which I already have.

http://www.lowes.com/pd_188465-60456-CPS10_0__?catalogId=10051&productId=3479813&UserSearch=cattle+panel&Ntt=cattle+panel&N=0&langId=-1&storeId=10151&rpp=24



Posts

: 440


Join date

: 2010-05-25


Location

: Beaver Dam, Kentucky, zone 6a



I'd say the 24" trellis is NOT big enough. For peas, pole beans and vining (Indeterminate) tomatoes you need at least 6 feet of vertical growing.
I use string for tomatoes and trellis netting for peas and beans and then switch them to rotate the crops the following year. With strong metal (green) fence posts in the two north ends of each box, anything can be attached.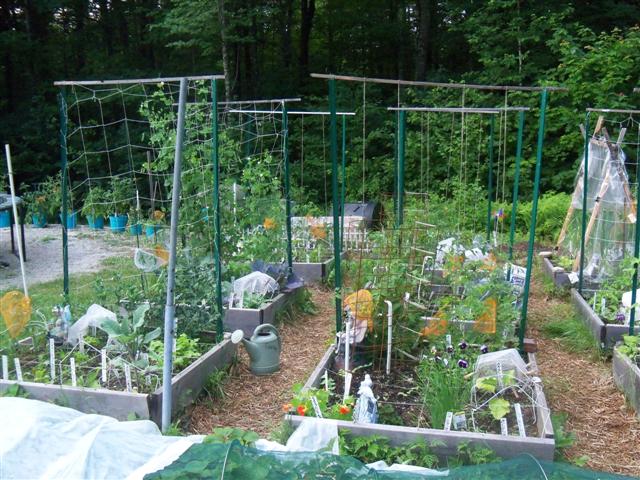 Posts

: 4674


Join date

: 2010-03-21


Age

: 75


Location

: Southwestern Maine Zone 5A



Trellising is easy Last year was my first year of real gardening and SFG as well.
Here are some of my trellises/gardens. Just use your imagination!
This one is my Pea trellis!



Posts

: 305


Join date

: 2011-03-30


Location

: Salt Lake City, Ut



Thanks everyone! I appreciate the feedback, because I would have been really disappointed if I had gotten the 24" one and then my vegetables didn't grow right. I'll have to look around on Lowe's website a bit more to see if I can find an inexpensive alternative.



Posts

: 2


Join date

: 2012-04-03


Location

: GA, USA



Peas, pole beans, cantaloupe & cucumbers ought do very well in a vertical garden. Not unheard of those things growing 10 feet.
Zucchini & Eggplant really depend on the variety. My usually just sprawl out everywhere and don't really vine.



Posts

: 228


Join date

: 2011-06-16


Location

: TN



For lots of examples of trellising ideas, do a Google search for: square foot gardening trellis - then click on Google Images and browse to your heart's content...



Posts

: 194


Join date

: 2012-03-18


Location

: Coastal Britsh Columbia



This is my trellis for my peas
It is a cattle panel, they can be purchased from farm supply stores and come in 16x4 foot lengths and you can cut them yourself if you have the special cutters, OR the stores will usually cut them for you




Posts

: 2802


Join date

: 2012-01-14


Age

: 60


Location

: british columbia zone 5a



Guys at the Tractor Supply Company reluctantly loaded these 3 full size panels. Kept saying "lady, this isn't gonna work". I managed to get it unloaded with a lot of help from gravity.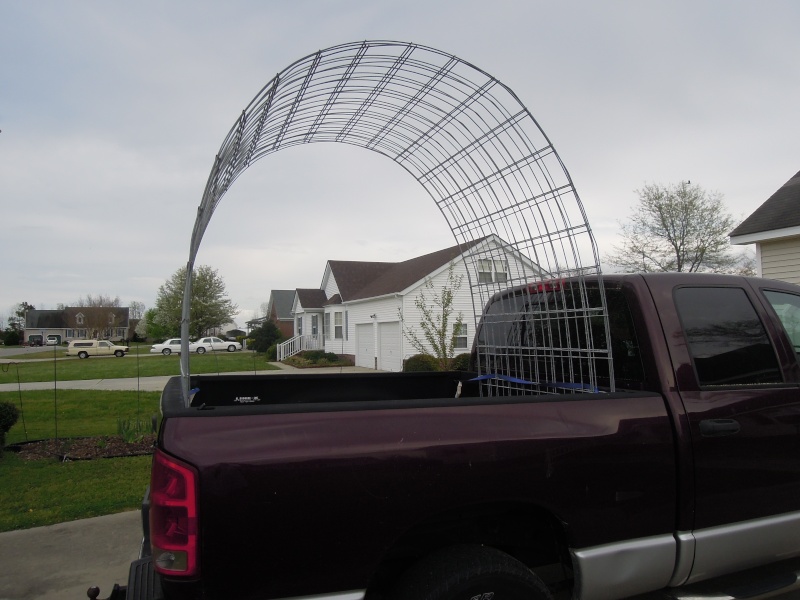 Kay
____________________________
A WEED IS A FLOWER GROWING IN THE WRONG PLACE
Elizabeth City, NC
Click for weather forecast

Certified SFG Instructor




Posts

: 4349


Join date

: 2010-10-17


Age

: 74


Location

: wilmington, nc zone 8



That's funny. Glad you got it done with the help of gravity. We can all use a little help from gravity with these boxes.



Posts

: 12


Join date

: 2012-04-03


Location

: Metro Atlanta, Georgia



Very cool picture Kay
Welcome to cattle panels.....




Posts

: 2802


Join date

: 2012-01-14


Age

: 60


Location

: british columbia zone 5a



---
Permissions in this forum:
You
cannot
reply to topics in this forum