This is my plan for the garden this year. This is only my second year doing this so I'm open to any suggestions.
Sorry it so small. I think if you click on the image, it will enlarge.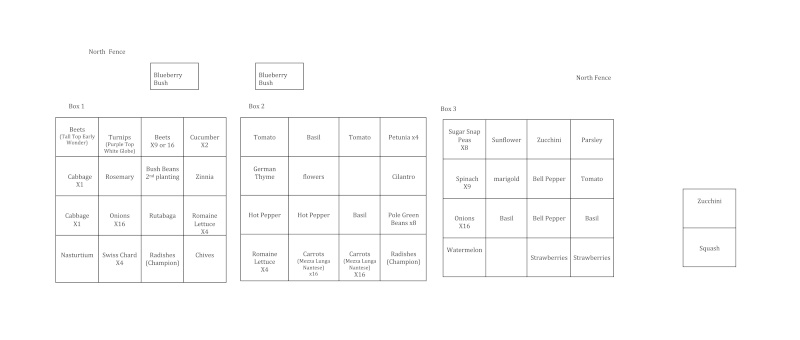 Posts

: 14


Join date

: 2011-04-09


Location

: Portland, OR



Looking good - you have a year of experience under your belt now and your garden that you posted last year looked great!

You mentioned you wanted to pay more attention to your trellising - are you putting trellises on the north side? I was a little confused by pole beans and tomatoes I saw on the east side of the box? Was that tomato a determinate? Are you trellising the pole beans a different way?
This is just a personal preference because I'm lazy - I like having my strawberries in a separate bed with MM because then I can let the runners happen and not have to worry about the strawberries taking over the bed...
This warm Spring has got us all excited to begin!




Posts

: 559


Join date

: 2011-04-18


Age

: 50


Location

: Springfield (central), IL, on the line between 5b and 6a



hi there, found your post but forgive me for being such an idiot can't open your plan

- I am new on forum and don't know yet all stuff

.How can I see your plan in bigger and clear view?



Posts

: 3


Join date

: 2012-04-14


Location

: Central PA



I am also a little confused by the pole beans, and I would recommend putting your turnips in box 2 or 3, turnips don't grow well with other root veggies. Otherwise it looks good to me! I am just weird about companion planting. Have fun with your garden!



Posts

: 2037


Join date

: 2012-03-21


Location

: Custer, SD



---
Permissions in this forum:
You
cannot
reply to topics in this forum