I came across this interesting weather site that integrates Google maps and overlays a number of weather conditions.
http://weatherspark.com/#!dashboard;q=Wexford,+Pennsylvania,+United+States
I like seeing the clouds, and precipitation probability options in addition to temperature.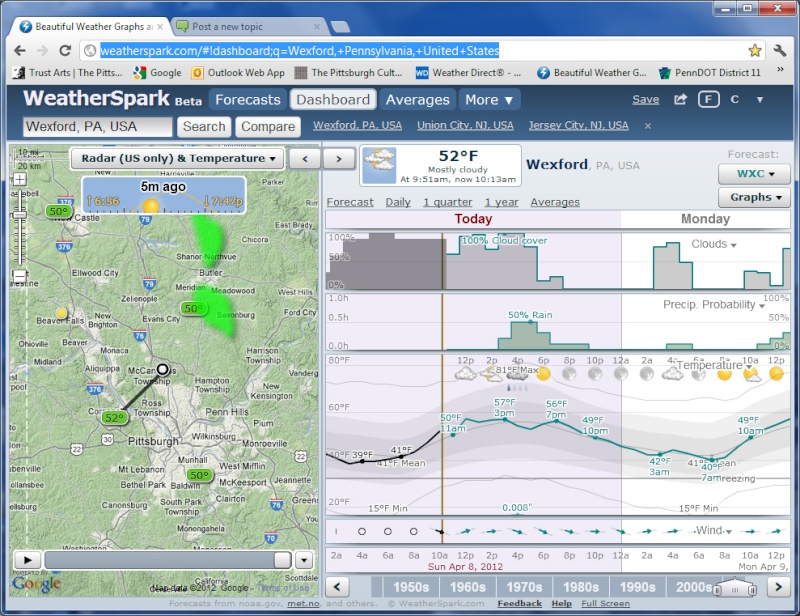 Posts

: 90


Join date

: 2010-06-02


Location

: Pittsburgh, Zone 6a



That site is incredible. It even includes Canada, without the radar.
I have been searching for something like this, it does seem it might take awhile to really learn it well.
I gather that the lowest lines on the chart are the record lows??



Posts

: 2802


Join date

: 2012-01-14


Age

: 60


Location

: british columbia zone 5a



Yes... I believe those are the record lows.

Depending on how much recorded data there is, you could go back in time and see what the weather was like the day in the city you were born.

Lots of things to play with there. It is great to see a visual of when weather conditions are expected to hit.



Posts

: 90


Join date

: 2010-06-02


Location

: Pittsburgh, Zone 6a



Yep, I've used WeatherSpark for a couple years now (my brother introduced it for me). I shared it with a local TV meteorologist and HE loved this site too.
____________________________
I have seen women looking at jewelry ads with a misty eye and one hand resting on the heart, and I only know what they're feeling because that's how I read the seed catalogs in January - Barbara Kingsolver - Animal, Vegetable, Miracle
sfg4u.com
FB: Square Foot Gardening 4 U

Certified SFG Instructor




Posts

: 1915


Join date

: 2010-09-30


Age

: 58


Location

: Glen Burnie, MD



I love it. I've saved it to my favorites. Thanks for the site.



Posts

: 4646


Join date

: 2010-03-21


Age

: 75


Location

: Southwestern Maine Zone 5A



What you can do is follow the graph along and see where the 25 percentile lows are for late april and essentially have risk of frost.
So even though my final frost here is the first of May, if you go back a few weeks you can see that less than 10 percent of the time is there a frost after the 20th of April.
So save 10% of your plants indoors....




Posts

: 2802


Join date

: 2012-01-14


Age

: 60


Location

: british columbia zone 5a



---
Permissions in this forum:
You
cannot
reply to topics in this forum