Its been a long, cold winter here in Maine but today I finally have been transplanting several cole crops in the beds. They had been hardening off in the coldframe for several days and the nites won't be below freezing, so I thought they were ready.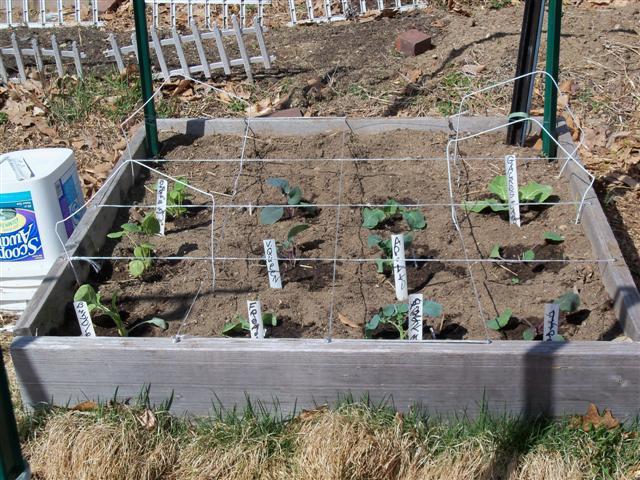 This bed has most of the brassicas with brussels sprouts, broccoli, cabbage and cauliflower transplanted today. My plan is to have them all together so I can cover them with row cover against caterpillars and moths and flea beetles more easily. It worked well another year.
I also put a few leftovers in other beds where I planned to put flowers. I'll put the nasturtiums in pots instead. I really need more room for veggies. I still had 5 Apollo and Packman broccoli plants leftover so put in an email to a gardener friend who has a large row garden. She said she'll be over to get them. Note: The last row in the back, the north row, is reserved for stringing cucumbers this year.
My sisters are in Rockport MA and they never bother planting until Memorial Day. When I thought I was going to be back there this year I had planned to build a TT whether anyone wanted it or not and show them how a garden is grown. They have not had much luck. And I completely understand. They have no decent soil to work with.



Posts

: 2467


Join date

: 2010-05-05


Age

: 62


Location

: Warner Springs, CA USDA Zone 8a, Sunset Zone 7 (I think)



Chopper.....I, too, can't plant the warm-weather crops until after Memorial Day but I thought the cool crops can stand a little cold and I've got sheets and towels and heavy row cover to cover the cool crops in case of a bad freeze. I have to take my chance with such a short growing season.

Last year I waited on the cool crops and we got 90 degree days in May and they nearly all were lost, except for a few that managed to make it. I think I got 2 broccoli, 1 cabbage, and no cauliflower last year. I didn't put in Brussels so this year I've put in 3 since we've tried them and like them.
Your transplants look great!
Happy you have your first crops in the ground!
We're in a moderate drought here. How was the snow and snow pack from this past winter?

Keep the pics coming!



Posts

: 108


Join date

: 2011-07-06


Location

: East Weymouth- Zone 6B



BackRiver.....The snow wasn't as bad this winter as the year before so I'm not complaining. We depend on our snow to keep the water table pumping and filling our wells each year.
We only got measurable snow once in October and another 4-5 inches one other time. We're already 6 inches down in the water table.
Hae a great day.



Posts

: 108


Join date

: 2011-07-06


Location

: East Weymouth- Zone 6B



---
Permissions in this forum:
You
cannot
reply to topics in this forum