Latest topics
»
My fresh sweet potatoes!
by
has55
Today at 10:34 am
»
Irrigation question for DFW peeps
by
has55
Today at 10:00 am
»
Senseless Banter...
by
has55
Today at 9:57 am
»
The SFG Journey-Forbidden Composting material. !!! DON'T TRY THIS AT HOME!!!
by
camprn
Today at 6:39 am
»
Spacing of plants
by
plantoid
Today at 6:12 am
»
Tomato cages - size and design
by
has55
Today at 12:21 am
»
carrot tops toxic?
by
camprn
Yesterday at 10:19 pm
»
New England Jan 2015
by
sanderson
Yesterday at 8:26 pm
»
My personal woes, mostly garden related...
by
Honeybee Lady
Yesterday at 8:24 pm
»
New to SFG in Middle TN
by
AtlantaMarie
Yesterday at 3:57 pm
»
Grape tomatoes - Do you have a favorite?
by
has55
Yesterday at 3:29 pm
»
Chicken, Oyster Gumbo With Home Made Andouille Sausage
by
Windmere
Yesterday at 1:42 pm
»
Compost: Berkeley 18 day [hot] method
by
sanderson
Yesterday at 12:49 pm
»
Watering systems
by
steve638
Yesterday at 10:53 am
»
Rain barrels - Rain collection
by
has55
Yesterday at 4:43 am
»
Plants that do well/best in particular zones
by
sanderson
Yesterday at 12:19 am
»
What are you eating from your garden today?
by
Dunkinjean
1/24/2015, 3:34 pm
»
Got greenery in
by
Kelejan
1/24/2015, 1:50 pm
»
2015 garden plan
by
Judy McConnell
1/24/2015, 1:21 pm
»
Freezing Food With a food Saver Device
by
has55
1/24/2015, 10:45 am
»
SoCal Zone 10
by
has55
1/24/2015, 9:11 am
»
Tomato Powder
by
has55
1/24/2015, 9:01 am
»
Northern California & Coastal Valleys - What are you doing this month?
by
Yardslave
1/23/2015, 9:39 pm
»
Another seed giveaway
by
bbroomm
1/23/2015, 9:35 pm
»
Heat Mat
by
TSHRED
1/23/2015, 9:07 pm
»
Tractor Supply grand opening
by
mschaef
1/22/2015, 9:53 pm
»
The SFG Journey-"I'M A NEW PAPA!!"
by
Kelejan
1/22/2015, 5:23 pm
»
Storing extra MM?
by
has55
1/22/2015, 5:15 pm
»
a newbee
by
has55
1/22/2015, 3:44 pm
»
Kale spacing
by
TSHRED
1/22/2015, 1:11 pm
Page 1 of 2 • 1, 2

@boffer

wrote:Multiple composts is a very good thing-no need to worry about ph and all that other stuff.

A 4x8 box is going to take 6ish cubic feet. Mel's mix can seem expensive when starting, but it's a lifetime investment-cheap in the long run.
Indeed. I'm wondering now if I used too little compost or peat moss. I picked up a second bag of Vermiculite and mixed up what I had. I only had enough to fill one 4x8, and put down a small layer in my second 4x8 box (mostly to keep the weed fabric down.)
I used 2 bags of vermiculite, 4 bags of store bought compost, some of my own compost (maybe a bag worth), and 1 bale of peat moss. The vermiculite were 4cu/ft bags, the store bought compost were 40lb bags, and the compost was 3.0 cu/ft compressed, the largest my Home Depot carried. Again, no mention of actual volume, though the four were roughly the size of the compressed peat bale.
I had expected to fill one 4x8 and half of another... is it the extra area gained with the 4x8 vs the 4x4 boards?
So, should I just run with the full 4x8 and create another batch to fill up the second box, even the two out and add more compost to both boxes, or something else?



Posts

: 150


Join date

: 2010-03-05


Age

: 41


Location

: Saint Cloud, FL



Hi Jeff,
You're confusing me with all your numbers!

I'm sure you're familiar with the acronym
KISS
? Do it!
Lose the weight, work with volume, plan on having leftovers-I have a strong inkling you'll be making more boxes down the road to use them in. Yes, you could fill up the remaining space with compost. But, for your first two boxes, do it to spec. It will give you a baseline to compare to if you make changes down the road in other boxes.
I admit it took owning some gray hair before I acknowledged that it was silly to pay for professional advice if I wasn't going to use it. I don't take a pro's advice as gospel, but if I find myself discounting the advice because of cost, effort, inconvenience, and delay, I'm only fooling myself. After all, you did pay for a pro's advice when you bought the SFG book!
This is a 4x4 box filled with 10 cf; it will level out when saturated. That's 3 1/3 5 gallon bucket of each item in the mix. Just fill the buckets; it doesn't matter if there's air pockets or if it's heaping or slightly under.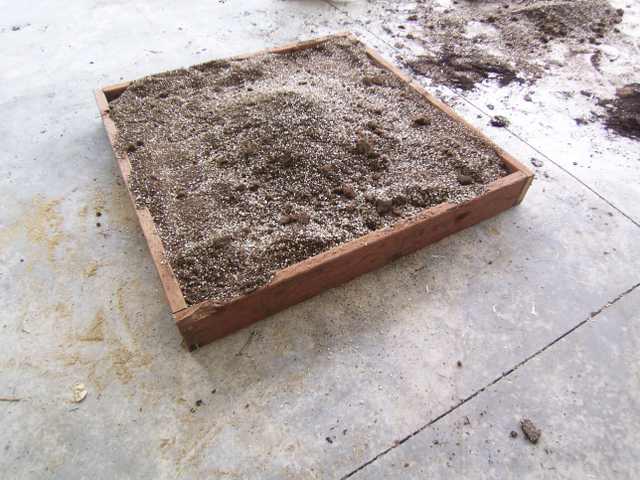 It takes what it takes-you're committed now-do it right!
***************************************
crap, after all that, I re-read your post before I sent mine, and I didn't give you a very good answer! But I'm leaving it in cause you needed to hear it anyhow

Somehow you got too much vermiculite in the mix. I've filled multiple boxes at a time, and vermiculite usually measures out pretty close to what the fill volume of the bag is. Or was it too little peat and compost like you said. Or do both those sentences mean the same thing?! What I would do is make a proper batch, and mix it half and half with the batch you've made. Put a bucket of new in the empty bed, then a bucket of old. Repeat, stir as you go. I know how many buckets it will take, but I'm not gonna tell ya cause it doesn't matter. It's full when it's full!
Think volume!
____________________________
Last frost date (50%): April 15     First frost date (50%): Oct 15    
Zone: Irrelevant



Posts

: 6720


Join date

: 2010-02-26


Age

: 61


Location

: yelm, wa, usa



Hi Just an FYI, a 4'x4'x6" box holds 8 cu ft. Mel's mix when available will be in 2 cu ft bags weighing 35-40 lbs. This info is from Mel at the class last wk. Seeya Phil

Certified SFG Instructor




Posts

: 7


Join date

: 2010-03-07


Location

: Seville Fl



Mathematically it is 8cf. When it's dry. In real life, when it has been saturated, 10 cf doesn't quite make it to the top. But then, I'm not the pro, I'm just sharing my observations.
____________________________
Last frost date (50%): April 15     First frost date (50%): Oct 15    
Zone: Irrelevant



Posts

: 6720


Join date

: 2010-02-26


Age

: 61


Location

: yelm, wa, usa



Page 1 of 2 • 1, 2

---
Permissions in this forum:
You
cannot
reply to topics in this forum