Hi everyone
I have a lemon tree (plant really) which struggled for a while and then sent up a long shoot. Should I prune the leading tip or just leave it to do its own thing? It is obviously never going to be a beautiful lemon tree but I would like to give it a chance

Should I cut away the stunted bits on the left and just leave the single stem?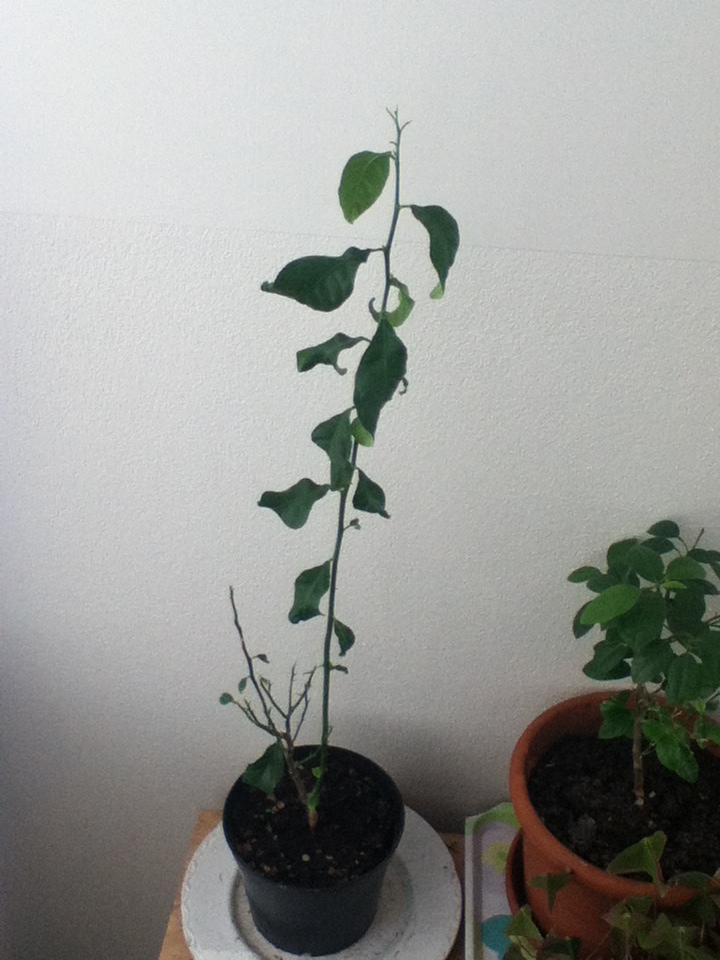 I have only grown Meyer Lemons. I would not prune the top YET. In the years to come there will be pleanty of deadwood to prune off. I had mine in a much larger pot.



Posts

: 2054


Join date

: 2010-03-03


Age

: 60


Location

: Everett, WA USA



Thanks Debs
Does it need a larger pot even if there are no roots to be seen when I lift the pot up? Do you know if they like space to wriggle their roots, or prefer a tighter fit?
I finally managed to trackdown some citrus liquid fertilizer last week so I am hoping for a growth spurt.
Thanks. It was a seed. My daughter was looking after it but lost interest - hence the died-off bit on the left.
At one point she had about twenty Key lime plants but sadly (luckily) only two survived - one is to the right of the lemon.
I heard on the radio that lemons almost never grow true to the parent lemon so it is very hit and miss how they come out. But then again I just read a post on another forum which said that they almost always do

Good question, I do not know if they like to wiggle or not. One thing that did make them happy was to prune the roots once every 3 years. The tops I let go except for pruning the little dead parts but the roots needed to be trimmed. My trees were inclined to make anchor roots and would send a thick root through the drain hole, plugging up the bottom. Uprooting and trimming up the root ball to encourage more fine feeder roots seemed to keep the tree happy (Scared me the first couple of times, but the tree did fine!)



Posts

: 2054


Join date

: 2010-03-03


Age

: 60


Location

: Everett, WA USA



most citrus grown commercially is cuttings grafted to root stock
I really do not know why but you always see the graft point about a few inches above the ground
Anyway I think they do it because the types of citrus we like to eat do not make for good roots.
Now having said that, they prune citrus pretty dramatically to keep the plants at certain size and producing so I would think your plant would accept it with out much trouble, and it seems they always trim off lower branches so I would try first by pruning back the low stuff.



Posts

: 66


Join date

: 2012-04-20


Age

: 58


Location

: Riverside Ca. Lots of sun and hot in the summer



Every book and website I've read on pruning always mentions never prune more than 1/3 of the plant/bush/tree. The root pruning is a Fantastic idea! That will keep things aerated too!



Posts

: 159


Join date

: 2012-04-13


Age

: 41


Location

: SW New Hampshire



Thanks for all the advice. I suppose it is a matter of common sense? If I want a small indoor tree which has a single stem and then branches out then I will need to prune it to get there.
I think I will let the long shoot go up this season and trip it back next spring. And I will keep an eye on the roots and repot when I can see some poking out of the holes.
Actually, the grafting is for commercial reasons. Smaller actually produces more fruit per acre and unit of labor. Known producers are grafted unto dwarf/semi-dwarf rootstock to able to be planted much for densely.

A standard apple tree will grow to 25 feet high. Similarly, a standard lemon tree will hit 20 feet high. A semi-dwarf meyer lemon will create a 10' feet while a true dwarf meyer lemon will create a "bush" tree 6 to 8 feet high. Heavily pruned with thick branches, a commercial meyer lemon will look like a giant yellow berry bush.

The pruned 8 foot 'bush' and full sized 20 foot tree will produce about the same amount of fruit.

In California, they do 'wine glass' shaping of the citrus. It maximizes fruit production and minimizes labor. The wine stem may only be 6 -12 inches high before the 'goblet' of producing branches.



Posts

: 459


Join date

: 2011-04-22


Location

: Orange County, CA aka Disneyland or Sunset zone 22



---
Permissions in this forum:
You
cannot
reply to topics in this forum