Latest topics
»
Garlic: Freeze, thaw, and heave
by
llama momma
Today at 9:48 am
»
N&C Midwest: December 2016
by
AtlantaMarie
Today at 7:45 am
»
New England, December 2016
by
Scorpio Rising
Yesterday at 11:36 pm
»
December 2016 Avatar: Show your Winter Season Colors!
by
Scorpio Rising
Yesterday at 11:17 pm
»
Tomato Tuesday 2016
by
AtlantaMarie
Yesterday at 8:51 pm
»
AtlantaMarie's Garden
by
AtlantaMarie
Yesterday at 8:46 pm
»
Mychorrhizae Fungi
by
sanderson
Yesterday at 8:30 pm
»
SFG not giving the results I expected
by
No_Such_Reality
Yesterday at 7:21 pm
»
New Member
by
trolleydriver
Yesterday at 4:14 pm
»
TrolleyDriver's Compost Thermometer
by
trolleydriver
Yesterday at 1:32 pm
»
Mid-Atl - Dec 2016 - Seed Catalog ?
by
CapeCoddess
Yesterday at 12:32 pm
»
Live and learn
by
jimmy cee
Yesterday at 10:56 am
»
First season SFG results / lessons learned
by
countrynaturals
Yesterday at 10:36 am
»
CANADIAN REGION: What are you doing December 2016
by
Kelejan
Yesterday at 9:46 am
»
Mid-South: December 2016
by
sanderson
Yesterday at 3:39 am
»
1st Seed Catalog Arrived :)
by
sanderson
Yesterday at 3:30 am
»
Eat Broccoli Leaves? Brussels Sprouts? Cauliflower?
by
sanderson
Yesterday at 2:55 am
»
Winter's Coming!
by
sanderson
Yesterday at 2:53 am
»
Dry versus fresh spices to infuse vinegar
by
sanderson
Yesterday at 2:50 am
»
2016 SFG in Brooks, Ga
by
sanderson
Yesterday at 1:28 am
»
Holy snow Batman!
by
sanderson
12/2/2016, 5:46 pm
»
Senseless Banter...
by
MrBooker
12/2/2016, 5:17 pm
»
Blanching and Freezing Vegetables
by
sanderson
12/2/2016, 4:59 pm
»
Your Christmas wish list?
by
sanderson
12/2/2016, 4:29 pm
»
SFG Adventure of a first time gardener in ND
by
sanderson
12/2/2016, 4:14 pm
»
Second Year SFG in Canada
by
trolleydriver
12/2/2016, 2:59 pm
»
Fusion Life Brands Power XL pressure cooker
by
CapeCoddess
12/2/2016, 2:39 pm
»
Asia Region -Showcase of Gardens - Show Us Yours
by
sanderson
12/2/2016, 2:14 pm
»
December: What to plant in Northern California and Central Valley areas
by
countrynaturals
12/2/2016, 1:13 pm
»
Gardening in Central Pennsylvania
by
countrynaturals
12/2/2016, 12:52 pm
First, my favorite photo of the year so far. My son got some seeds in a plantable seed pouch from McDonald's of all places. It was for radishes, which I am not a fan of. But all he had to do was place the paper in the hole and cover it with dirt. Last week, we went out and could see the radishes sticking up, so started to pick one. He was so proud of the radish he grew. He is my super super picky eater, but he actually tried it. He took a little bite and said, "Mmmm, that's tasty". I asked if he wanted another bite, but he went back to eating his cookie.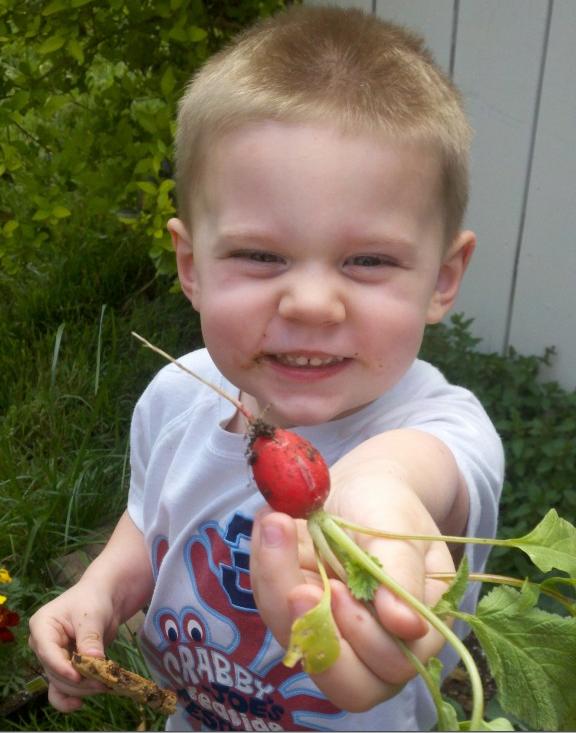 I also wanted to share my garden I just completed. The last 2 years I have just had the 4x12 in the back. I didn't kill all the grass properly, so I pulled all the old Mel's mix from that this year (I'm going to use it in containers), put weed mat down, and filled it with all new mix this year. Then I built 3 new 4x4s and laid weed mat down, created the layout and filled the spaces with mulch. I built a giant trellis, and yesterday I filled my new boxes. All this without the help of my hubby (though my dad helped with the mulch), so I am pretty proud of myself. You'll also see a big mound of foliage, that's my strawberry pyramid from gurneys. Should be getting tons of strawberries soon. I am also doing lots in containers this year b/c I just have too much to plant and not enough space in the SFG.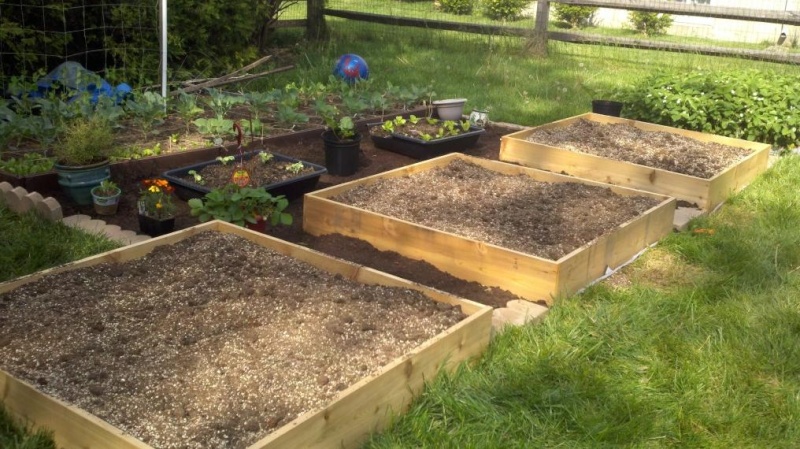 Update: We pulled up the rest of DS's radishes. He tried one again and spit it out, probably too spicy for him. But I am so proud of him for trying new things. He is a super picky eater, and the only veg he eats are corn, and tomato sauce. A big reason I garden is to get him to try new things, and this year I am trying to grow more fruit for him, and we are growing corn for the first time.
Great pictures! Good for him for trying something new! It's exciting when they get excited bout growing something! Very cool!




Posts

: 2037


Join date

: 2012-03-21


Location

: Custer, SD



I can't wait till we get some big crops growing, he loves all my plants, even if he doesn't like to eat them, he loves to watch them grow
If you think he will eat them cooked you can slice and saute radishes--they taste a little like mild turnips that way. I slice them thinly, saute in olive oil with a little garlic, and add the chopped radish greens at the last minute.
I don't like raw radishes at all and I LOVE them that way! I'm in Cincy suburbs also and I'm planning to pull my radishes today or tomorrow




Posts

: 17


Join date

: 2012-02-07


Location

: Cincinnati



Almost instant radish pickle

Sliced radish

vinegar

sweetner of your choice or fresh dill depending on what you want

Let sit for 1/2 hour or more before serving.

I like to use left over juice from my store bought pickles for more flavor.
____________________________
A WEED IS A FLOWER GROWING IN THE WRONG PLACE
Elizabeth City, NC
Click for weather forecast

Certified SFG Instructor




Posts

: 4310


Join date

: 2010-10-17


Age

: 73


Location

: wilmington, nc zone 8



Your new garden space is lookin' good. Your little helper is a little doll and maybe he'll acquire a taste for more veggie things. Have you tried putting veggies in the goodies, like having chocolate parsnip (or carrot or zucchini) brownies or cookies or bread. Of putting some thinly sliced cuke between two cookies. There are ways to get veggies into children if you research it. Peanut butter on a celery stick. Dried tomatoes. Fruit leather.



Posts

: 4613


Join date

: 2010-03-21


Age

: 74


Location

: Southwestern Maine Zone 5A



im not a big fan of radishes either

last year the ones we planted were hot!
well...this spring we decided to try them once more....i have been reading that a lot of people like to grow French breakfast ones....so we gave them a try....just had our first one a few days ago....and man....it was soooo good and not hot or spicey at all!
hugs
rose.....who thinks your little guy is so cute!



Posts

: 2424


Join date

: 2011-05-10


Location

: Western WA



I am growing 9 container zucchini plants this year, plus lots of other squash. So I should definitely have enough of that to find lots of new and interesting ways to prepare them so he may eat them (zucchini nut bread, pumpkin bread, etc.) I don't know if all the other stuff in those negate the healthiness of the veggies though. I do weight watchers, so I'm sure I can find some healthy versions. Also, he likes my spaghetti sauce, which is fresh tomatoes and herbs. He likes carrots sometimes, so I'll make sure I plant a square of them for him too. The thing I am most excited about are my ground cherries. I have five plants, and if they do well, I'll have enough to eat fresh, make fresh preserves, and lots of desserts.

I don't really worry about him getting veggies vs. fruits. There are so many things we consider vegetables that are really fruits anyways. I am going to try and follow "eat the rainbow". Getting fruits and veg of all the colors of the rainbow. He'll eat red tomatoes and strawberries, orange carrots, I think the ground cherries are yellow, so hopefully he likes those, hoping to incorporate green with zucchini, blueberries, and maybe if I can get him to eat eggplant in tomato sauce (and that's a big if), then I'll have purple. He eats purple grapes, I just don't grow those (yet).
My kids like yellow squash baked in the oven with a little butter and sprinkled with a little parmesean cheese, yum.



Posts

: 2037


Join date

: 2012-03-21


Location

: Custer, SD



---
Permissions in this forum:
You
cannot
reply to topics in this forum