I think this is so cool! A lady at church gave me a scrawny off-shoot
(word?) from her fig bush last year. I looked at it today & I've
got several baby figs on it. The neat thing is that the leaves aren't
even all the way out. The plant in the background is a photina that refuses to die, no how many times I cut it to the ground & chop at the root mass with a hatchet.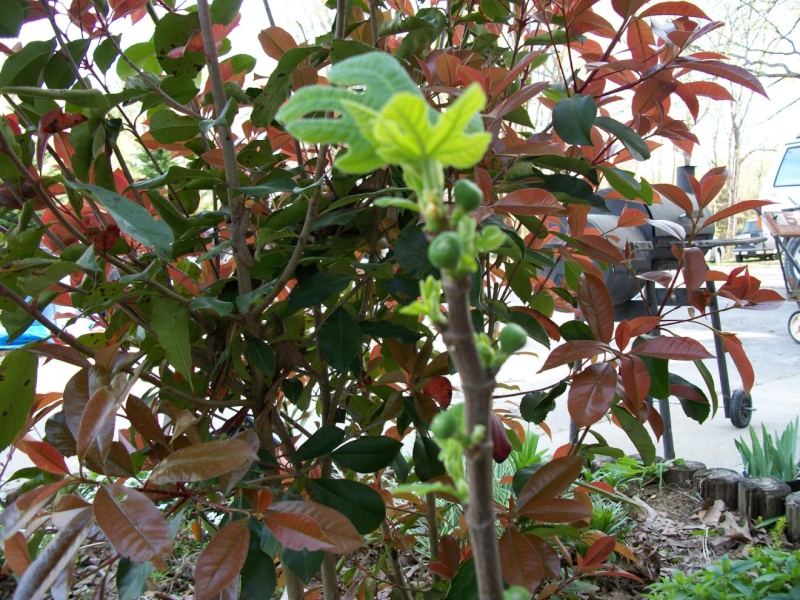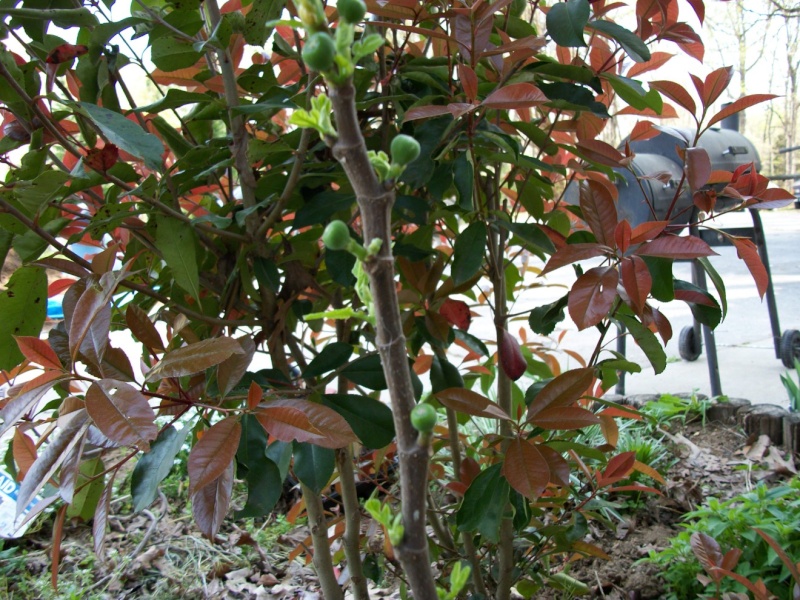 Posts

: 754


Join date

: 2010-03-02


Age

: 68


Location

: Southeast Tennessee



Hi,
My wife planted a fig tree, and for five years the figs ended up rotting on the branches. It wasn't till last year that we realized we didn't know how to tell when a fig was ripe! There's lots of info on the net, but it never occurred to me to look. Sometimes I'm a slow learner!



Posts

: 7392


Join date

: 2010-02-26


Age

: 64


Location

: yelm, wa, usa



Cute! That's good news for me. I rooted cuttings this past winter from my large tree that doesn't product well, and just planted 3 out. That means I might have figs on the babies next year.



Posts

: 904


Join date

: 2010-03-03


Location

: USA



I'm so jealous.

I planted a fig tree four years ago, but the first winter it froze and so didn't have two-year wood to produce fruit. It came back up from the roots, so I covered it in straw the next winter, and in the summer it was covered in figs. Then we decided to add on a garage to our house, and of course it was to be built right where I had planted the fig. We tried to move it, but it died just as the figs were starting to ripen. DH and I shared one nearly ripe fig before we dug it up. So...DH just planted another Brown Turkey fig from Starks Bros. last week.

Keep your fingers crossed for us. I seem to have an uncanny abililty to kill figs and rosemary plants.



Posts

: 1450


Join date

: 2010-03-16


Age

: 62


Location

: Southeastern Missouri (6b)



I don't know what type mine is, but good luck to you.



Posts

: 754


Join date

: 2010-03-02


Age

: 68


Location

: Southeast Tennessee



This is an old post, but I just got 3 fig cuttings from Baker Creek. Celeste, Desert King and  Ischia Green.  Planted them in MM in 5 gal buckets. 

 This will be my second attempt at figs.  First attempt was 2 pieces dug up from a friend's yard last summer and planted in the yard.  1 died before the summer was over the second was struggling.  Then we had the extremely cold winter that killed a lot of the figs, but in June I noticed it has put a few leaves out this year.  I'm babying it now.  

Kay
____________________________
A WEED IS A FLOWER GROWING IN THE WRONG PLACE
Elizabeth City, NC
Click for weather forecast

Certified SFG Instructor




Posts

: 4343


Join date

: 2010-10-17


Age

: 74


Location

: wilmington, nc zone 8



---
Permissions in this forum:
You
cannot
reply to topics in this forum