Latest topics
»
Senseless Banter...
by
sanderson
Today at 9:42 pm
»
Butternut squash, turkey Italian sausage, cannelini bean soup
by
yolos
Today at 9:25 pm
»
Happy Birthday!!
by
yolos
Today at 9:12 pm
»
How's the Weather Where You're At?
by
yolos
Today at 8:58 pm
»
N&C Midwest—January 2018!!!
by
Scorpio Rising
Today at 7:08 pm
»
Fourth Year SFG in Canada
by
sanderson
Today at 5:00 pm
»
Colored Mulch
by
SQWIB
Today at 1:50 pm
»
Is there ever enough compost?
by
has55
Today at 2:41 am
»
What are you eating from your garden today?
by
Scorpio Rising
Yesterday at 9:10 pm
»
2018 - First Annual Seed Swap Week - January 20-28
by
Ginger Blue
Yesterday at 4:02 pm
»
Gophers
by
countrynaturals
Yesterday at 12:32 pm
»
SUGA 2017
by
SQWIB
Yesterday at 7:09 am
»
High heat tolerant tomatoes
by
walshevak
Yesterday at 6:03 am
»
Mid-Atl - Jan 2018 - Brrrrrrrrrr! and Happy New Year
by
AtlantaMarie
1/15/2018, 6:43 am
»
CANADIAN REGION: What are you doing in January 2018
by
sanderson
1/15/2018, 3:53 am
»
New England Jan 2018
by
hammock gal
1/13/2018, 5:50 pm
»
My first Attempt
by
21Actual
1/13/2018, 5:05 pm
»
Air Fryer! HELP!
by
sanderson
1/13/2018, 3:26 pm
»
New SFG box-Humanitarian way
by
sanderson
1/13/2018, 3:24 pm
»
Drafts?
by
trolleydriver
1/13/2018, 1:18 pm
»
Hello from Northern Ontario Eh!
by
BeetlesPerSqFt
1/13/2018, 1:07 pm
»
January 2018 Avatar: Surprise Us
by
sanderson
1/12/2018, 4:57 pm
»
Review of Terms of Service
by
Ginger Blue
1/12/2018, 4:02 pm
»
DIY Plant Markers
by
countrynaturals
1/11/2018, 7:32 pm
»
Non flowering sugar and snow peas
by
sanderson
1/11/2018, 3:21 pm
»
has55's R & D Journey
by
has55
1/10/2018, 11:19 pm
»
California's Drought
by
toledobend
1/9/2018, 11:55 pm
»
Trellis mod
by
brianj555
1/9/2018, 9:19 pm
»
Spring Fever Anyone?
by
newbeone
1/9/2018, 8:51 pm
»
New Composter - Need Help Filling Correctly
by
saganco
1/8/2018, 6:00 pm
Late this morning I spotted 5 deer in the empty lot on the other side of my next door neighbor's house. That's the next door neighbor's driveway in the 1st pic. Sorry the pictures aren't great, I had to use too much zoom. And as you can see it was garbage day. As soon as I tried to inch closer they all looked at me then ran away. Couldn't get all of them in the photo but there were 5 of them. I guess I am going to have to do something to deter them from the garden after all. I wasn't too worried about deer as I had only seen a single one twice since we moved in over a year ago. I guess I'll be shopping for deer fencing or something.

Still neat to see them though as we don't have them where I'm from (South FL).



Posts

: 110


Join date

: 2010-03-08


Location

: Z5 Chicago Suburbs



Good Morning SFG in Chicago,

Isn't it surprising when we see these fellows so close to our "city" homes? I'm in a first-ring suburb of Cleveland, well built up, lots of traffic, etc.

Our house is up a hill from the street and if you're here, you have wanted to get here! The other night I glanced out our front window and yelled, "my gosh, there's a deer right here!" Then I screamed, "And its a buck!!!"

So much for city safe gardening. Now I know who snuck into my back yard a couple of years ago and chewed off all my tall flowers. It was such a puzzle. Racoons, groundhog, possums yes, but who could reach those TALL flowers. Uh Huh!

Out will come the garden cages this year.

Please do check into the Northern and Central Midwest Regional Forum if you haven't already. We'd love to hear from you there too. Lots of local chatter.

Certified SFG Instructor




Posts

: 765


Join date

: 2010-03-05


Age

: 77


Location

: Cleveland Heights, Ohio (5b)



I live out in the country so we see deer and wild turkey walking thru our yard now and again. Less so now that we let the dogs out more often.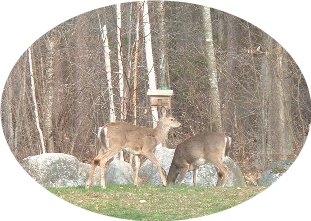 As you can see, they love raiding my birdfeeders. I don't begrudge them seeds now and then but they better stay away from my new dwarf fruit trees and my tomato plants.
Last year they enjoyed nibbling both. I heard about tying bars of deodorant soap in net bags to the fencing to deter the deer. Well, it worked. No more tomoto thieves nor any more chewing my tender dwarf tree limbs. I only had short less than 3-foot tall fencing around them.
I already have my soaps hanging out there now to stop them before they begin.
I hope it continues to work this year.
I stuck wooden poles around my garden area and it worked there, too, but I also have several old CD's and Discs hanging from those poles as well. I heard the flashing of the sunlight on those disks scares them off. I'll try anything short of putting in 8-ft fencing, which is too expensive for me, or deer repellents which may be harmful to crops and also needs renewing after each rain. I won't put anything near foodstuffs that is iffy.
Another tip is to clip dog hair to the fencing with clothespins. The smell of the dog turns them away.
I'll let you know if the deer return for lunch this spring.



Posts

: 4700


Join date

: 2010-03-21


Age

: 75


Location

: Southwestern Maine Zone 5A



They haven't bothered my bird feeders, but they're right by the house. My SFG is close to the house also. My back yard is pretty big and open with not a single tree or shrub, only grass. (we're renting so that's not going to change) the houses on either side of me also have nothing planted in the back yards. I'm hoping the deer won't like the large open, exposed area. As you can see in the photos the empty lot where the deer were grazing yesterday is full of tall weeds where the deer blend in amazingly well. Beyond that is a line of trees, and then a golf course. I'm hoping they will stick to the weedy/wooded area where they have more cover. Wishful thinking probably!



Posts

: 110


Join date

: 2010-03-08


Location

: Z5 Chicago Suburbs



I live in a suburban area, just across the river from the City of Pittsburgh. We have a ton of deer. I've never been able to grow any garden without a physical barrier, otherwise the deer will eat it to the ground.
SO here's what I've come up with. Worked last year and so far it's working this year. I hope this helps.
http://deerproofgarden.blogspot.com/2010/03/version-20.html
Dan



Posts

: 7


Join date

: 2010-03-31


Location

: Pittsburgh, PA (6A)



You might want to try using human hair in small bags tied to the trees along with the soap. Our Texas deer completely ignored the soap, but once I put out hair, they pretty much stopped nibbling on the fruit trees. Now if I could only find a racoon deterrent as my fruit trees are loaded this year.




Posts

: 904


Join date

: 2010-03-03


Location

: USA



---
Permissions in this forum:
You
cannot
reply to topics in this forum