Latest topics
»
Northern California & Coastal Valleys - What are you doing this month?
by
sanderson
Today at 2:01 am
»
Root Knot Nematodes - PROGRESS!
by
sanderson
Today at 1:22 am
»
What are you eating from your garden today?
by
sanderson
Today at 1:19 am
»
Our 2017 garden makeover
by
sanderson
Today at 1:17 am
»
How's the Weather Where You're At?
by
sanderson
Yesterday at 10:55 pm
»
Plant ID
by
No_Such_Reality
Yesterday at 8:24 pm
»
Senseless Banter...
by
trolleydriver
Yesterday at 3:44 pm
»
Third Year SFG in Canada
by
trolleydriver
Yesterday at 2:04 pm
»
CANADIAN REGION: What are you doing February 2017?
by
Kelejan
Yesterday at 1:07 pm
»
Western Mount/High Plains: Seed Planting Dates zone 5b
by
RoOsTeR
Yesterday at 8:58 am
»
I'll get my Texas garden right yet
by
RoOsTeR
Yesterday at 8:57 am
»
Roots...information....
by
MrBooker
Yesterday at 6:19 am
»
Is this wood correct for building box?
by
sanderson
Yesterday at 4:42 am
»
Hello from IA Zone 5
by
sanderson
Yesterday at 4:38 am
»
Feedback for my 2017 garden plan
by
sanderson
Yesterday at 2:10 am
»
ticks
by
camprn
2/20/2017, 11:18 pm
»
N&C Midwest: February 2017
by
CitizenKate
2/20/2017, 10:58 pm
»
Gardening in Central Pennsylvania, 3rd year SFG
by
BeetlesPerSqFt
2/20/2017, 10:15 pm
»
Peppers with black spots
by
camprn
2/20/2017, 10:10 pm
»
February 2017 Avatar: Time to Wake Up!
by
sanderson
2/20/2017, 9:37 pm
»
broccoli stunted
by
yolos
2/20/2017, 9:34 pm
»
Butterfly Junction
by
countrynaturals
2/20/2017, 6:10 pm
»
Sanderson - Virtual Roadtrip Flyover
by
trolleydriver
2/20/2017, 4:24 pm
»
Carrot Week 2017!
by
Goosegirl
2/20/2017, 3:53 pm
»
Problems getting spinach seeds to sprout? Try this...
by
trolleydriver
2/20/2017, 3:52 pm
»
Spring Fever Anyone?
by
newbeone
2/20/2017, 3:15 pm
»
The raised bed of my dreams!
by
ralitaco
2/19/2017, 9:20 pm
»
Help - Building new raised beds
by
ralitaco
2/19/2017, 9:06 pm
»
Microbes...you gotta see this one !!!
by
jimmy cee
2/19/2017, 8:20 pm
»
2017 SFG in Brooks, Ga
by
yolos
2/19/2017, 5:41 pm
This will be my first ever summer trying to grow stuff. I've read the ansfg book, but can't recall some specifics.
For starters, we have planted some pepper seedlings, along with some eggplant. Neither of these are along the trellis. Will we need to get a cage support for these plants before too long?
Also, when using a vine tomato on the trellis, am I supposed to trim the lower branches? Or just the ones that grow out of the "armpit"?
Also, I still have some empty squares for the summer. We have the usual summer stuff, peppers, cukes, maters, zucchini in the ground. Is there anything that isn't bushy or needs a trellis y'all wouldn't be without?
This whole system is very very simple, but I could burn water if I was left alone with it long enough.
I can't get a confirmed answer from anyone, and we are the only ones we know personally even trying this sfg system. Our goal is to impress the many doubters who said this wouldn't work lol.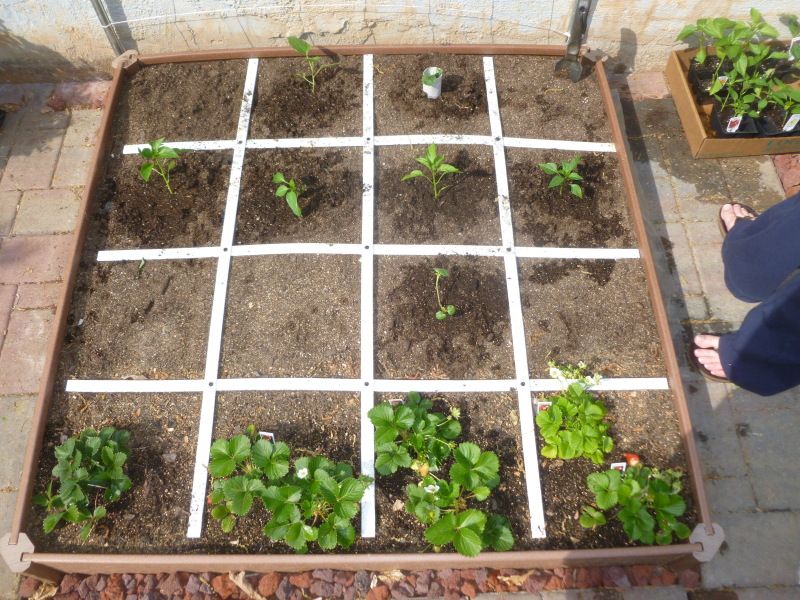 Thanks for the advice!!!



Posts

: 16


Join date

: 2012-03-08


Location

: Raleigh, NC



There's always the herbs no kitchen can be without; basil, parsley, oregano, thyme, rosemary, tarragon, chives and whatever you like best. Just think of walking a few feet from your doorway and cutting fresh herbs to add to your supper. Mmmmm, good.



Posts

: 4617


Join date

: 2010-03-21


Age

: 74


Location

: Southwestern Maine Zone 5A



I don't know about eggplants because I have yet to grow them, but I've noticed that my peppers usually need some kind of stake late in the season to keep them from toppling down. Just something tall and sturdy to tie them to, really.

As for tomatoes, keeping them pruned helps prevent disease and pests. My suggestion is to trim enough of the leafy parts off to let there be some airflow. Make sure not to snip any tomatoes off! I've seen people who trim off all the leaves that are below the flowers, and keep doing that as you harvest the tomatoes. But really I just clip things until it looks like the plants have room to breathe again.

As for suggestions for what to grow, carrots are easy, as are lettuce! You could try some bush beans, and tie a string around them if they get too bushy. Radishes are easy, and if it's not too late for your region, so are onions.



Posts

: 826


Join date

: 2010-04-08


Age

: 32


Location

: Jamestown, NY (Zone 5a)



I don't use a cage for my peppers. I use a bamboo pole about 4 feet long and drive that into the ground and tie the pepper plant to it as it grows.

I would go with rosemary and basil for the empty squares as they are easy to grow and easy to use in the kitchen. You can also add something like marigolds as they are supposed so help repel some pests and nematodes.



Posts

: 288


Join date

: 2011-12-08


Location

: Houston, TX



I haven't grown eggplant either since we're not fans of it (I've only had one eggplant dish I ever liked) but what I've read says you can stake it just like you would a pepper plant. The bamboo is a good, cheap way to get something for now, but eventually they'll split and need replacing. If you can afford something more durable and plan to garden every year for the rest of life, invest in that. I had to do bamboo this year, and will use it until it's split.

You do need to figure out if your tomatoes are determinate or indeterminate. Determinates are going to be bushy and you shouldn't thin suckers off them unless it needs breathing space. All a determinate needs is staking or a cage. An indeterminate is a vine that will get really tall, and all suckers should be broken off under the flowers; they snap off pretty easily if you just bend them sideways. You need to trellis indeterminates. (I found this out after I'd already planted my tomatoes, so had to move them around and provide appropriate support for their respective growth habits.) Somebody around here gave a link to a good youtube.com video that showed exactly how to care for each growth type.

It might be rather hot in Raleigh for growing lettuce (I lived there for a year 22 years ago), but if you have them behind taller plants that might help you to grow some for part of the hot season at least. Personally, I'd go with herbs. Fresh herbs is the perfect complement to add to your fresh veggies! Just figure out what you use most in cooking, then figure out what will grow in your area...most will, by the way.



Posts

: 862


Join date

: 2012-04-01


Age

: 45


Location

: Lake City, (NE) FL; USDA Hardiness Zone 8b, AHS Heat Zone 9, Sunset Zone 28



I'm absolutely in love with the smell of my Lime Basil. I recommend it to anyone who loves citrus scents like I do.



Posts

: 36


Join date

: 2012-04-23


Location

: Austin, TX



Peppers and eggplant can go either way. Sometimes they need support and sometimes they don't. I have at times used both bamboo and upside down tomato cages for them and I prefer the cages. They do not need a tremendous amount of support and the cage just kept them from toppling over whereas the bamboo can topple with them, especially if any wind is involved.



Posts

: 2467


Join date

: 2010-05-05


Age

: 61


Location

: Warner Springs, CA USDA Zone 8a, Sunset Zone 7 (I think)



---
Permissions in this forum:
You
cannot
reply to topics in this forum