I started my tomato and pepper seedlings months ago. First I had them in the basement under lights, but it was apparently too chilly for them down there (turned purple). So I brought them upstairs, where my 11 month daughter made it her mission to destroy them (or eat them). I started taking them outside b/c were having day time temps in the upper sixties, low 70's and evening temps of 35-50. If there was a frost warning, I would bring them in for the night. But my problem is, most of them haven't grown much in the last month. When transplanting from the seed tray, I picked out the biggest, healthiest seedlings first. Those are doing okay. Everything else didn't grow at all after that, so a couple weeks ago, I tried transplanting those up to peat pots. A few just fell over and died, and the rest aren't looking too well.

I am really sad b/c I had 20 or so varieties I started from seed, and now I only have maybe 10. And the ones that are doing okay, still are nowhere near the size of some transplants I bought from the nursery. I don't know if I should even bother planting the ones I started from seed, or just use the transplants mainly. Will they come back to life as the weather warms?

The good news is, the ones that have survived were the ones I was most excited to try.
You could try planting them again.
I have always planted too early, and struggled to keep them alive.
AND THEN found that the volunteers in the garden catch up and get ahead of the tomatoes that I coddled along for months inside.
What are you using in your peat pots? Is it mels mix?



Posts

: 2802


Join date

: 2012-01-14


Age

: 60


Location

: british columbia zone 5a



I am using an organic potting mix in the peat pots, and the seeds were started in seed starting mix. I transferred some of the plants into containers with Mel's mix, and I will watch them this week and see how they are doing in the mix. Honestly, I probably have more plants then I have room for anyways (especially after my excursion to the nursery yesterday), so I may just nix the ones that aren't doing so well. But what can I do different next year, if I decide to try it again. I may not since there are lots of nurseries around who have a good variety of heirlooms, but just in case.
I am having the same issues as you. Started seedlings in basement in March. When weather warmed up I put them outside in the greenhouse I have on my deck. I have done this in the past years and by this point my tomatoes are huge. Now they are only about 2 inches high. I have moved them back in the house due to the frost warnings and they do seem to be doing better. I think it was just to cold in my basement(no snow to insulate the basement). I am going to keep them in my house for the next few weeks. Hopefully will plant outside in mid May.



Posts

: 3


Join date

: 2012-03-16


Location

: Massachusetts



Loneskier,

Welcome!

By the way, I'm informally known as the "lone skier" on the west coast!

Certified SFG Instructor




Posts

: 2120


Join date

: 2010-03-02


Age

: 69


Location

: Bend, OR (Zone 5-6)



Don't worry too much if your tomatoes look small by the time you put them out in the garden. Small ones will do fine and even catch up to their bigger sisters when out in the sunshine and warmth of early summer.
Our director ordinarily starts our tomatoes late for the community garden because of time issues (she's so busy with other charitable things but also takes a few weeks south for vacation). Hence, later starts for seedlings.
We can plant small tomatoes, those growing in 16-oz soda cups, right into the garden and in 4-6 weeks they are huge. I posted some pics of same elsewhere but I'll post a couple again: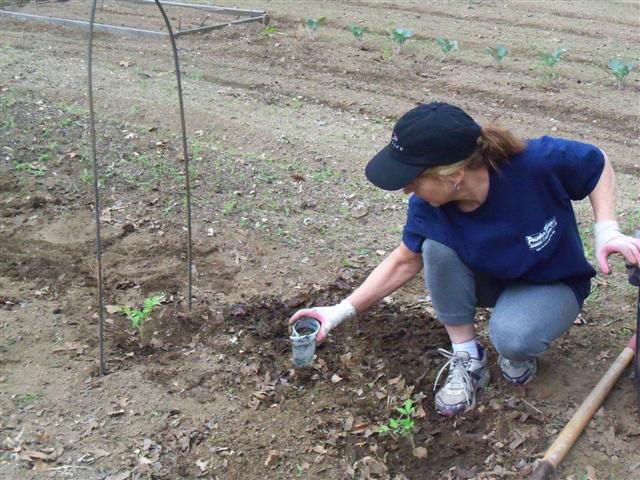 See how small these are being transplanted into the garden by a volunteer, all from 16-oz cups.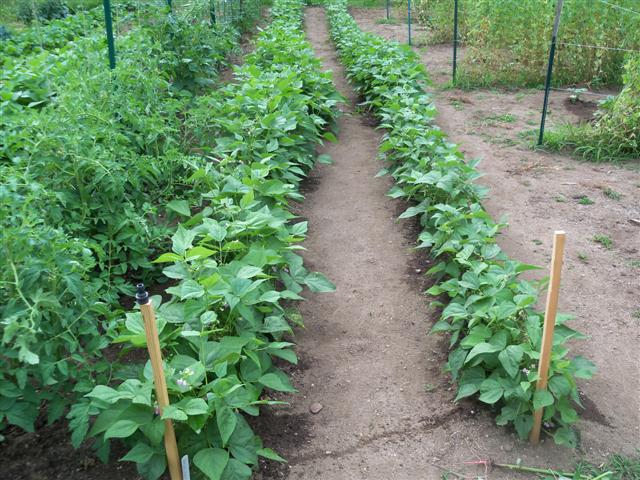 The tall plants on the far left with the green posts are those same tomatoes alongside 2 rows of early bush beans. Proves that they catch up just fine in several weeks. There was a bountiful harvest so we were not disappointed.



Posts

: 4674


Join date

: 2010-03-21


Age

: 75


Location

: Southwestern Maine Zone 5A



That makes me feel better quiltbea. Some of the transplants I bought sound exciting too, so I'll probably do a mix of my own and transplants.
---
Permissions in this forum:
You
cannot
reply to topics in this forum