I will probably have a community garden plot soon and needed a way to get things to it using my Victory 9(a 3-wheel electric scooter). Went to BJs and found this. I can attach it to the hooks at the back of my V9 with a bungee cord. Tried it out in the driveway of our parking lot yesterday and it works perfectly! It will hold up to 100 lbs! And has an attachment on the side for an umbrella, the BIG kind!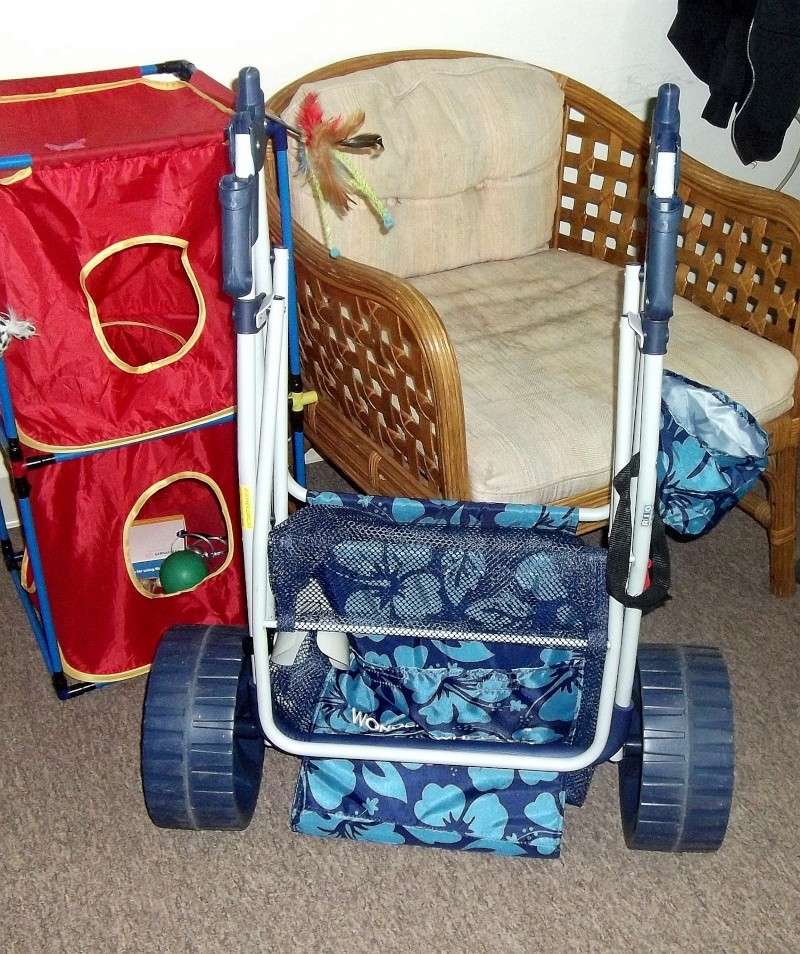 1.) Folded version - very lightweight.
2.) Front and side view. Can hold beach umbrella on side.
3.) Back view. Has a deep pocket.
Lee
I like this idea!!



Posts

: 292


Join date

: 2010-06-20


Age

: 69


Location

: Modesto CA, Central Valley, USDA Zone 9b, Sunset 14, AHS Heat Zone 8, whew!



Ooooooo! Aaaahhhhhhhh! Fabulous!



Posts

: 2467


Join date

: 2010-05-05


Age

: 61


Location

: Warner Springs, CA USDA Zone 8a, Sunset Zone 7 (I think)



What a great way to tote things to and fro. You're smart to get one. Good for you.



Posts

: 4625


Join date

: 2010-03-21


Age

: 74


Location

: Southwestern Maine Zone 5A



I was looking at them on Amazon and the model I have sells for $99.99 and is on sale for $85+.
I paid just $49.99 at BJs! Going yo get a beach umbrella next week. That way I can have some shade on my plot! IF I ever get one.
Lee
Oh, hey, that's pretty cool!
Great way to get your tools back & forth.



Posts

: 862


Join date

: 2012-04-01


Age

: 45


Location

: Lake City, (NE) FL; USDA Hardiness Zone 8b, AHS Heat Zone 9, Sunset Zone 28



I am sure this is great for use in the garden......A cheaper yard helper is a collapible shopping cart....with plastic shoe rack cut to size and use clothes pins to hold it on the back side under the handle.....its my buddy.......I think they run about $19....in the grocery stores...



Posts

: 235


Join date

: 2011-02-19


Age

: 92


Location

: Chula Vista,Ca



Tabletopper - I know the cart you mean but around here they are $25.00. And they aren't much use if you are going to a community garden where the walkways are uneven and really treacherous. Also, they don't have pivoting wheels, so if it's tied to my scooter, and I turn a corner, they will tip over.
If you notice the big wheels on the back, and the double pivoting wheels on the front, they are made for uneven ground and the beach.
givvmistamps - I thought it was pretty cool also. The minute I saw it I knew it was perfect for what I needed. All that lumber and garden tools will fit in perfectly!
Honestly, I'd love to have one of those so I can tote things around when I'm too sore to carry it. The ability to move up to 100 lbs in products would be really helpful to me in doing vendor shows. Sure wish we had a BJs around here! I'll have to check Sam's next time we're in JAX.



Posts

: 862


Join date

: 2012-04-01


Age

: 45


Location

: Lake City, (NE) FL; USDA Hardiness Zone 8b, AHS Heat Zone 9, Sunset Zone 28



Cool idea! Hope it works great for you!

Evelyn



Posts

: 146


Join date

: 2012-01-08


Location

: Casper Wyoming



Givvmistamps - I saw them on Amazon but the price was almost double.

However, this was on eBay : [url=Wonder Wheeler]http://tinyurl.com/763ha5m[/url]

This is just like mine.
They have other models but this is just like mine, notice the large fat wheels in back. Close in price as well but you will have shipping. Check them all out. Just do a search for Wonder Wheeler.
Lee
---
Permissions in this forum:
You
cannot
reply to topics in this forum