A few pics from our 2012 spring garden! Main crops comprise of 14 varieties of tomato all started from seed in January. All plants are flowering! SFG's are 12" deep Mel's mix. Should have a good turnout before the 100+ degree weather which will probably start in June or July.
Box #1:
Black Ethopian Heirloom Tomato
Aunt Ruby's Yellow Cherry Tomato
Gold Currant Tomato
Banana Legs Tomato
Slava-Tomato Seeds
Beliy Naliv
Lime Green Salad
Box #2:
Black Sea Man-Heirloom Tomato Seeds
White Bush Heirloom Tomato
Paul Robeson Heirloom Tomato
Angora Super Sweet Heirloom Tomato
Zhefen Short Tomato
Amber Colored Heirloom Tomato
Tiny Tim-Tomato Seeds

Box #1:

Lime Green Salad Tomato Plant:
Tiny Tim Tomatoes:
Alyssum Companion:

Fun LED Night Light: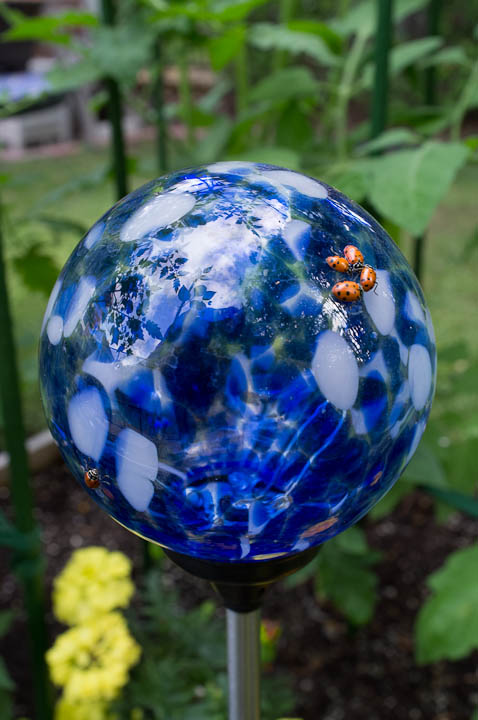 Posts

: 9


Join date

: 2011-09-26


Age

: 40


Location

: Frisco, TX



Looks cool. Um you don't like tomatoes very much do you. LOL.



Posts

: 52


Join date

: 2011-05-27


Location

: Ellis County, Texas



Nice! Do you like those trellises? Right now I have cages but I want ones like your's.

Tracy



Posts

: 88


Join date

: 2012-03-14


Age

: 55


Location

: Grand Prairie, TX Zone 8a



Beautiful. Love all your ladybugs!

We used to live in Rowlett. It was that backyard garden that made me think "there's got to be a better way to do this."



Posts

: 237


Join date

: 2011-06-23


Location

: SE Wisconsin, Zone 5a



Thanks for the complements!

Tracy, these are Ultomato cages I picked up at Home Depot. So far they have worked perfect. The plastic snaps are nice given you can pop one end of on the occasion that you need to adjust branches without the risk of breaking them.



Posts

: 9


Join date

: 2011-09-26


Age

: 40


Location

: Frisco, TX



Your garden is lovely!

I've seen those tomato supports at HD, and though they appeared sturdy and all, they seemed pricy. Nice to see them in a garden; now I'm convinced they're worth the price since they'll last a long time.



Posts

: 862


Join date

: 2012-04-01


Age

: 46


Location

: Lake City, (NE) FL; USDA Hardiness Zone 8b, AHS Heat Zone 9, Sunset Zone 28



---
Permissions in this forum:
You
cannot
reply to topics in this forum