I'm wondering if its a good idea to start some seeds indoors or it is best to direct plant these seeds right into the garden once the weather allows:

-pumpkins(several varieties)

-melons(watermelon and cantaloupe)

-cucumbers(pickle variety and also "straight 8" variety)

-winter squash (waltham butternut and argonaut hybrid)



I saw somewhere on a planting guide that around this time would be ideal to start these indoors while I also read somewhere that these would not be good things to transplant.

Any suggestions would be greatly appreciated.

Also, I have started 4 argnaut hybrid squash indoors already about 1 month ago just to see if they would survive the transplant. They are 140 days until maturity and in this region starting outdoors might be stretching it.



Thanks



Posts

: 56


Join date

: 2012-03-15


Location

: Highland, WI



All those can be started directly outdoors. I'm in zone 5a and I've started some in pots and some I've direct-seeded and I found that the direct-seeded ones caught up with the others in a very short time so I wouldn't waste time and energy starting them indoors. Besides, they hate having their roots disturbed. Just sow the seeds after your last frost date and if you get a cold night, cover them.
I usually put a bottom-cut-out large jug over the seeds sown so it will warm up more during the day and keep from getting too cool at night. I remove the lid on the jug and stick a bamboo stake thru the hole in the top and into the ground to the side so I don't disturb the seeds. This holds the jug in place. I water daily thru the hole in the top. After a couple of weeks they are off and running and don't need any protection.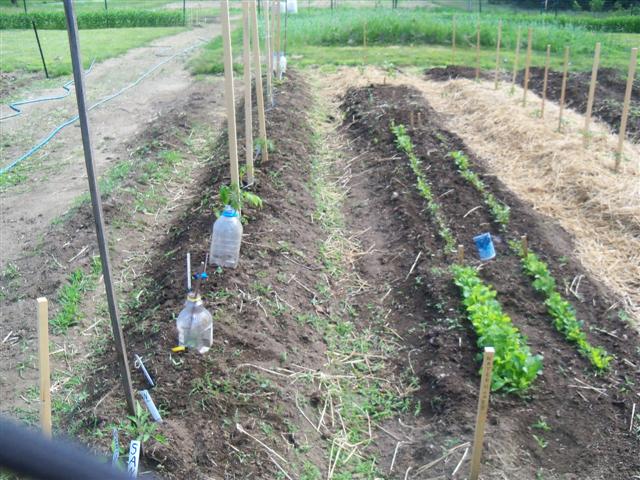 Above: jugs over watermelon seeds in the comm garden.
QB great idea...is this photo from this year or last?
____________________________
41 years a gardener and going strong with SFG.
http://squarefoot.creatingforum.com/t3574-the-end-of-july-7-weeks-until-frost
There are certain pursuits which, if not wholly poetic and true, do at least suggest a nobler and finer relation to nature than we know. The keeping of bees, for instance. ~ Henry David Thoreau
http://squarefoot.creatingforum.com/t1306-other-gardening-books

Forum Moderator Certified SFG Teacher




Posts

: 14165


Join date

: 2010-03-06


Age

: 54


Location

: Keene, NH, USA ~ Zone 5a



The above was a spring 2011 photo. I haven't begun with warm-weather crops in Maine yet this year. I've only started turnip, lettuce, radishes, onion sets, carrots, and the brassicas.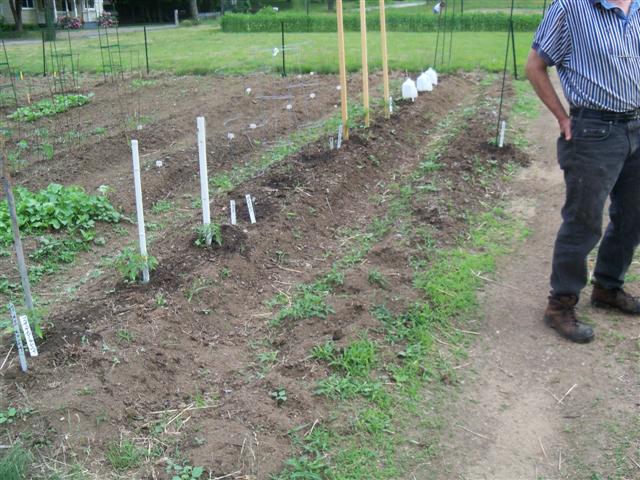 The white jugs at the end of this row covered pumpkin seeds.
These are the same pumkin vines later.
Last edited by quiltbea on 4/30/2012, 9:52 pm; edited 1 time in total (Reason for editing : to add pictures)
Thanks for the info/suggestions. In that second posting are those milk jugs you are using to cover the pumpkin seeds? I think my plan going forward for squash, melons, and pumpkins is to mow a portion of our grass field and use old tires and fill each with dirt sort of like a mound. I had these planted in my garden last year and the vines overtook everything. I hope they are safe outside of the fence.



Posts

: 56


Join date

: 2012-03-15


Location

: Highland, WI



Thanks Quiltbea, I am having trouble keeping my squash, and cucmbers happy looking so if I loose some of them no big deal. I am also in zone 5A. Next year I will wait and direct sow all of them. I love the sticks to hold the bottles in place what a great idea!



Posts

: 2037


Join date

: 2012-03-21


Location

: Custer, SD



@ laufenberga.....Yes, the white jugs are gallon milk jugs.
---
Permissions in this forum:
You
cannot
reply to topics in this forum