I'm so happy to report the rain we've had for the last 3 days did wonders for growth in my SFG. I've got greens popping up everywhere.
above: My brassica bed is doing great with brussels sprouts, cauliflower, broccoli and cabbages. I keep row cover over them unless taking photos.
above: The strawberry bed is lush and even has blossoms on some of the plants. Thats a pot with Romaine lettuce and Munchkin brocc, and a pot of Parsley.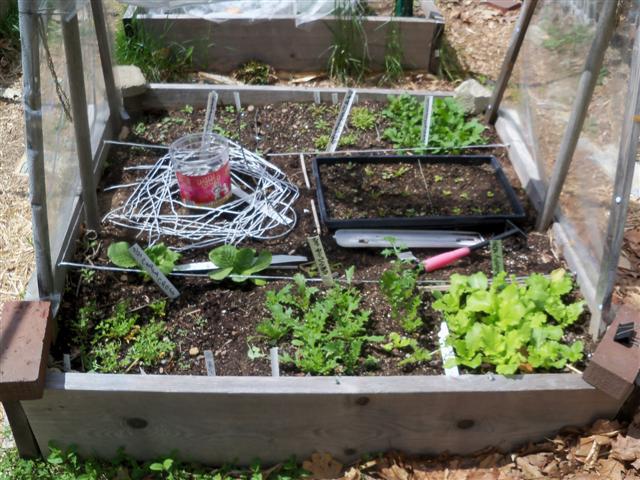 above: In the A-frame all the greens are doing well and the Romaine lettuce.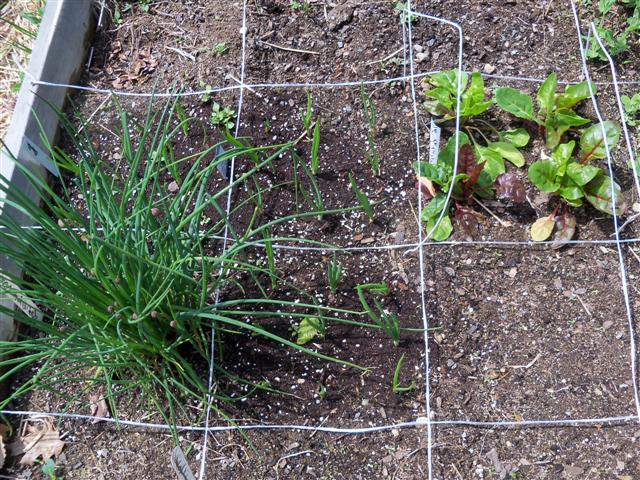 above: Here we have Chives, onion sets and Swiss chard. On the far right are the sugar snap peas.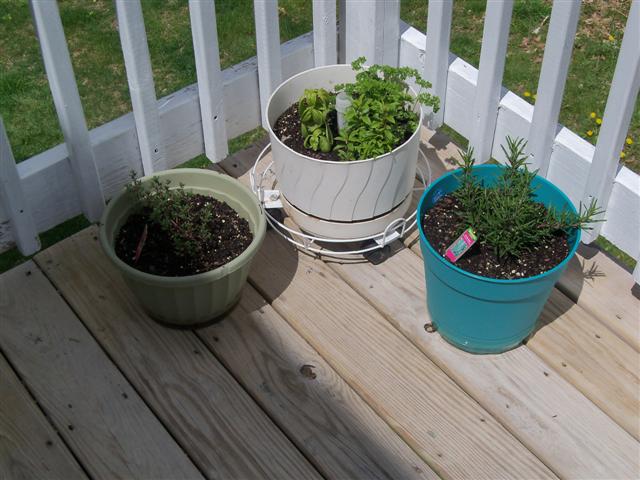 Above: The herb pots on the deck did OK. I should have removed the drain saucers from below and will next time. A little too much water but so far so good.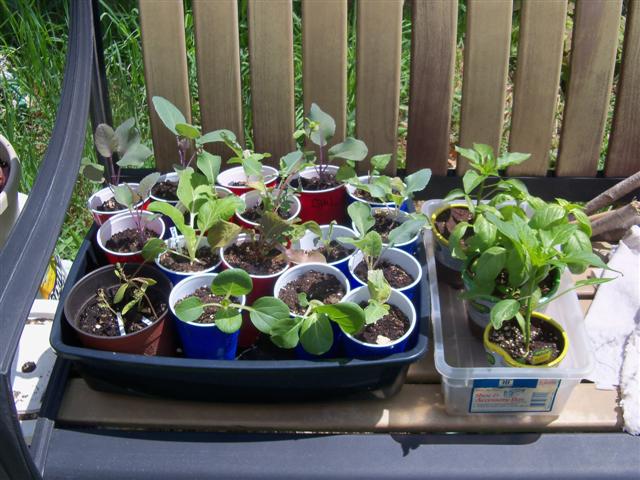 above: On the garden bench the blue tray holds cabbages, caulilfowers and Pak choi that have been hardening off several days but brought them inside the last 2 nites out of the rain. I'll be transplanting them this weekend. On the right are a couple of peppers and some basil that will be transplanted this week, also.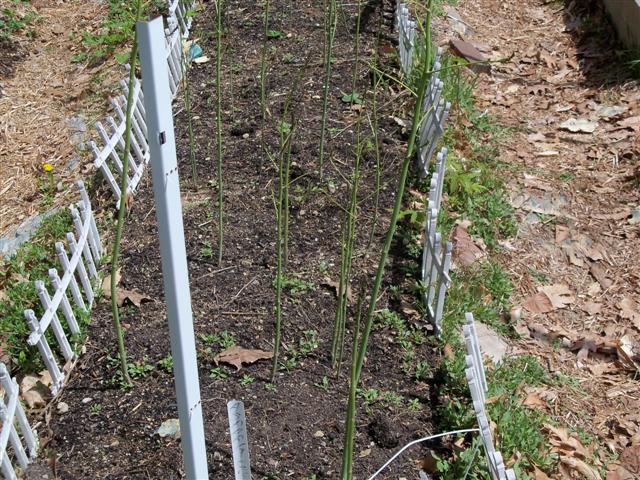 above: The asparagus bed in its 2nd year and still too young to harvest.
I also put a tray of my largest tomatoes and peppers out to harden off today and will plant them a little early this year but our forecast looks like no more frost, but tomorrow nite will be pretty close so will bring them inside.
I'm a very happy gardener here in zone 5a, southwestern Maine.



Posts

: 4682


Join date

: 2010-03-21


Age

: 75


Location

: Southwestern Maine Zone 5A



Looks fabulous! We have had rain here the last 3 days and everything was perky and happy then last night at 3 AM the dreaded... Hail

I checked it out this morning and everything appeared in good shape except the kohlrabi, I will give it a closer inspection when I get home from work!



Posts

: 2037


Join date

: 2012-03-21


Location

: Custer, SD




Certified SFG Instructor




Posts

: 4821


Join date

: 2010-08-20


Age

: 60


Location

: Central Ohio zone 6a



looking great quiltbea

I admire your preparation



Posts

: 564


Join date

: 2012-03-04


Location

: Columbus, Ga



Beautiful pictures! Thanks for sharing.



Posts

: 826


Join date

: 2010-04-08


Age

: 32


Location

: Jamestown, NY (Zone 5a)



everything looks great!!!
hugs
rose



Posts

: 2424


Join date

: 2011-05-10


Location

: Western WA



@FamilyGardening

wrote:

everything looks great!!!

hugs

rose
+1




Posts

: 2228


Join date

: 2012-03-29


Location

: Gallatin Valley, Montana, Intermountain zone 4



QB - Everything looks awesome! Don't you just LOVE when it rains and the sun comes out and your plants put on a growth spurt?! Thanks so much for the great post!




Posts

: 559


Join date

: 2011-04-18


Age

: 50


Location

: Springfield (central), IL, on the line between 5b and 6a



Your plants always look so nice quiltbea, and especially after a good rain

I hope we get a bit of the wet stuff here in the next day or two. We sure need it!
____________________________
I am my gardens worst enemy.

Forum Administrator




Posts

: 4256


Join date

: 2011-10-04


Location

: Colorado Front Range



---
Permissions in this forum:
You
cannot
reply to topics in this forum