I just finished setting up my vermiculture bins and am eagerly expecting the little darlings mid next week. I followed the directions by Chocksaw, except I drilled 1/4" holes in the bottom of both bins to facilitate worm movement.
However, my big find is a webpage that is quite extensive for home vermiculture:
http://whatcom.wsu.edu/ag/compost/Redwormsedit.htm
Lots of great info there.



Posts

: 904


Join date

: 2010-03-03


Location

: USA



WoW great find ill have to save this to favorites for future use




Posts

: 459


Join date

: 2010-03-02


Age

: 43


Location

: New Port Richey FL.



I just opened up my Wriggly Wranch and have contacted a local vermiculture place for worms! Just waiting to hear back when I can pick them up! The Wriggly Wranch came with a bedding block, so I can get started right away!! I even got 'permission' to keep them in the craft room until spring!
Keep in mind..I did not purchase the Wriggly Wranch..I got it free through the county several years ago, along with my regular compost bin! Check into your area to see if you can get free stuff and a free class on how to use it! I'm going to check into it for my current county too!
Turnip



Posts

: 25


Join date

: 2013-01-25


Location

: Sacratomato, CA/USDA 9b



Turnip.....Keeping your livestock in the craft room won't be a problem. I keep mine in the bathroom all winter. No odor. I just put out mine from spring to fall, beneath the trees so it doesn't get too hot for them. They do great.
Even if you didn't have a bedding coir, you could put some torn cardboard in the bottom and fill the box with strips of damp newspaper. The ink is made with soy these days so its safe for the wigglers.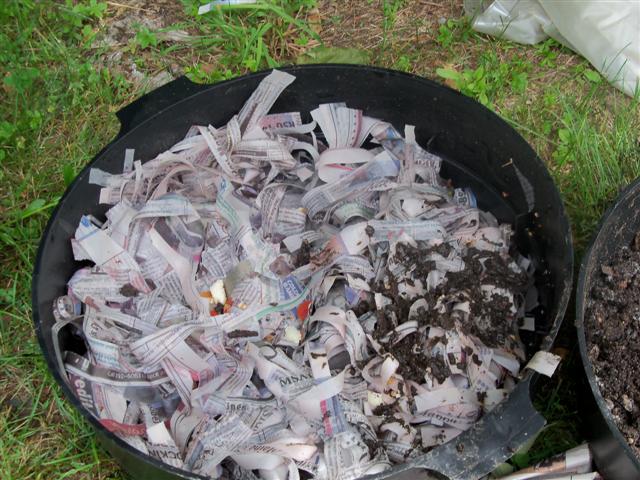 Here's mine.



Posts

: 4705


Join date

: 2010-03-21


Age

: 75


Location

: Southwestern Maine Zone 5A



I opened up my Wriggly Wranch this morning and found there is a block of bedding coir included! So I will soak it and get my farm up and running tomorrow. I made contact with a place maybe 8 miles from here that raises worms for vermiculture. I can't wait to see their setup in person...it looks like they have one whole wall of the garage, floor to ceiling, stacked with worm bins on shelves.
The Wriggly Wranch has 3 boxes and the collection bin. I will start collecting newspaper and shredded cardboard for the next box..I understand it takes about 6 weeks with a 1 lb starter pack of worms to get to the next level (literally!)
It gets hot here, the people at the worm place said to look at their site and get tips on how to care for the worms in the summer. I'll check it out..I have some pretty dense shade under trees on the lowest part of the lot. I'm hoping I can set up a whole wranch out there and get some decent amounts of compost for my MM. It will at least help with finding 5 different kinds!
Can't wait to pick up my worms!!!
Turnip



Posts

: 25


Join date

: 2013-01-25


Location

: Sacratomato, CA/USDA 9b




---
Permissions in this forum:
You
cannot
reply to topics in this forum