My sonflowers (it's actually my boy's sunflower bed

) are finally starting to get big enough to worry about. After some rain and light winds yesterday, a few of them were flopping over!

So, today I made a support system for them. Since I know nothing about sunflowers, I'll ask if it's normal to expect to have to support them before they even flower. The tallest plants are still under 2' tall. We have three varieties from Burpee: Mammoth, Citrus, and Velvet Queen.

The mammoth variety is supposed to get up to 12' tall, so this support system might not be enough for them, but I'll deal with that when it comes to it.
Are there any sunflower experts here that can give me some tips?
I planted Mammoth last year. Yes it gets to at least 12'! I didn't have to use any support. The stalk is quite thick. It took a shovel to loosen from the MM in the fall. I will try to find a picture to show them. Planted them in a 4x4 on the side against a shed. They were taller than the shed!



Posts

: 999


Join date

: 2010-08-30


Age

: 57


Location

: South Central Iowa, Zone 5a (20mi dia area in 5b zone)rofl...



My avatar is one of those big sunflowers.this is a different angle. It got a little blown over in the hurricane. But as we can see slack in the string, it is holding itself up.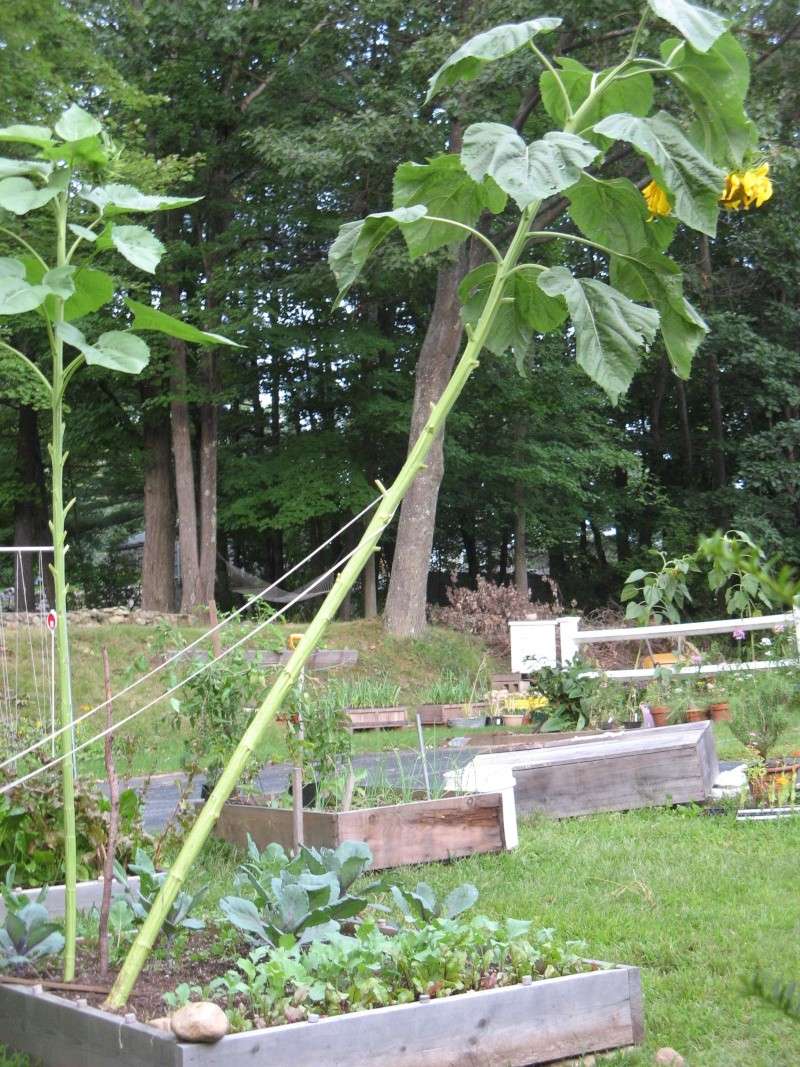 ____________________________
41 years a gardener and going strong with SFG.
http://squarefoot.creatingforum.com/t3574-the-end-of-july-7-weeks-until-frost
There are certain pursuits which, if not wholly poetic and true, do at least suggest a nobler and finer relation to nature than we know. The keeping of bees, for instance. ~ Henry David Thoreau
http://squarefoot.creatingforum.com/t1306-other-gardening-books

Forum Moderator Certified SFG Teacher




Posts

: 14134


Join date

: 2010-03-06


Age

: 54


Location

: Keene, NH, USA ~ Zone 5a



Thanks for the pictures, those sure are big!!

The ones that were flopping over were the Velvet Queen variety, which are only supposed to be 4-5' tall. I wonder if their stems are just ... floppier?
Hey BOOkemdano, I'm also going to have sonflowers! Both my boys planted their seeds last Thursday, and they're very excited about
Josh (another member of the forum) and my sons are going to do a BIG
Sunflowers "contest" (no prizes, just the pride of growing the biggest
sunflower) if you want to get your son involved. He sent me some advice
on growing them really tall in this conversation:
Big Stuff (click this)
Josh
also told me in a PM:
I have a book on how to grow big things,

sunflowers are in there, I know

you can Google and find a lot of stuff to, if you read my post to you,

you know a support is something you are going to have to have, even a

tall 2x4 placed in the ground would be ok if you don't have anything

else. The big book says sunflowers are very thirsty plants and must be

kept moist at all times, peat moss in Mels mix should help with that.

Feed once a week with diluted liquid fertilizer. Remove side flower

buds, so all the energy goies into the growing tall or developing that

single flower head...(snip)...If it were me doing it again, I might just

add those splint supports with duck tape before they had the chance to

blow over.
So, if you get a bad storm the sunflowers
truly
flop!
I had my husband build a 10' tall metal electrical conduit support with
nylon netting like what Mel describes in his book...only Mel usually
recommends making them 6'...and we'll figure out something to go above
that once the sunflowers reach 11' (or taller) if necessary.



Posts

: 862


Join date

: 2012-04-01


Age

: 46


Location

: Lake City, (NE) FL; USDA Hardiness Zone 8b, AHS Heat Zone 9, Sunset Zone 28



Thanks for the info, Michelle!

I'm going to try for some successful sonflowers before we try to enter any contests. ;P
Rest assured, though, that we will post some pics of them when they bloom.

Hey Camprn, did you trim the lower leaves off? I've seen a few of my lower leaves on the ground. I'm not sure if the bunnies found them, or if it was slugs, or cutworms, or what. There's no major damage, but just a leaf or two now and then.

Your photo made me wonder if there would be some benefit to trimming off the lower leaves.
Yeah, I take the expired leaves off the sunflower stalks. I think it looks better.
____________________________
41 years a gardener and going strong with SFG.
http://squarefoot.creatingforum.com/t3574-the-end-of-july-7-weeks-until-frost
There are certain pursuits which, if not wholly poetic and true, do at least suggest a nobler and finer relation to nature than we know. The keeping of bees, for instance. ~ Henry David Thoreau
http://squarefoot.creatingforum.com/t1306-other-gardening-books

Forum Moderator Certified SFG Teacher




Posts

: 14134


Join date

: 2010-03-06


Age

: 54


Location

: Keene, NH, USA ~ Zone 5a



---
Permissions in this forum:
You
cannot
reply to topics in this forum