My peas vary between 1 and 5 inches long and as yet I haven't fixed up a trellis for them. I am still using the hoop house cover for cool nights and raging storms therefore putting a trellis up would interfere with the hoop house. ( bad planning on my part I think )
Went out this morning and the naughty peas have attached themselves to my string grid... oops.
Guess it is time to take down the hoops house and get some sort of trellis going. I have been looking for something ornate but not found what I want . I think today I will make a rather crude system of wood stakes and string.

Today we will be having the very first produce from the SFG ! Lettuce is getting so darn big it is shading my carrots seedlings.

Taters are doing absolutely amazingly! I cannot keep up with their fast growth. For now I have been topping up the box with manure and peat. Need to find some straw fast!


Enjoy your salad:D ! Your peas should be just fine left uncovered now, naughty little guys.



Posts

: 2037


Join date

: 2012-03-21


Location

: Custer, SD



Kay, depending on your hoop set-up, you could use the hoops as your trellis. Run string/cord horizontally from hoop to hoop, about six inches apart as you go up the hoop. You could roll up the plastic a little at a time as needed so you would still have storm protection for the rest of the box.





Posts

: 7392


Join date

: 2010-02-26


Age

: 64


Location

: yelm, wa, usa



This is where i planned badly, My plastic for the hoop house is fastened at the side the peas are ! lol

I thought of stringing between the hoops but at some stage the peas will be taller than the hoops.

I have just unattached the plastic, for now I am sure I dont need it. If I do I can just put it the other way round . I had stapled it at one side and then it was fastened to a 2x2 at the other end which I used to roll it up and over each day. I am toying with the idea of taking the hoops out now or maybe I will just leave them. I will go out and take a piccy.....

Will you Ladies quit talking dirty[ pun intended] us old farmers can't stand it..

...



Posts

: 125


Join date

: 2011-12-21


Age

: 67


Location

: Piedmont NC



Sorry not a good picture of the peas but I wanted to show the hoops house orientation.
Peas are in the 4 squares on the left , from the bottom up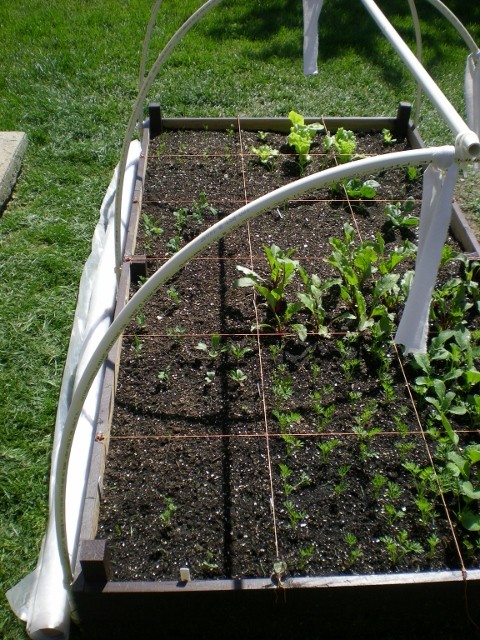 This 'hoop' house is covered with chicken wire. Pea plants in my climate reach for the sun, over the top, and then gravity starts pulling them down. The peas hang down through the wire for easy pickin'.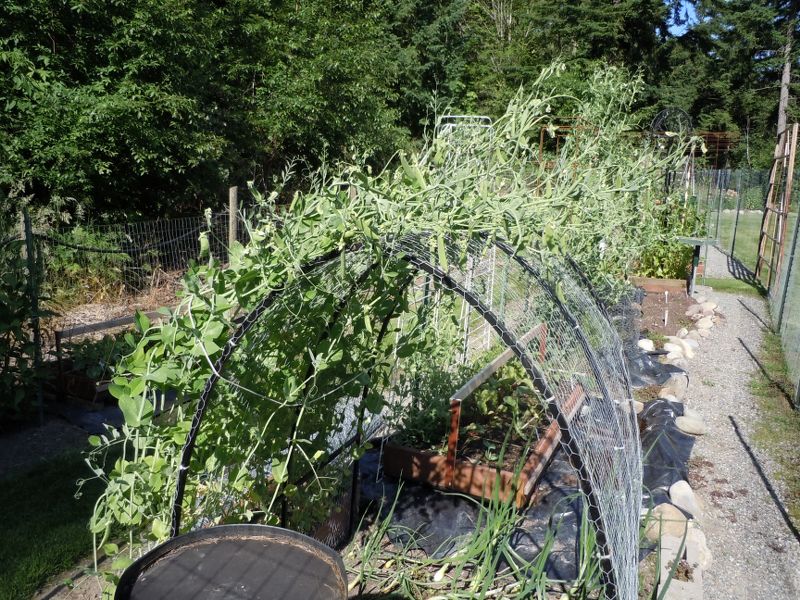 Posts

: 7392


Join date

: 2010-02-26


Age

: 64


Location

: yelm, wa, usa



Kbb, is that a can of apple cider?

____________________________
41 years a gardener and going strong with SFG.
http://squarefoot.creatingforum.com/t3574-the-end-of-july-7-weeks-until-frost
There are certain pursuits which, if not wholly poetic and true, do at least suggest a nobler and finer relation to nature than we know. The keeping of bees, for instance. ~ Henry David Thoreau
http://squarefoot.creatingforum.com/t1306-other-gardening-books

Forum Moderator Certified SFG Teacher




Posts

: 14144


Join date

: 2010-03-06


Age

: 54


Location

: Keene, NH, USA ~ Zone 5a



Boffer, AHA!
Camprn, oh yeah Woodchuck apple Cider

Not a hoop, but the peas are laying down on the cantalevered trellis attached to the tabletop..

Kay
____________________________
A WEED IS A FLOWER GROWING IN THE WRONG PLACE
Elizabeth City, NC
Click for weather forecast

Certified SFG Instructor




Posts

: 4342


Join date

: 2010-10-17


Age

: 74


Location

: wilmington, nc zone 8



---
Permissions in this forum:
You
cannot
reply to topics in this forum