I have only recently started my garden, and it's been doing really will with one exception: there's a hit & run critter or bug that is trying to take out my plants!
The basil was the first victim. Here it is before the final attack that nearly defoliated it:
Over the course of a few days something ate it back. I checked carefully but couldn't find ANY signs of the intruder. No caterpillar poop or telltale holes, no slime trails, etc. Although I had a couple of tomato plants in similar pots, and strawberries in a tub on the ground, they were untouched. It was only the basil. I tried spinosad but in the end, decided to shroud it in tulle. That seems to have worked and it's starting to come back.
Yesterday I spent a bunch of time in the garden and then left around 4:30PM for a Mother's Day gathering. When I returned at 8:30, something had *decimated* my new habenero pepper plant and started in on the new German Johnson (tee hee) tomato. They also decapitated one of my daughter's morning glory sprouts and ate one of the seed leaves off the other. Again, no sign of the perpetrator. And in broad daylight!!
After throwing a temper tantrum, I made a makeshift cage and surrounded what was left of the pepper, plus ALL of the potted tomatoes, with bird netting. I hope that whatever is eating my plants is too big to get through it; otherwise I'll have to go to tulle, I guess.
What manner of creature does this kind of drive-by destruction? That was still a baby pepper, but it was fully leafed. And is this would-be murderer going to hit my beds full of seedlings next? They're also covered with bird netting, but I am worried.

This is my messy garden - everything except the stuff on the ground and the Meyer Lemon are now enclosed. *sigh*
My only consolation is that so far, except for the morning glories, it hasn't hit any seedlings I grew from seed. I swear if that happens I'm going to be out there with infrared goggles and a shotgun! Okay, just kidding, but I do wish I knew what was eating my plants so I knew how to stop it.
ditto, it is an animal, not an insect.

Certified SFG Instructor




Posts

: 438


Join date

: 2011-01-06


Location

: nashville, TN



I was hoping that since my yard smells so much like dog, any critters would stay out. Guess I'll be putting up the chicken wire tonight...
I think my garden has scope creep.

The picture of your basil shows some leaves that were already munched. It already knew where the buffet was.

I'd go with rabbit or squirrel. Here I have seen rabbits & squirrels go thru chain link fence, actually thru the links, not under or over.



Posts

: 777


Join date

: 2011-01-23


Location

: Bloomington, CA



Yes, that picture of the basil was after a visit or two by the critter. The last visit left it almost bare. It's coming back now that it's under the tulle!
I wish we could leave the dogs access to the yard, but we also have coyotes here and the dogs are small enough to be in danger from them.

Hopefully it's not squirrels (though that does sound likely) since they'll just go right over any chicken wire. *sigh*
I was thinking deer. Or is your whole yard fenced in?
____________________________
41 years a gardener and going strong with SFG.
http://squarefoot.creatingforum.com/t3574-the-end-of-july-7-weeks-until-frost
There are certain pursuits which, if not wholly poetic and true, do at least suggest a nobler and finer relation to nature than we know. The keeping of bees, for instance. ~ Henry David Thoreau
http://squarefoot.creatingforum.com/t1306-other-gardening-books

Forum Moderator Certified SFG Teacher




Posts

: 14139


Join date

: 2010-03-06


Age

: 54


Location

: Keene, NH, USA ~ Zone 5a



The whole yard is fenced in, and there aren't any deer in the immediate area. It was likely something much smaller and more devious.
Ninja squirrels ...
Or the dreaded steroid-squirrel ...
Just hope thats all it is .....because if its dark-sith-squirrels, your just done for the season ....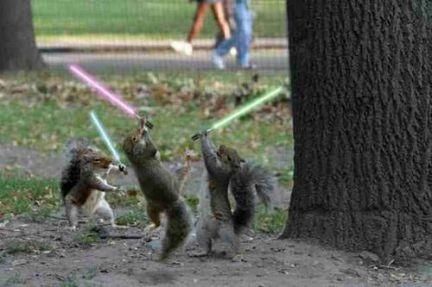 Posts

: 1012


Join date

: 2010-08-27


Age

: 47


Location

: Wesley Chapel, Florida (Zone 9)






Posts

: 999


Join date

: 2010-08-30


Age

: 57


Location

: South Central Iowa, Zone 5a (20mi dia area in 5b zone)rofl...



I would bet rabbit(s)...they ate the tops of my pepper, tomato, green bean, and marigold plants a few weeks ago...they didn't touch the lettuce, carrots, beets, basil, etc. I replanted and basically cover everything at and made small wire cages...wire got a litle pricey so I cover the rest every evening with milk crates, empty pots, etc.



Posts

: 1141


Join date

: 2012-01-22


Location

: kansas city



---
Permissions in this forum:
You
cannot
reply to topics in this forum