As early as this fall!
When a lump started getting bigger and bigger under the winter's protective plastic, I finally had a look a couple weeks ago. Come to find out, I did a terrible job harvesting last fall! The orphaned potatoes were growing and pushing the plastic up.
Potatoes don't need sun to grow.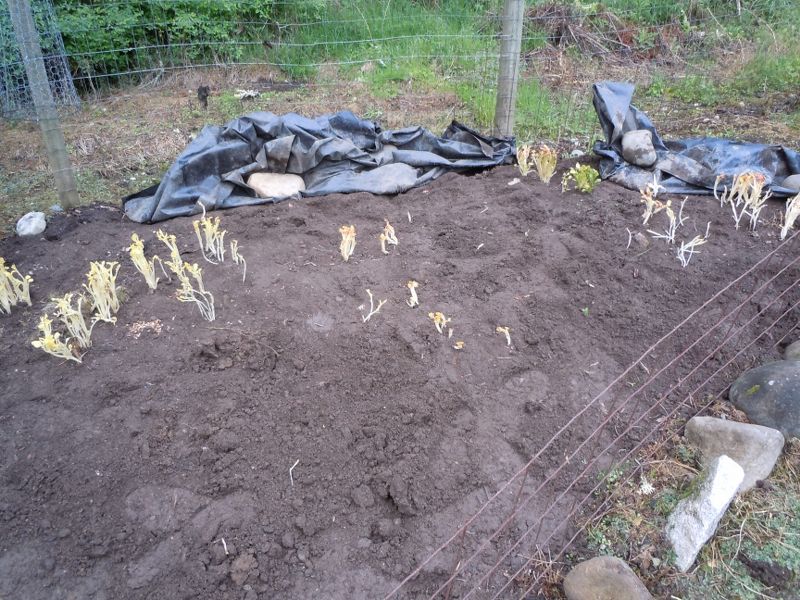 But they're pretty ugly when they're not green!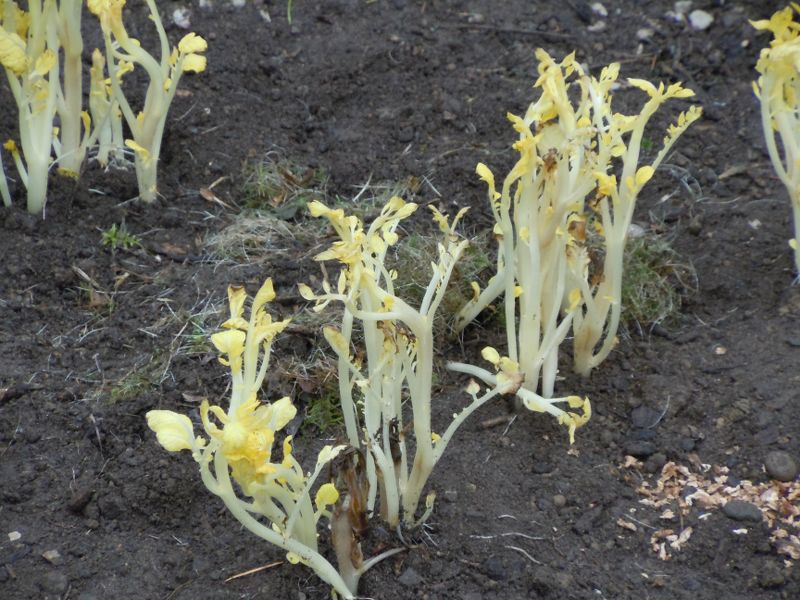 Just 12 days later.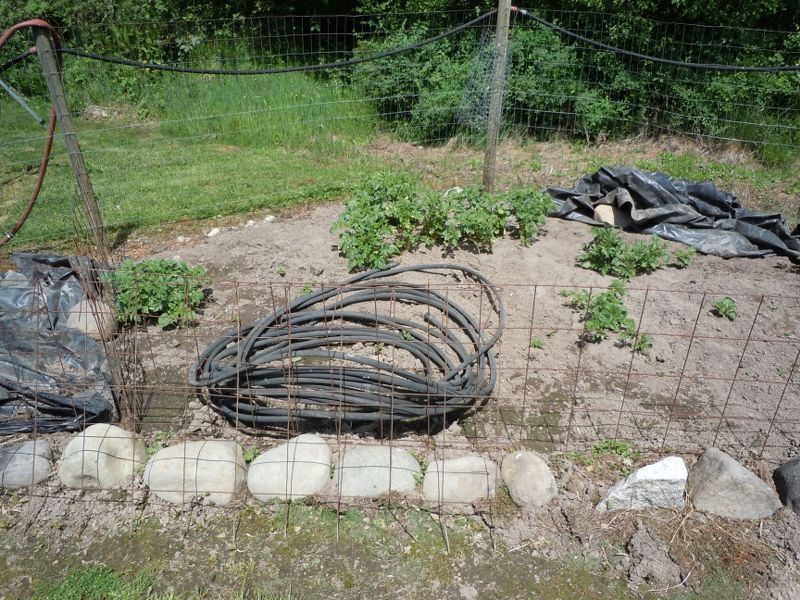 And they're ahead of the seed potatoes that I planted in March and April.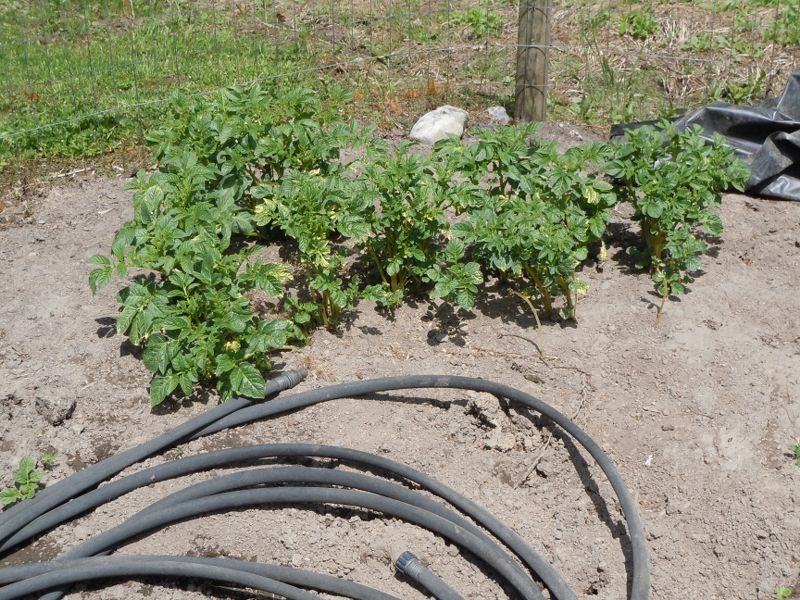 Posts

: 7392


Join date

: 2010-02-26


Age

: 65


Location

: yelm, wa, usa



Boffer,

Although it may seem obvious, I finally hit upon the idea that potatoes, seed or market, are eager to be planted once they actually start to sprout!

I'll be moving to Bend around the end of June; will it be too early/late to plant potatoes then?

Certified SFG Instructor




Posts

: 2205


Join date

: 2010-03-02


Age

: 70


Location

: Bend, OR (Zone 5-6)



That is so kewl B! I might have hilled them since they had no color anyway BUT that is great!

And it is not too late for Thanksgiving harvest of potatoes (BTW I have never done this, I've just heard that you can do this.)



Posts

: 2054


Join date

: 2010-03-03


Age

: 60


Location

: Everett, WA USA



Donnainzone10, If I remember correctly potatoes are usually planted from mid May through the end of June in Bend, Oregon.



Posts

: 304


Join date

: 2010-05-26


Location

: East County Portland, OR



Wow, that's fantastic. I had abandoned my plan to plant potatoes since I can't find seed potatoes anywhere but online but this really makes me rethink that.



Posts

: 11


Join date

: 2011-09-22


Location

: Tacoma, WA (Pacific Northwest)




WOW!
____________________________
41 years a gardener and going strong with SFG.
http://squarefoot.creatingforum.com/t3574-the-end-of-july-7-weeks-until-frost
There are certain pursuits which, if not wholly poetic and true, do at least suggest a nobler and finer relation to nature than we know. The keeping of bees, for instance. ~ Henry David Thoreau
http://squarefoot.creatingforum.com/t1306-other-gardening-books

Forum Moderator Certified SFG Teacher




Posts

: 14167


Join date

: 2010-03-06


Age

: 55


Location

: Keene, NH, USA ~ Zone 5a



Wow, that's really cool! I was actually wondering if you could plant potatoes in the fall and have them come up early next spring. Question for you PNWerners since I don't know much about your area: does the ground freeze hard in the winter? We get a super solid freeze for several months in my neck of the woods. Maybe I'll try it anyway. It won't hurt to try, right?



Posts

: 826


Join date

: 2010-04-08


Age

: 33


Location

: Jamestown, NY (Zone 5a)



You know I actually can't think of a time that our ground has frozen at all here where I am. Hmmmm... I don't know.

boffer, at least that lump was growing and not scurrying all around under there...

Certified SFG Instructor




Posts

: 1413


Join date

: 2011-05-11


Location

: Vancouver, WA



You inspired me, Boffer! I got out and got the rest of my taters planted tonight - Norland Red, 15 squares. It made me get the rest of my garden finished as well!

GG



Posts

: 3412


Join date

: 2011-02-16


Age

: 53


Location

: Zone 4A - NE SD




---
Permissions in this forum:
You
cannot
reply to topics in this forum