Latest topics
»
Today's Harvest
by
Fiz
Today at 6:22 pm
»
Eggplant Blossom End Rot?
by
Fiz
Today at 6:11 pm
»
help with raised beds! how much can I grow in a 4' x 4' raised bed?
by
Robbomb116
Today at 4:12 pm
»
New England July 2017
by
CapeCoddess
Today at 3:45 pm
»
Happy Birthday!!
by
CapeCoddess
Today at 1:39 pm
»
Your favorite watermelon and pumpkin
by
AlwaysHotinFL
Today at 1:23 pm
»
What I've learned this year
by
countrynaturals
Today at 10:29 am
»
N & C Midwest; July 2017 !
by
CapeCoddess
Today at 7:23 am
»
Growing Romanesco Broccoli
by
plantoid
Today at 7:20 am
»
CANADIAN REGION: What are you doing in JULY 2017?
by
sanderson
Today at 2:07 am
»
What do you know about making sauerkraut?
by
No_Such_Reality
Yesterday at 10:36 pm
»
What are you eating from your garden today?
by
Scorpio Rising
Yesterday at 8:18 pm
»
TrolleyDriver's Compost Thermometer
by
sanderson
Yesterday at 4:18 pm
»
Tornado Cake
by
sanderson
Yesterday at 4:04 pm
»
Do I need to pollinate my zucchinis?
by
CapeCoddess
Yesterday at 10:19 am
»
How's the Weather Where You're At?
by
trolleydriver
Yesterday at 8:21 am
»
Turan in the Western Mountains
by
sanderson
Yesterday at 1:07 am
»
Friday Rookie Topic XII: Cucumbers
by
Scorpio Rising
7/24/2017, 8:40 pm
»
More on garlic scapes
by
greatgranny
7/24/2017, 7:17 pm
»
Third Year SFG in Canada
by
SwampTroll
7/24/2017, 2:47 pm
»
My early garden
by
sanderson
7/24/2017, 3:15 am
»
Garden Footwear
by
sanderson
7/24/2017, 3:14 am
»
Square footage
by
sanderson
7/24/2017, 3:03 am
»
Healthy Meals
by
RoOsTeR
7/23/2017, 10:19 pm
»
HELP! Sweet Potato Plant!
by
countrynaturals
7/23/2017, 11:26 am
»
2017: First full year of SFGing in ND
by
Robbomb116
7/22/2017, 9:10 pm
»
2017 SFG in Brooks, Ga
by
sanderson
7/22/2017, 7:38 pm
»
Green Caterpillars
by
sanderson
7/22/2017, 2:22 pm
»
Some of our Gluten-free Cajun Recipes
by
sanderson
7/22/2017, 1:50 pm
»
Senseless Banter...
by
sanderson
7/22/2017, 1:43 pm
I have two 2x8 beds along the back of the house. In this first one I have cilantro, spinach, bush beans, lettuce (I hope! It's the only thing that hasn't sprouted yet), green onions, parsley, marigolds and a cantaloupe (my 3 year old picked that one, we'll see...)
In box #2 I have peas, cucumbers, a summer squash, more marigolds, corn and a mini pumpkin. The last two were also kid selections and while I'm not sure if we'll have any corn or pumpkins by the end of the season, they're having fun watching them grow.
We also have a tomato plant and a serrano pepper plant in pots.
So far so good!
Last edited by cjoy on 5/21/2012, 9:44 pm; edited 1 time in total
I've made some progress in the past week. I've gotten frames installed for two of five trellises. Hope to have the others finished Thursday or Friday. Maybe I can get the netting up on Saturday. I put in more tomato plants and eggplants. My first crop of radishes sprouted 14 of 16 so far. I plan to put in another square this weekend. Goldrush bush beans are peeking out, and I should have some little plants tomorrow. I have to look for some images of turnip and beet seedlings, but I think they might be coming up too. For a garden that didn't even exist two weeks ago, I'm thrilled. I hope to have pics Saturday or Sunday.



Posts

: 195


Join date

: 2012-05-14


Age

: 75


Location

: Northeastern Pennsylvania



Your boxes are so nice and neat!

Corn was a kid selection at our house too. If you're planting corn in MN, then I should be okay in WI. The mini pumpkins should be fun.



Posts

: 237


Join date

: 2011-06-23


Location

: SE Wisconsin, Zone 5a



That's a lovely garden you've started!
to the forum cjoy, I look forward to watching your garden grow.



Posts

: 862


Join date

: 2012-04-01


Age

: 46


Location

: Lake City, (NE) FL; USDA Hardiness Zone 8b, AHS Heat Zone 9, Sunset Zone 28



Do you have room to spread your pumpkin leaves out well beyond your box? They get huge, even the small ones. I put in New England Pie Pumpkin last year, in my community garden beds, and the vines and leaves are huge. With a small area, you can pinch off the vines beyond where your first fruits are starting so the energy can go into the fruit and not making new vines.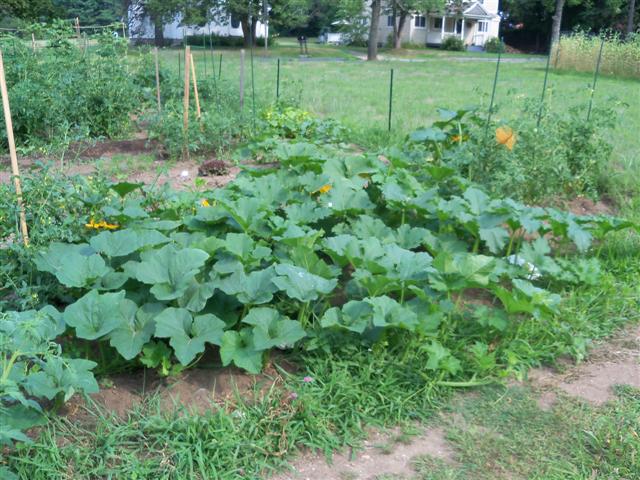 Above: NE Pie Pumpkin leaves from 3 plants.
@cjoy.....If you can, train them up and over that fence you have around your bed and into the yard.
If you have only a few sqs of corn, then make sure you pollinate by hand. Just brush a makeup brush or a small duster over the tassels at the top of the stalks onto the silks forming below. Do this a few times a day for several days because tassels produce pollen only at certain times and you want to be sure to spread some of it on the silks.
Cucumbers have huge leaves as well so another good one to train over the fence if you don't have a trellis.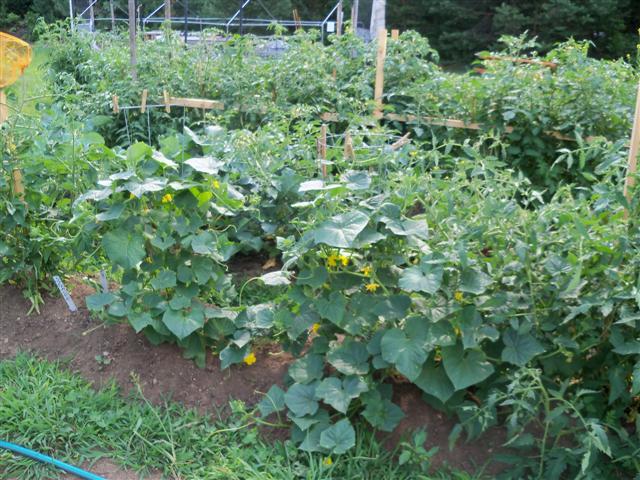 Above: My Pickling cukes from last summer.
Welcome newbies. We love to see newcomers to our forum. This is the way to grow your own healthy food. And the kids love helping.



Posts

: 4683


Join date

: 2010-03-21


Age

: 75


Location

: Southwestern Maine Zone 5A



Thanks for the tips, quiltbea! I have plans to get some trellises in this weekend or next. I'm a little nervous about that pumpkin - it's one of the mini ornamental ones, so I have no idea how big it's going to get. That cage pops right off if things start gettingg crazy in there. lol.
awesome pictures! that's great having the children involved. they will certainly enjoy seeing the harvest.



Posts

: 57


Join date

: 2012-04-24


Location

: Knoxville



---
Permissions in this forum:
You
cannot
reply to topics in this forum