First attempt at posting pics... we'll see how this goes!
I built some raised SFG, since we are trying to make the permanent gardens in our yard perenial low maintenance, for any future homeowners. Just made them 2x4-foot, so that we can move them around if need be.
In this garden I have malibar spinach from seed (third year trying, first year in MM, first year getting past the 1 cm height), and cucumber and strawberry plants (purchase

Here I have beans and peas (not sure which is which, since I planted them with the kids, got distracted, and forgot what was where), one strawberry plant, and some fennel:

Four empty squares - TBD. One green bell, one orange bell, one cayenne, and one jalepeno pepper plants... purchased from the local farmer's market (the ones I planted from seed did not grow - I hear they need heat, which they will get next year!):
Carrots at the far end, onions closer, and a couple of squares seeded with butternut squash:

My lettuce mostly from seed, with two transplants that were from re-seeds in our mulch - the transplant looks a little rough, but they look like they will survive (empty SFG below - have been using soil to top up my potato bags):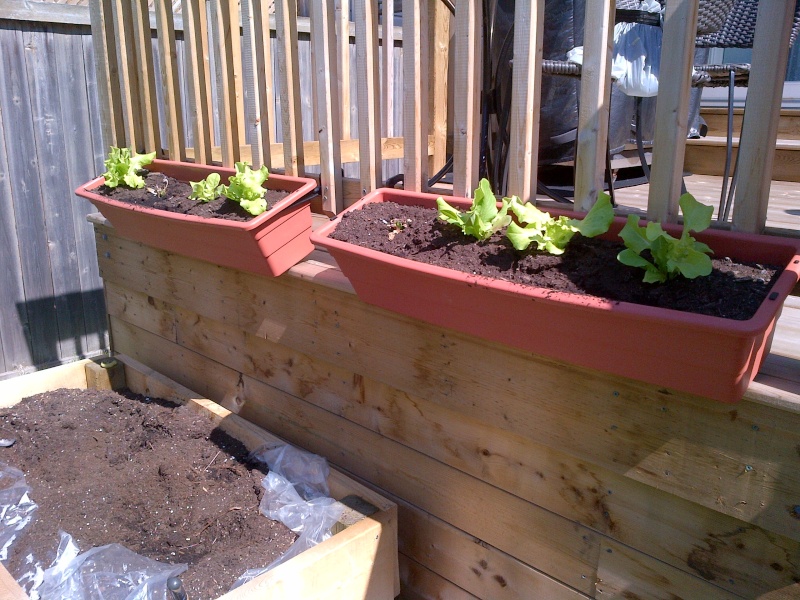 Pot with potatoes and two potato bags, freshly covered in MM, plus one pot of MM with a bay plant and a strawberry plant (also can see garlic in rows planted last fall):

My herb garden... not in MMs, and not in SFG... but so happy that so much came back after the winter (oregano, marjoram, thyme, chives, coriander reseeded itself!), plus added some new plants from our local greenhouse:

This is my first year really doing SFG with MM. Everything (to me) is looking like it will turn out great. Tomatoes and leeks planted from seed will be planted sometime this weekend, after I've finished hardening them off.



Posts

: 27


Join date

: 2012-04-15


Age

: 43


Location

: Ottawa, Ontario, Canada - Zone 5a






Posts

: 3412


Join date

: 2011-02-16


Age

: 52


Location

: Zone 4A - NE SD



Your boxes look great.

Glad to see another Zone 5a garden. Seeing those in warmer zones can sometimes be discouraging because I feel like my garden is behind.



Posts

: 237


Join date

: 2011-06-23


Location

: SE Wisconsin, Zone 5a



Looking great! Glad your herbs came back too.



Posts

: 146


Join date

: 2012-01-08


Location

: Casper Wyoming



---
Permissions in this forum:
You
cannot
reply to topics in this forum