On May 10th the front of my house was bare. But on the 11th and 12th my son-in-law built my raised bed. Then on the 13th and 14th my grand-daughter's fiance filled it from a huge pile of compost that I had in the woodsy part of my land. On the 15th I made the grids from an old vinyl blind. On the 16th and 17th I put in some potted plants and some seeds. Here is a picture up to that point.
Since then I've had some seeds sprout, and I see buds. This weekend my daughter and son-in-law put up my trellis frames, and I put trellis netting on them. I've also put in more plants and seeds. So here are pictures from today.
Radishes

Turnips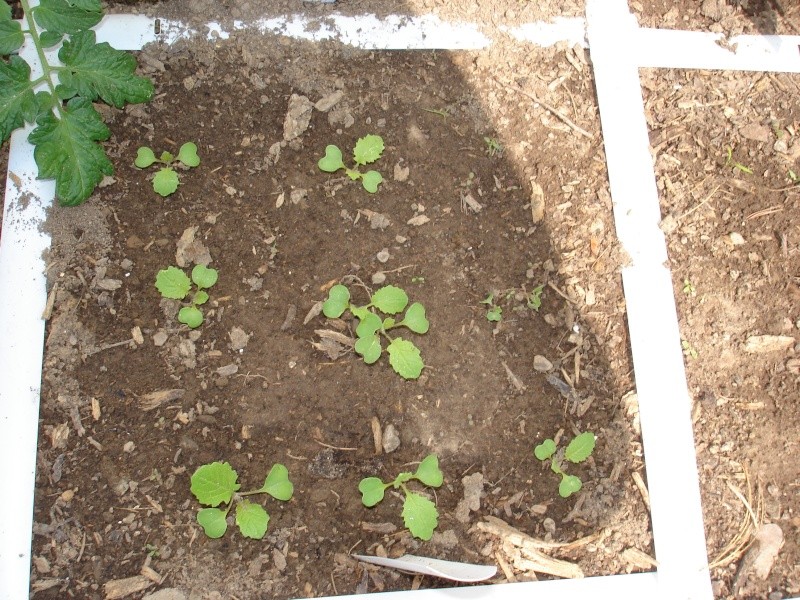 Beets

Bush beans

Cabbage

Blossom on an Early Girl tomato

Buds on a Red Bell Pepper

And here is an overall picture from this morning

I have eggplants, sweet peppers, peas, pole beans, zucchini, spaghetti squash, carrots, and lettuce also planted. I hope to replace the compost from this year with MM next year. I have already gotten one bale of peat, and Agway said they will get more vermiculite in a week or so. I will look for four good composts commercially, and I am going to screen some more from my big pile for the fifth. I didn't screen what is in there now, but a screen is my next project. If I get just a little produce this year, I will be happy, and next year, the sky's the limit (or my purse strings are).



Posts

: 195


Join date

: 2012-05-14


Age

: 75


Location

: Northeastern Pennsylvania



That looks so neat. Mine is not nearly so pretty. And do I spy some space out from the existing bed for another bed for fall or next year?

Kay
____________________________
A WEED IS A FLOWER GROWING IN THE WRONG PLACE
Elizabeth City, NC
Click for weather forecast

Certified SFG Instructor




Posts

: 4343


Join date

: 2010-10-17


Age

: 74


Location

: wilmington, nc zone 8



Yes, I have lots of space for more. However my financial priorities are first to fill this one with MM, then I want to put in a 4 x 6 for strawberries. I saw a neat pyramid one that size on the forum, and I'd like to be a copycat. I have a pile of flagstone I can use for walkways. In my ceramics shop I am working on some pots for herbs, and some decorator items also. I see lots of great ideas on the forum, just wish I were younger and richer. I know that once I get some veggies from the garden it will help with the food bill and be healthier.



Posts

: 195


Join date

: 2012-05-14


Age

: 75


Location

: Northeastern Pennsylvania



@memart.....Everything is looking grand. You and your family have done a great job getting you started into SFG. Congratulations.

I know you'll be amazed at the terrific fresh flavor of your coming crops. Enjoy.



Posts

: 4646


Join date

: 2010-03-21


Age

: 75


Location

: Southwestern Maine Zone 5A



Definitely a project your family can be proud of!



Posts

: 237


Join date

: 2011-06-23


Location

: SE Wisconsin, Zone 5a



that is really beautiful--so neat and tidy!--and just imagine how lush it will be when it is all filled out!

Certified SFG Instructor




Posts

: 438


Join date

: 2011-01-06


Location

: nashville, TN



---
Permissions in this forum:
You
cannot
reply to topics in this forum